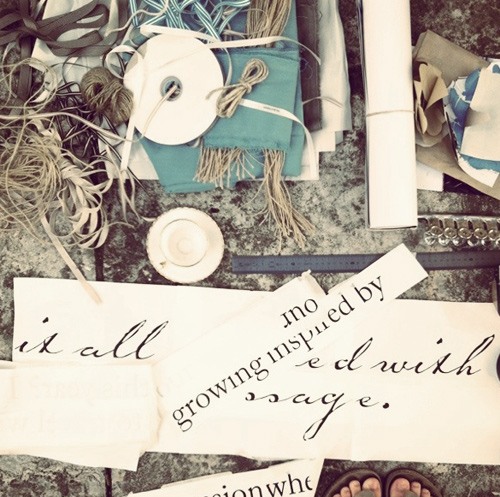 gathering my supplies for the window displays
It's been a lot of fun gathering leaves and tree branches from parks and the side of the road, then installing all this found nature into shop windows. It's incredibly satisfying, especially when I see people stop on the street and take a look – taking a moment out of their busy day to see something a little unusual, hopefully capturing their hearts and imaginations.
The first window in Sydney I installed was at the bustling Better Read Than Dead on King St, Newtown. This was one of my favourites to install, I think because I had the chance to incorporate some of Tracey Deep's incredible floral sculptures…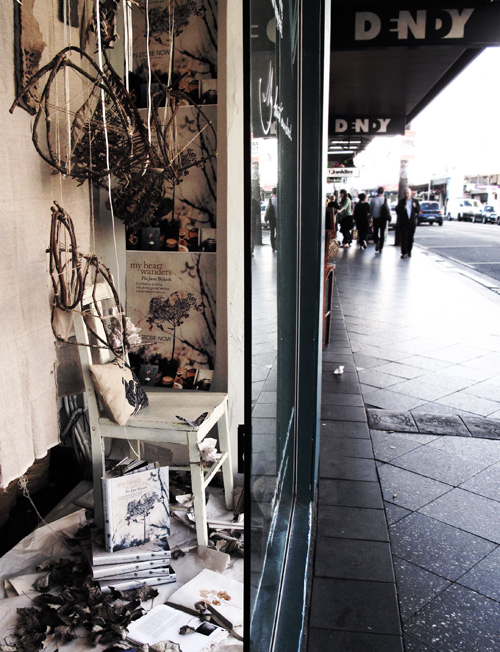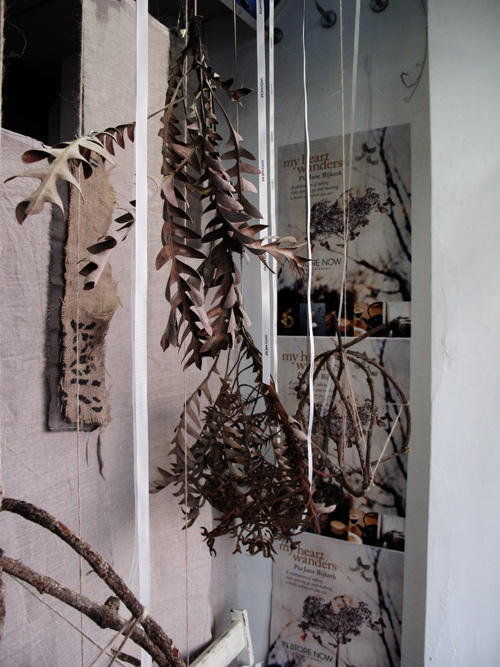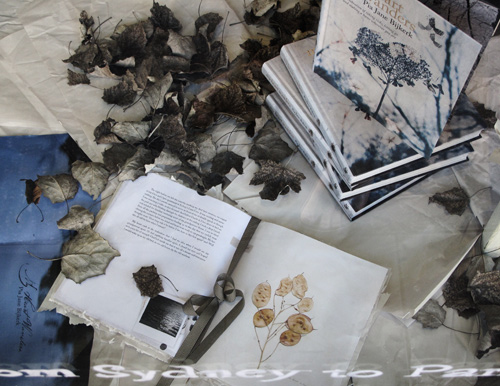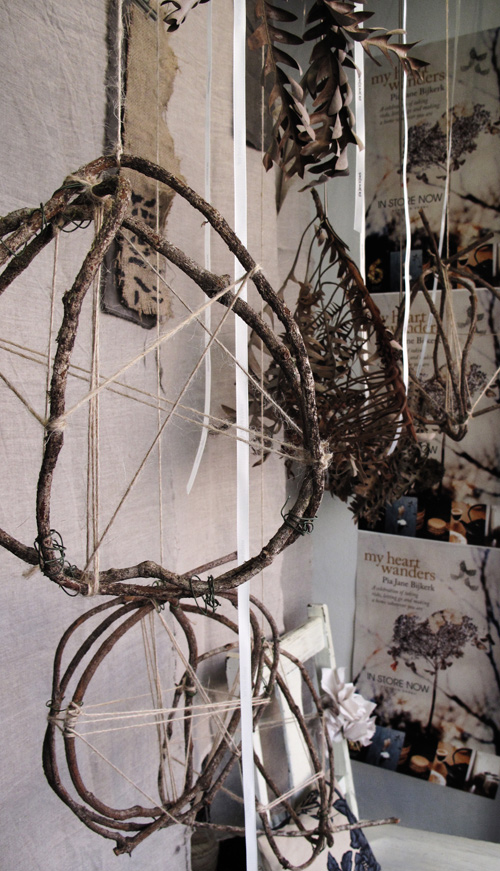 Tracey let me choose a number of pieces in her studio. I settled on these marvelous sphere sculptures, and some delightful dried banksia branches. I thought they might just work perfectly hanging from the ceiling next to my old chair, to create a kind of dream-like forest scene – a place to sit quietly and read a chapter or two from your favourite book. I used the packing paper flowers as well, and cut out some of my butterfly illustrations…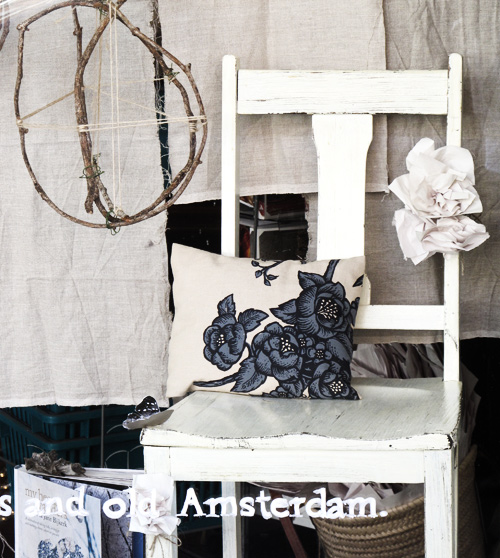 The cushion is something I'd made years ago with some left over sample fabric from Signature Prints. The backdrop comprises of linen strips that I'd used in the houseboat for curtains, and the leaves I found at Callan Park…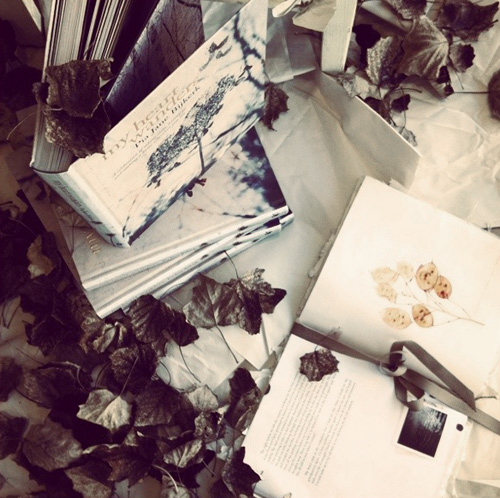 The next window I created was at sweet Oscar & Friends in Surry Hills. This window had quite different dimensions – it was tall and skinny, with only a small ledge for sitting props. So for this window I decided to focus on the glass itself and print then trace an entire passage from within the book…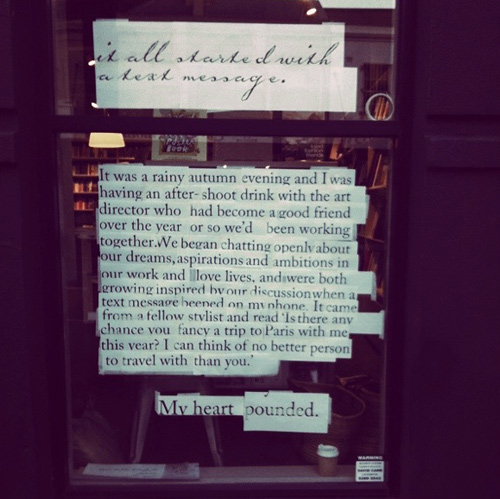 Once I put the text up on the window to trace, I loved its roughness and was tempted to leave the strips of printed text as is…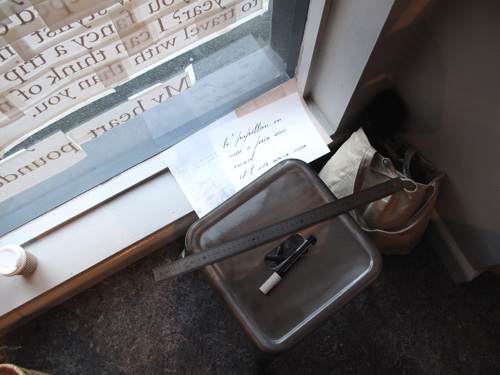 Above is my little work station while creating the window.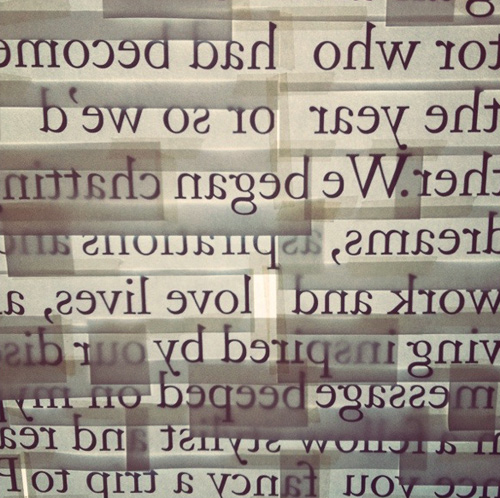 It started to get dark rather quickly and I needed the outside light to be able to trace the text, so I had to stop taking photos of it and focus.  It was labour intensive, but once I finished and stripped the paper off, I loved the results. Then I wondered, what to do with the rest of the window? And how to draw the eye to the text? Well, I just happened to have found a huge eucalyptus branch the day before which had fallen from a tree in a car park. So I installed that up against the side of the window – I was pleasantly surprised to find that it was an ideal fit. Then to create an autumn tree effect, I attached branches of dried leaves along with some ribbon from the top of the window…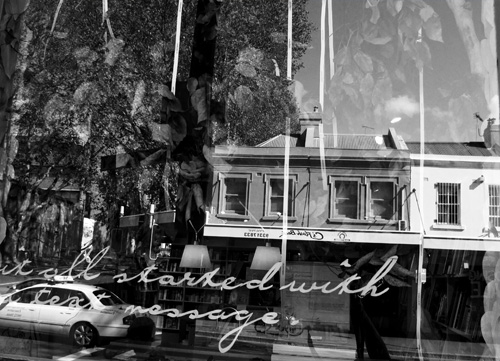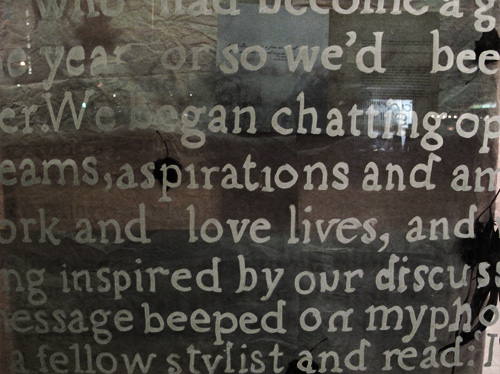 While I was searching for which passage of text to use a few days prior to installing the display, I opened the book and unexpectedly, it flopped open to one of the beginning pages that talks about how my trip to Paris came about. In it I mention that I was having an after-shoot drink with an art director friend – that after-shoot drink just happened to be around the corner from Oscar & Friends, at a neighbouring bar. So now here I was just around the corner but 4 years on, making a window display about the book that I wrote based on the journey I took that stemmed from that very conversation. I find that amazing. Anyway, back to the window display: It was pitch black outside by the time I finished the window, but I took a photo regardless of the lack of light…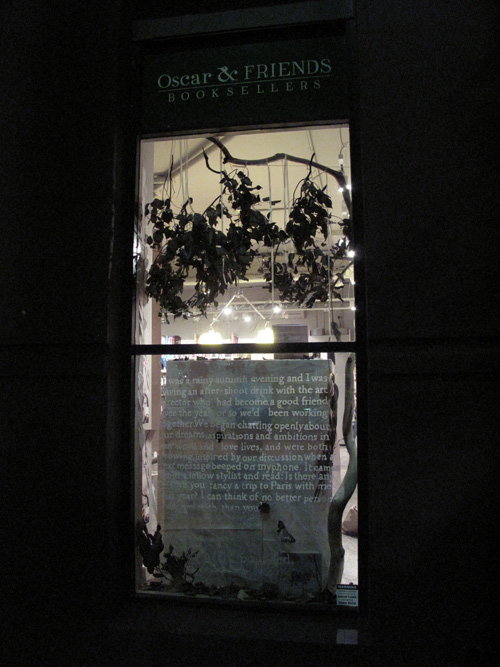 And then before I headed off to Brisbane the next day, I took a quick detour back to Oscar & Friends to take a photo of it in the daylight…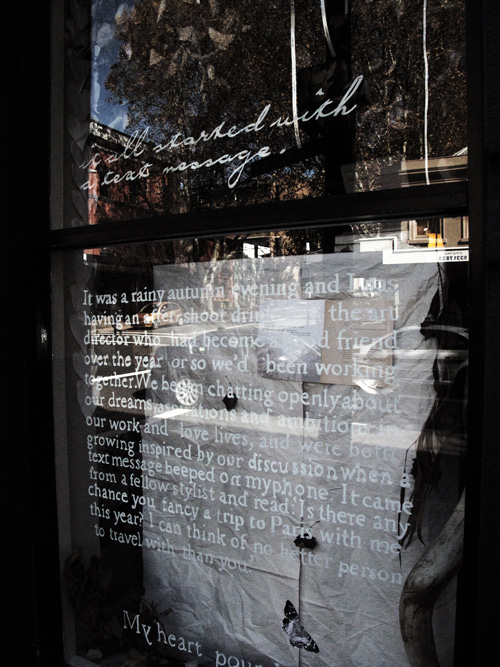 The beauty of doing window displays is that they are so much about being there, in the moment – you have to be there to really see it, as windows are not easy to photograph with reflections and all. There are always lots of textures and layers which is what makes them wonderful, 3d forms of art.
Next up was the fabulous Shearers in Leichhardt… hello Norton St…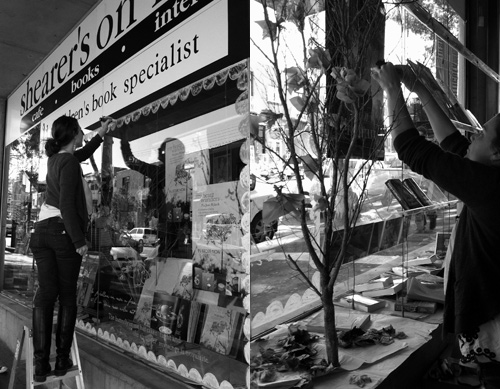 This time Ashlea and Romain were there to help (merci beaucoup mes amis!), so we got the window installed in next to no time. I love that all the props I've used in all these windows have been found, salvaged or handmade. For this window, I found a lovely branch the day before while driving through the residential streets of Bondi Beach. We attached it with fishing line, and then attached the paper flowers and scattered the leaves around the base, along with copies of the book…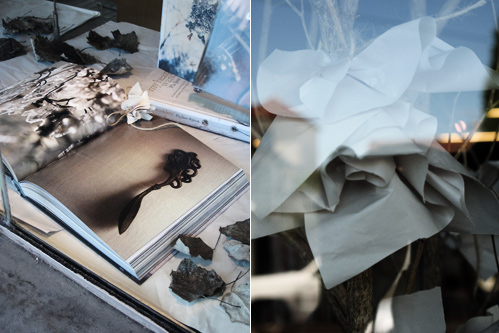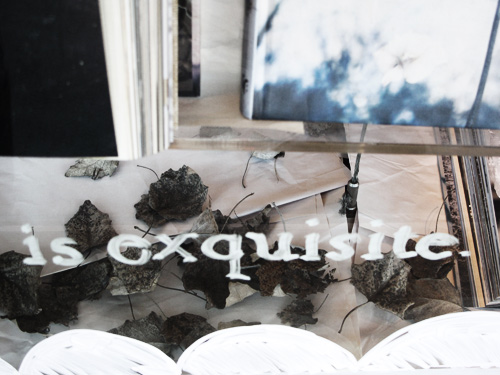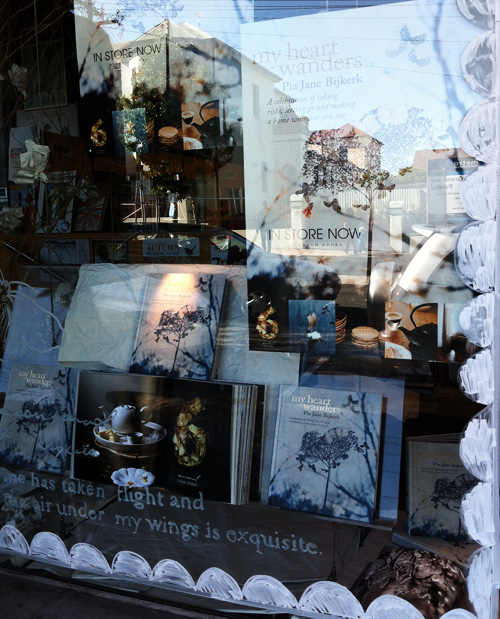 Thank you Shearers, Oscar & Friends, and Better Read Than Dead for your continued support, and for letting me play in your beautiful windows. And a big hug and thank you to Tracey Deep for lending me some of her floral sculptures.
Last weekend Stef from Newspaper Taxi and I created a window display in her gorgeous store in Newtown (and had a party to celebrate it!), here is a sneak peek of the display…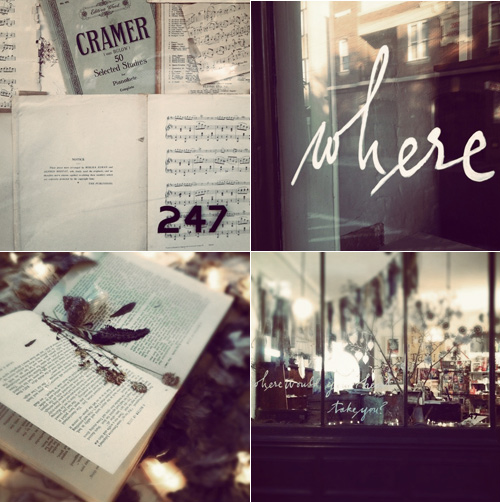 …but more about that soon. For now, be sure to check out the window at Newspaper Taxi –  there is something you can add to it too (I'll let Stef tell you about it when you go and visit).
This Saturday will be the very last window display event in Sydney to celebrate the launch of the book.  It will be at Little Paper Lane in Mona Vale. It's exciting to wrap this month of events up on the Northern Beaches – my old stomping ground. On Thursday night I'll be talking at Mona Vale Library – the very place I used to go to almost every afternoon after high school. And then Saturday we'll have a party at Little Paper Lane– I'm so looking forward to being surrounded by family and locals, new friends and old – I hope you can come along! Check out the details right here. I wonder what I'll create in Jayde's window? I think since it's my last, I'm going to go all out – Mona Vale, here I come!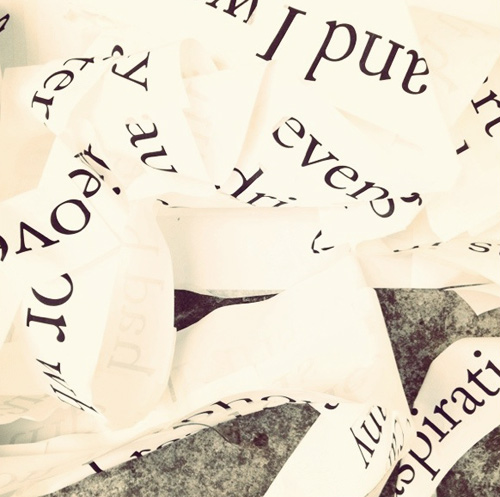 a jumble of words, a jumble of thoughts and ideas…
PS a few people have asked what I use to write on the windows – I'm using posca pens in white, in different sizes, and I bought them at modern times on king st, newtown.You just need a bit of water and a rag to wipe them off glass. I find the pens are much easier to use than paint and a paint brush. Have fun!