photo by murdoch book publicist ashlea wallington, photo treatment using lo-mob, with text additions in adler font.
………………………………………….
A little less than a year ago – about half way through the making of My Heart Wanders – it did occur to me that once the book was published, I may have to do some public book events. For a very private person who has shied away from the spotlight my entire life, I can tell you, that realisation was much, much more daunting than writing, photographing, and designing this book. Over the weeks leading up to these events, I have had many discussions with french boy about how and why I don't like being the centre of attention. My reasoning and explanations range from "I'm an artist, not a performer" to "I don't have an oral monologue to tell" to "this is not who I am".  He listens. And smiles. There is always something in his dimpled smile that gives me strength.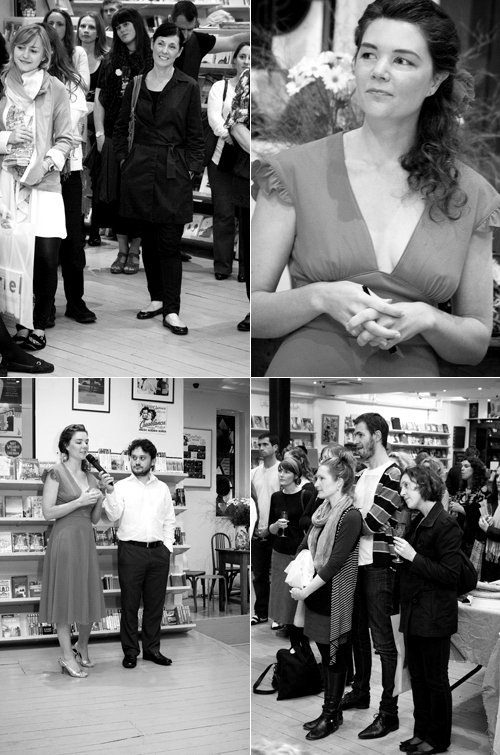 Last Friday night's official book launch at Ariel was the first time I'd gotten up in front of a crowd with a microphone to my lips in, well, I don't think I ever have. I didn't say much, just a few thank you's. But that in itself was a huge deal for me. I asked Romain if he would come up on stage with me and hold the microphone in case I had shaky hands. He did. He held it so close to my mouth though, and kept moving it every time I moved my head that it made me giggle, which helped relieve the tension I had building up inside me. It was wonderful to have him by my side. But I have to say, I think it was all made easier by the fact that everyone who came that night made me feel so special and supported. After a lovely introduction by Ariel's event coordinator Steven, my publisher, Diana Hill, talked a little about the 'making of'. It was wonderful hearing about it from her perspective, and funny to be reminded of some of the more stressful times we had last year, trying to work from opposite sides of the world. Then Victoria Carey, editor of Country Style, spoke next about how she first came across my blog, and how thrilled she was to learn that there was a country connection that stirred my wandering heart, and how that lead us to meeting and me writing the piece for the latest issue of Country Style. Victoria also read out parts of my book, and that for me was delightful. I don't read my work out loud, so to hear it in her voice, with her interpretation, was very special.
Regardless of the awful weather outside, and the royal wedding, so many people came to wish me well and buy the book. I met lots of beautiful sydneysiders who I'd been in contact with online over the years but had never met, I had friends come along who I hadn't seen in years, and family who drove through the downpour from the other side of sydney, to be there to support me. Ariel put together a great event, with french champagne and a fabulous spread of charcuterie and french cheeses (including my favourite cheese, comté)  by La Planchette.  It was an amazing night, one that went way too quickly, but one that I will treasure for always…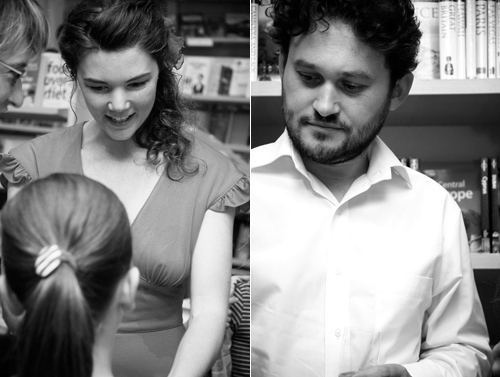 A big thank you to Jillian Leiboff for coming along with her camera and taking so many great shots of which you see above. Please visit her blog to see more photos from the night.
Thank you Ariel, Murdoch Books, Country Style and each and every one who came to celebrate with me – you made the making of this book worth all the effort.
xx
………………………………………….
PS here is the dress I wore that night…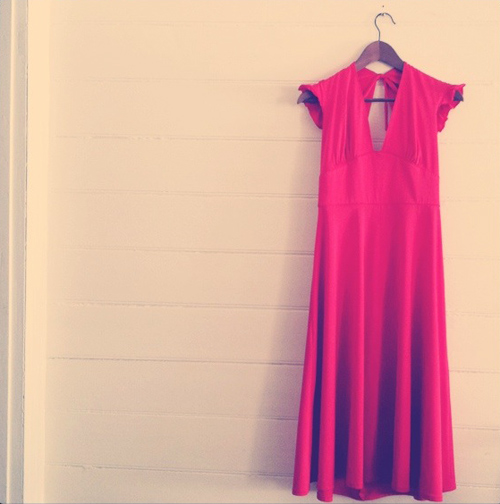 It's bright red, vintage, and I bought it at Grandma takes a trip the day before the launch. I wanted a big red flower for my hair but I couldn't find one, so I took a red chiffon scarf that I had in my closet and fashioned it into a flower shape and pinned it on the side of my head.