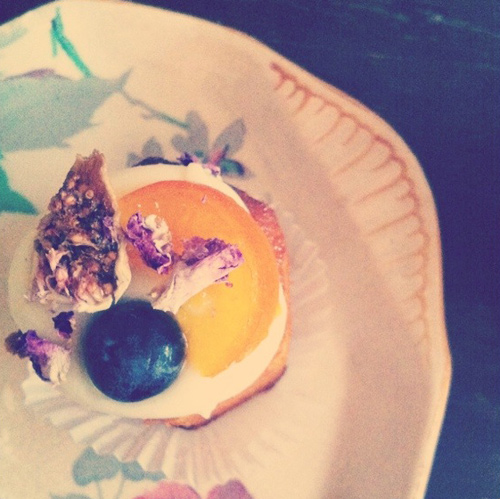 a delicious little cake with rose petals &  blueberries from black star pastry

If you missed the official book launch at Ariel in Sydney last Friday, there are a few more events coming up during the last couple of weeks of May, I hope you can come along. This Sunday May 15, there will be a french-inspired high tea author interview, organised by Books and Nooks. It will be at Velluto, in Potts Point. From what I know, it's already sold out, but if you want to come along, it might be worth giving Books and Nooks a call anyway, they may be able to make room for one or two more.
On May 21st, I am going to get creative in Stef's window display area at her gorgeous store, newspaper taxi. Stef and I have been busy thinking up some great ideas for the day, it's going to be so much fun being surrounded by creative people in such a beautiful boutique, sipping sparkling wine, chatting about all the things we love, and nibbling on some of the most delicious treats from neighbouring cafe Black Star Pastry…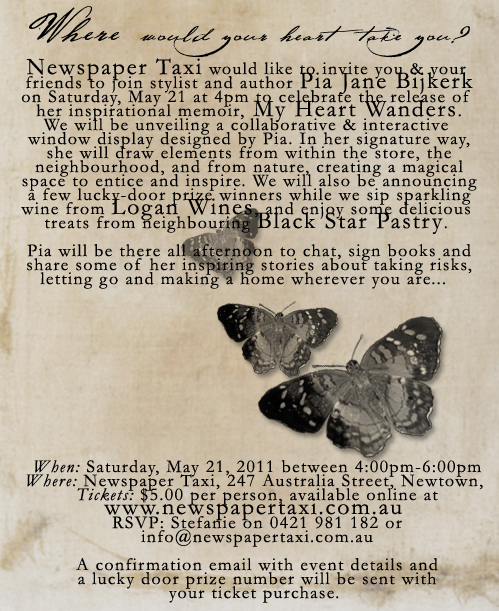 please feel free to print this invitation out, give to your friends, or post it on your blog. x

Tickets cost $5.00 which puts you in the draw to win a fab lucky door prize with handmade goodies from newspaper taxi. But if you pre-order My Heart Wanders through newspaper taxi (I will sign it for you on the day), then you can come along to the event for free! But please RSVP sooner rather than later as places will be limited…
………………………………………..
When:
Saturday, May 21, 2011 at 4pm
Where:
Newspaper Taxi, 247 Australia Street, Newtown
Tickets:
$5.00 per person or pre-order My Heart Wanders now online and get in for free
RSVP:
Stefanie on 0421 981 182 or info@newspapertaxi.com.au
………………………………………..
I have something rather magical in mind for the window which I will work on with Stef in the lead up to the day, and then it will be revealed at 4pm on Saturday, May 21st. Oh I do hope to see you there!
xx
PS For those who live on the Northern Beaches, Jayde from Little Paper Lane in Mona Vale is hosting a similar event on May 28th, which I will tell you more about in a few days time.
PPS word is that My Heart Wanders will be released in Europe on June 6th, yay!