WordPress database error: [Table 'piatest.the' doesn't exist]
SHOW FULL COLUMNS FROM `the`
WordPress database error: [Table 'piatest.the' doesn't exist]
SHOW FULL COLUMNS FROM `the`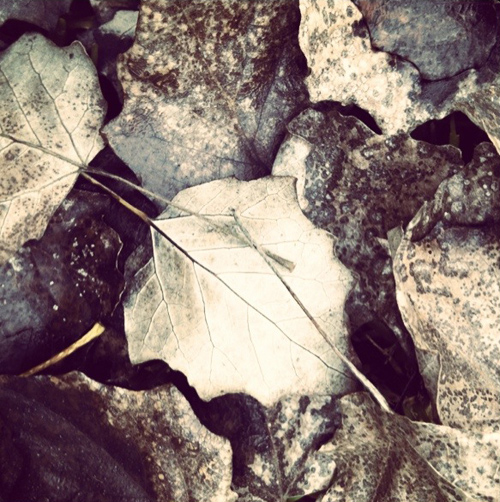 leaf gatherings for window displays, photo taken on my iphone using instagram

I'm sitting here in my new home, ugg boots on, three layers of clothing, blanket wrapped around my shoulders, typing with frozen fingers. I am so very cold. Oh the irony. Although it is not 'that' cold here in Sydney compared to Amsterdam (all I have to do is stand out in the sunshine here and I will thaw) , I'm now fully aware that houses in this country are not built for cold weather – that is, weather that dips below 15C. I find that quite peculiar, because at the same time every year, the temperature drops. Winter might not last for long in this country, but it still exists, and it's cold. Why not make a home accommodate that change in temperature? I don't get it.
Anyway, here in the (blog)house the weather is always fine, and we are always cozy. Right now I have two special guests pottering around, have you noticed? Dear Marjorie has come back to cook a fabulous spring menu, starting this week with recipes for gougères and an endive salad – miam. In January I had the pleasure of meeting Marjorie in her new hometown of Beaune in France, I will post some photos of this amazing French town soon (needless to say I fell in love with this special place and everyone who lives there). Click here to visit Marjorie in the (blog)kitchen.
Also in the (blog)house, hanging out in the guest quarters is sweet Christine who has just published a book called "markets of new england" with The Little Bookroom. Christine is taking us through New England each week this month, and already she's shown us some amazing discoveries. I adore New England, I have been wanting to take Romain there on a road trip since we met, and Christine is certainly enticing us ever more to head out on our New England adventure. Click here to visit Christine in the guest quarters. Thank you both Marjorie and Christine for coming to visit, I hope you will enjoy your stay.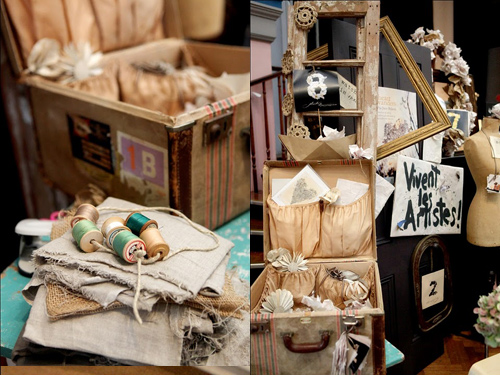 While we're here, would you like to hear about my weekend in Melbourne? After the book launch in Sydney at Ariel on Friday (April 29th) I had to get up bright and early the next morning to catch a plane to head to Melbourne for a special event at Magnolia Square in Malvern Town Hall.  My Heart Wanders book publicist Ashlea had made all the arrangements for the weekend and came along to help me with the events and window displays – what a treat that was.  Ashlea loves getting crafty and totally 'got' my ideas and what I wanted to do, I feel very lucky to have her on board. Once we got to Melbourne, it was full steam ahead – we headed straight from the airport to the town hall to find it a-buzz with creative people. Within minutes Magnolia Square founder & director Nic MacIsaac announced my arrival and before I blinked I was surrounded by the loveliest Melbourne dwellers, all wanting to get their hands on a copy of the book and chat. We barely had time to get the books out of the boxes…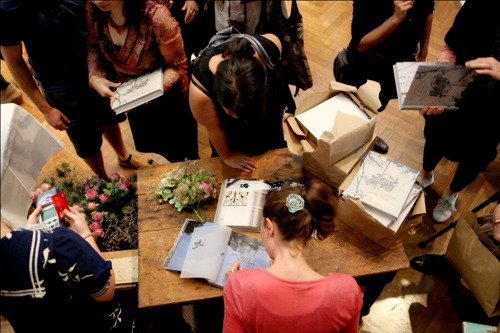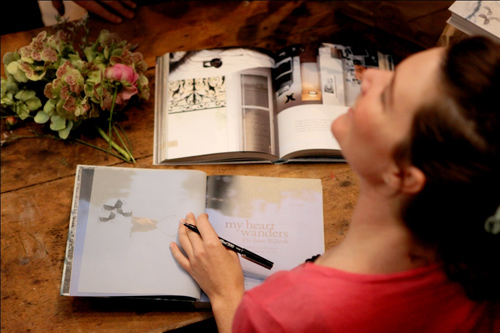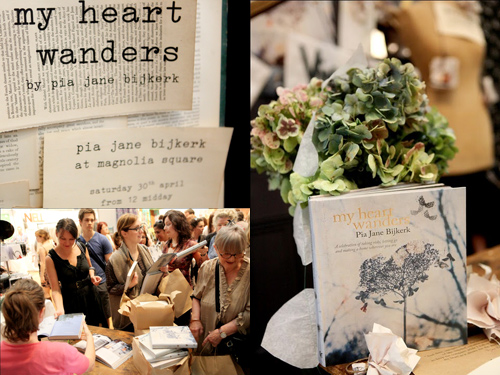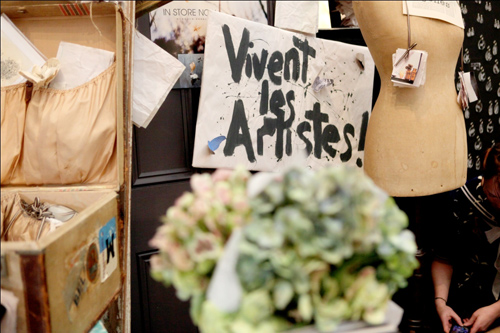 all photos above courtesy of little bird photography
Lynn from Scarlet Jones provided all the incredible props for my signing area. Although I have not been to Lynn's shop, I'd been in contact with her over the years through our blogs – it was serendipitous that she was going to be at the market and was able & willing to bring a whole bunch of beautiful wares for my use. Lynn brought old suitcases, birdcages, a tailor's mannequin, french doors and tables – when I arrived, the little corner space was so perfectly styled and arranged thanks to Nic and Lynn, I dared not touch it. Now I am dying to visit Lynn's boutique – I have seen lots of photos of this special treasure trove and next time I visit Melbourne, Scarlet Jones will be one of the first places I go.  Thank you dear Lynn and a big thank you to her daughter Emma who stood by me the whole time and organised all the book transactions.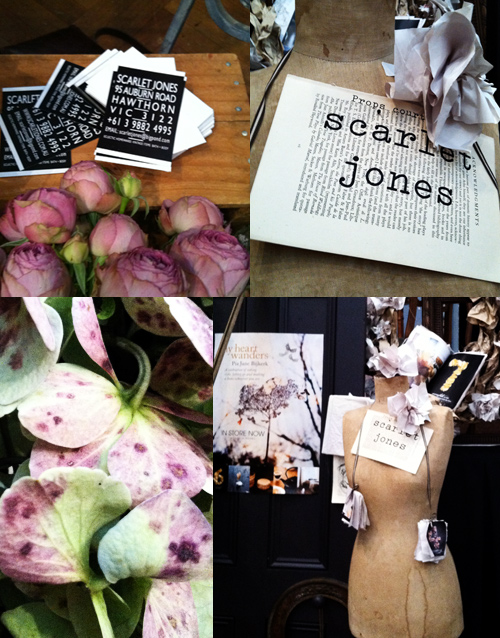 Photographer Pru Trundle from Little Bird Photography was there to capture the event, she took the most beautiful photos. Although I was intending to style while at Magnolia Square, we realised quickly that it wasn't possible with all the people, so we decided I should focus on my visitors and chat and sign, while Ashlea pottered around me putting some of the props I'd made around my signing table. It worked out well, Ashlea did a marvelous job at it, but if you came to see me style I do apologise, it just wasn't possible. Instead, I met dozens of wonderful people, and at the end I found a minute or two to visit some of the stall owners and took some photos on my phone – I look forward to telling you about them in another post soon. One of the things that I'm so pleased I did get to do was put out a little notebook for visitors to write a message in. I will treasure that book. Thank you everyone who wrote something, and a big thank you to Nic and her team for having me at Magnolia Square, it was a truly wonderful experience.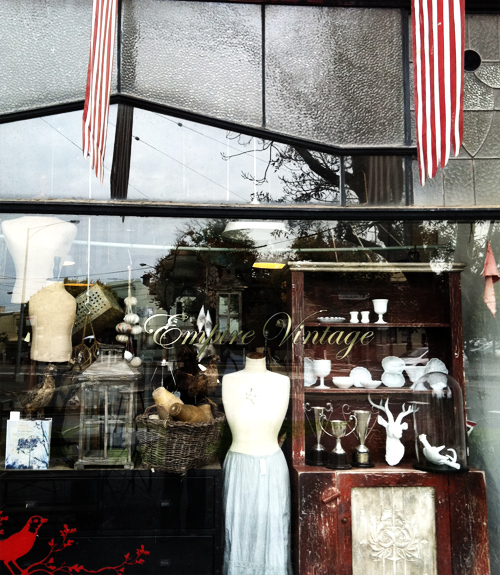 At 4pm, Ashlea and I gathered up our things, said our goodbyes, and headed to Lynda Gardener's boutique in Albert Park – Empire Vintage. Awaiting us was an intimate gathering of friends new and old – we sipped champagne and ate delicious dips and crackers outside on the walkway while the sun set. It was a wonderful way to end the festive day. Lynda took some great pics on her phone…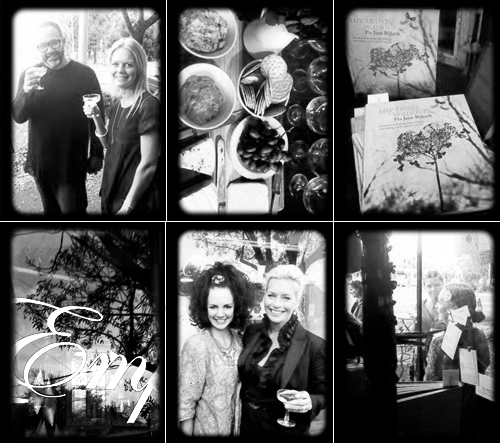 The next day, after a hearty breakfast at The Wall, Ashlea and Iheaded out to the first wandering window location – Coventry Bookstore. With many thanks to the florists at In Full Bloom (which is just around the corner from Coventry) who left a fabulous bunch of floral goodies for me to use for the displays, we got started on creating something whimsical in the window. I will tell you all about that in the next post…
xx