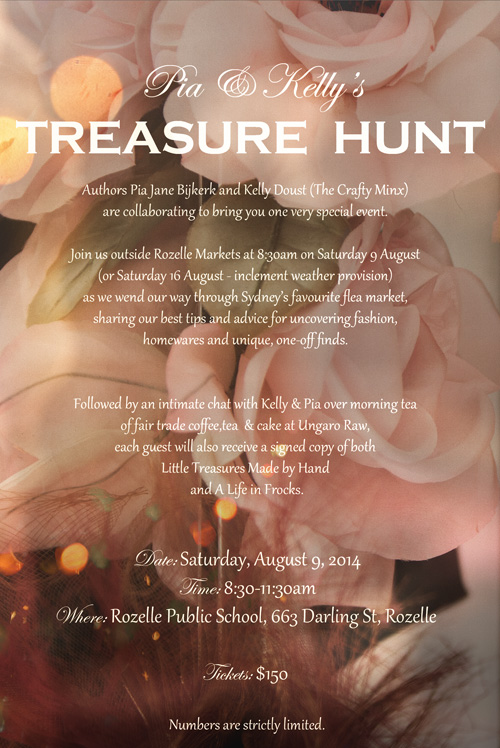 I'm so excited to reveal the details of a very special and fun event that fellow author Kelly Doust (aka The Crafty Minx) and I have been planning…
Kelly has become a dear friend since I moved back to Sydney.  Although I'd heard a little about her from our mutual friend Catherine while I was living in Amsterdam, I first met Kelly when she came along to one of the My Heart Wanders book launch events in 2011. I was struck by her incredible presence, her beauty and style. We chatted briefly at the event, she was so open and honest and at that point, I hoped we would meet again. And we have, many times since, and I feel honoured to have her as my friend – she enhances my world and I can't wait to share her with you if you haven't already gotten to know her yourself.
Join us in quaint Rozelle on Saturday August 9 to stroll through one of our favourite flea markets of Sydney as we share our tips and advice for uncovering unique one-off finds in homewares and fashion. After our wonderful treasure hunt we will head over to Ungaro Raw for an intimate chat over delicious sweet treats. Each guest will receive a signed copy of Little Treasures: Made by Hand and A Life in Frocks.
For more details see the invitation above. Tickets are on sale now with numbers strictly limited to keep the event intimate and exclusive. To purchase, just click on the 'buy now' button below.

I hope you can join us! Have a beautiful weekend mes amis.
xx