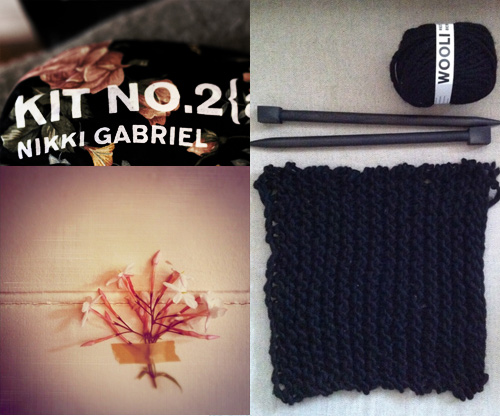 This winter I've had the time to do some knitting, something I haven't done in years. I'm not an experienced knitter by any means – I know the basics, I can knit simple shapes (such as squares and rectangles)… the idea of making a piece with curved edges, patterns or with multiple yarns is an adventure I'm not quite ready for.
To my delight, talented knitwear and textile designer Nikki Gabriel has come up with something fabulous for beginners and advanced knitters alike: a unique series of knitting patterns that are designed to be made in stages by simple knitting shapes. Called Construction kits, Nikki has cleverly designed 3 in total so far, and each kit comes complete with instructions for making a number of super stylish garments –  from simple scarves to vests, sweaters, and cardigans…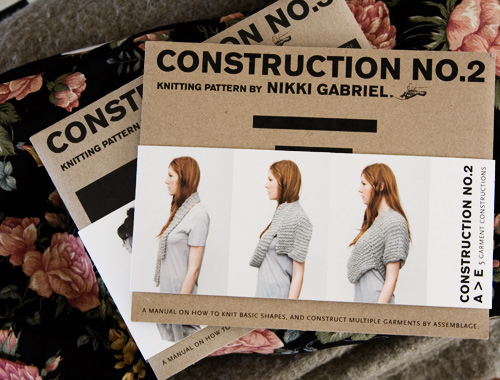 "Each shape is simple to knit and like a building block system, you can begin with a one-ball of wool construction; your first block. Knit one ball creating a garment; then add another knitted shape with two balls of wool building on the first garment. So begins your construction."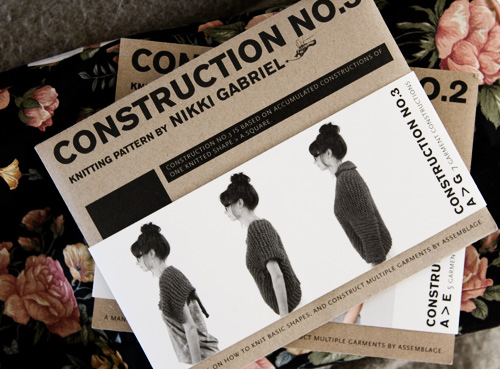 I've been working on Construction No. 3 which is based on just one knitting shape – a square. In this kit, you have 7 garments to build on – a shrug (which consists of 3 squares), a sweater, a sweater with sleeves, bolero, cardigan, jumper and jumper with cape. Each garment is a stage built on the previous one. I decided to make the cardigan, which builds on the shrug and bolero, knitting 9 squares in total…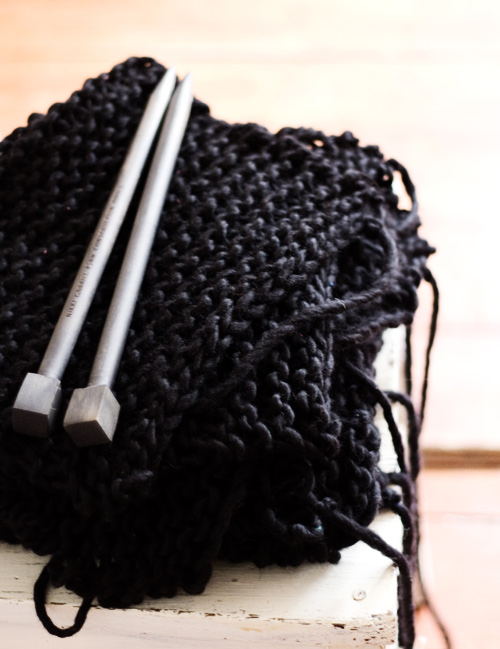 Nikki has also designed her own yarn called "Wooli" – a delicious mix of recycled factory fibre remnants like wool, alpaca, silk, and cashmere. The result is a wonderful mix of thick, lush yarn that feels soft and warm, and comes in colours 'greige', 'burgundy', grey and black. I used the black yarn to knit my cardigan as you can see below…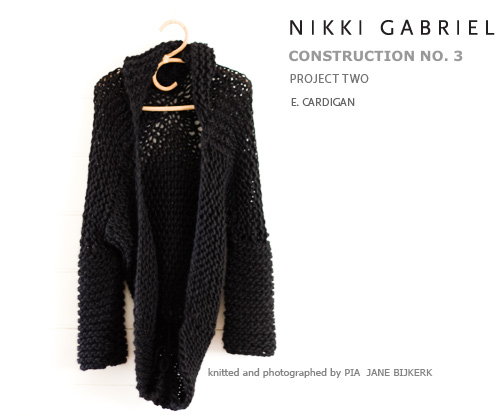 I'm so happy with the result. Creating the garment has been a lot of fun, and I love the way the garment feels to wear – it's so warm and cozy.  This is a project that can easily be done over a weekend, or a series of weeknights  – for me each square only took about an hour, but if you're an experienced knitter I'm sure it would take you no time. My cardigan is going to get a lot of wear for the rest of winter and into spring when there is still a chill in the air. Now, I can't wait to make myself another garment… next up I'm thinking the bolero from kit no. 2 will be perfect for the months to come.
……………………………………………
+ To purchase a Nikki Gabriel Construction kit, click here.
+ To purchase Wooli and Nikki's ebonised knitting needles made from recycled Rimu in New Zealand, click here. And for more info on Nikki and her creations, click here or to read her blog, click here.
Thank you dear Nikki for allowing me share your beautiful work here in the (blog)house.
xx