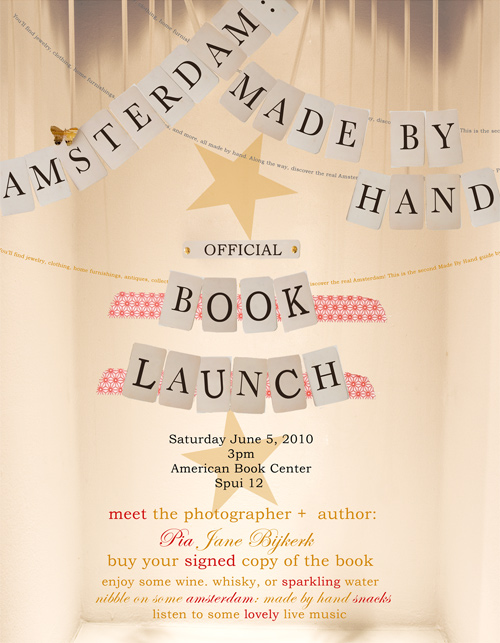 So here it is, the official invitation to the official book launch of Amsterdam: Made by Hand.

What do you think? I know I said I'd post it yesterday but I spent all night working on it, as with all my endeavours, they always take longer to create than I initially planned! Anyway, I am so very excited about the event for so many reasons, it's going to be grand. Other than the above mentioned treats on the day (personally signed copies, enjoying some wine, nibbling on homemade nibbles and listening to some lovely music), I will also be making a special window display for the American Book Center, so by the time the 5th of June comes around, this awesome bookstore will, well, be even more awesome!! If that's possible.
I am going to reveal more details of the event in the weeks to come but for now I just wanted to officially invite you all. Below is a little snippet from the press release, please help spread the word…
I will also be sharing some more Amsterdam: Made by Hand goodness with you soon including the announcement of some more very special events. I am excited to tell you that the book has already received some excellent press around the world, I will share these with you too! Mostly, I can't wait for June to roll 'round so you guys can get your hands on them.
xx