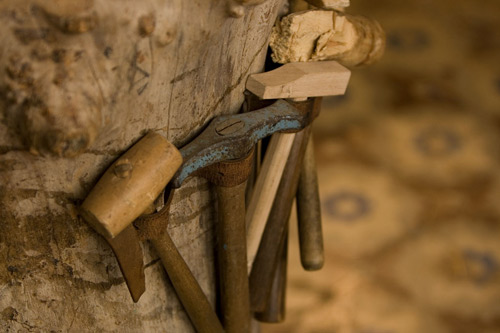 Today I found myself flicking through Paris: Made by Hand in search of a shop address for someone (it's so handy having my 'little black book of Paris artisans' in one neat little place!) and when I saw this image, it made me smile. It is one of my favourites from the book. Everything from the tools, the colours, the floor tiles, the rough surface of the wooden post… it takes me straight back to the moment I took the photograph: I was in Thierry Grave's studio (page 187) on Rue Durantin in Montmatre and I remember being completely in awe of his creations.
As with so many of the artisans I feature in Paris: Made by Hand and Amsterdam: Made by Hand, I feel so privileged to be invited in to their private worlds, capturing intimate details of their studios and chatting openly about their work. They are each so passionate, enthusiastic, and talented I am always in awe and when I leave, I feel like I'm walking on clouds.
Anyway, I digress completely because this post was just supposed to be a reminder about our haven workroom giveaway! It will close tomorrow (since we are all on different time zones I will make it in the afternoon for us in Europe = late night for Aussies and New Zealanders = evening for everyone in Asia = morning for North Americans). So, make sure you leave a comment on the giveaway post so you can be in the draw.