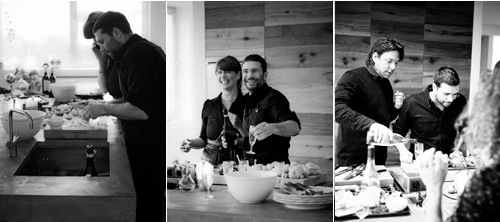 As promised, a few behind the scenes shots from the Maria magazine shoot! with many thanks to the lovely Sophie who was one of our dinner guests and is also a part of Yvette's excellent restaurant team (Sophie is pictured in the previous post, offering wine to her fellow diners), and also with many thanks to photographer Jeroen who captured heaps of beautiful shots for both the story and behind the scenes. Above you can see Yvette and Roeland Fernhout preparing the meal and having an absolute ball doing so! They are very good friends and it was so much fun capturing their friendship on camera – always making each other laugh. Being an actor, Roeland made my job too easy as I didn't need to art direct him or his guests at all. He knew just when to pick up the bread knife and pretend to cut the bread, when to pretend to offer his guests wine and pass empty plates around the table. He even bought all of us little gifts and put on some christmas music to get everyone in the mood! If only I could have him for all my lifestyle shoots…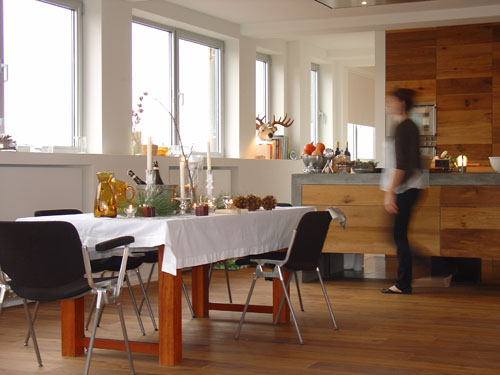 …
…that blurry person above is me, in the midst of prepping the table for the Christmas dinner. You can't see here, but the chaos of all my props were stacked in massive piles on the floor to the right. I'd also asked that the table area remain people-free until I was ready so all the guests (including the photographer) are sitting in the lounge area where this photo was taken, waiting patiently for me.
I wanted to create a table that was sophisticated and contemporary, but warm and cosy (or gezellig as they say in dutch). And it needed to be masculine and modern, and reflect Roeland's personality. In prep for the shoot, Yvette and I chose a warm palette of chocolate browns & ambers, black, gold and ochre with a wintry white backdrop for the look. So off she went to design her recipes with those colours in mind, and off I went in search of the perfect props!
I made the table with a simple white linen cloth and added the colour palette with the plates, cutlery, glass, coasters, candles and the pine branches. I made the centre piece 'the tree' and chose long branches intermixed with pretty white bud flowers and foliage. I hung little black crystal drops from the branches so that the candle light on the table would reflect and bounce off the little hanging ornaments…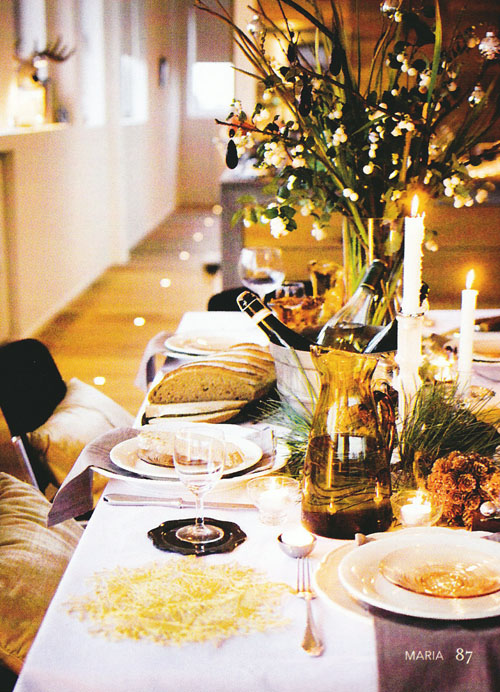 Remember I mentioned back in my holiday decorating guide that I like to use doilies as a textural element in my festive table settings? Well there you go! The vintage gold ones that I found in Den Hague are lovely, but white or cream ones would be just as beautiful if you choose to do this for your christmas table. Oh and you see those lights on the floor? They are actually part of the flooring of the apartment, it adds the perfect touch to the festive mood!
I love the 'cheers' shot behind the table. Here everyone is having fun chatting and catching up. And I love the shot of the boys out on the deck with their backs to the camera, looking out over Amsterdam and having a chat.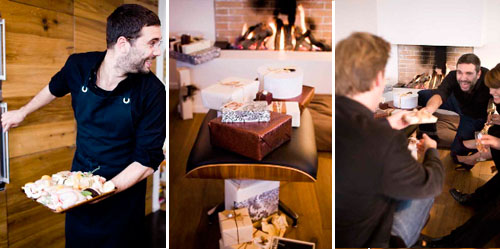 Roeland wanted to open my wrapped presents but I wouldn't let him – I'd spent all night wrapping old books and French Boy's guitar pedal boxes for the shoot, and I could see that in one fowl swoop all that hard work of wrapping would be gone in a second, with no time for photos of the lovely wrapping. But in the end I said they could open just one – look at Roeland's face passing the gift to his pal to unwrap it! So funny. The gift turned out to be one of our old French sci-fi novels that I just picked up off my book shelf the night before. They all looked at the book with great interest! I had a good laugh.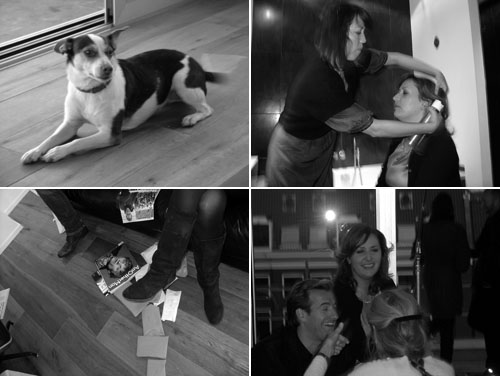 And my favourite little helper, Marie! This is Yvette's dog and I utterly adore her. I've already put up my hand for babysitting when Yvette and her partner Oof are away. Marie is an absolute darling, so full of life and love. Everyone enjoyed getting a makeover for the shoot. The bottom left photo shows the little gifts Roeland bought, and magazines that everyone was reading while waiting for the dinner table to be ready.
…………………………………….
And that was that! Lots of work, and lots of fun. I am also pleased to tell you that all my props were vintage or second hand, or made with sustainable material. Bet you did not know that? So if at any moment you thought it was not possible to be stylish and care for the world at large, think again! It's totally possible. I'll have more of these ideas and tips for you in time. All in good time.
I hope you liked this first little glimpse behind-the-scenes of my work? If you do like this let me know and I will make an effort to take some more behind-the-scenes photos for you on my other shoots. I might even get in one or two of the photos myself (of course I will, it will be good to practice my smiley face).
…………………………………….
Next Up: hmm, I have quite a lot, let me see, what will I post first…