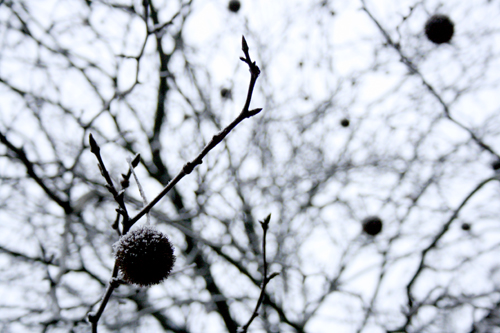 (photograph by me, taken from this post.)
It is snowing here in Amsterdam again today. It's always a treat for me to see snow falling from the sky. Even though I've lived through a number of snowy winters in my life (there are many Australians who have never seen snow), I still to this day find it so magical. And it is the perfect inspirational backdrop to share with you my (blog)house holiday tabletop theme of white, warmth, shadows & textures.
First let's start with your bare table. A beautiful tablecloth is always the basis for a beautiful table setting. I like to keep my tablecloths simple so that the setting can do all the talking. Here are some that I like that fit the moodboard perfectly…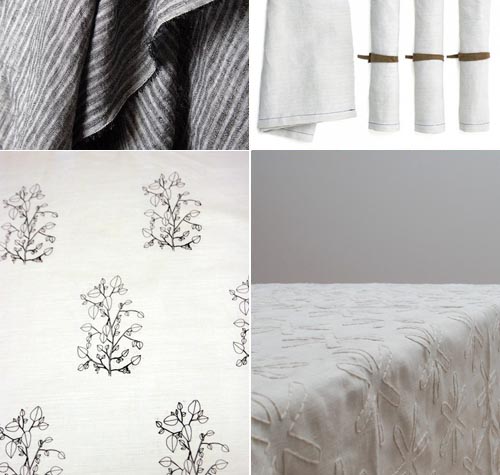 clockwise from top left:
1. UK fabric house namolio has some gorgeous linens in stock at the moment. Although this one is on the 'shadow' side of my white theme, it would make a lovely backdrop for a holiday tabletop setting. Your setting will stand out against the dark cloth and look very dramatic. This linen is sold by the 1/2 metre for $7.50.
2. plain white cotton napkins – you can never have enough (I have a drawer full of them and mix + match for shoots). These particular ones are rather special – they are handmade in romania and are 80% hemp, 20% cotton. The materials used in these linens were organically grown on family farms, then harvested, processed and spun by hand. Available from Branch Home, $38 for 4.
3. I love this hand-embroidered snowflake tablecloth from jodii. Its 100% linen and measures 160cm x 160cm. $530. made in germany.
4. This handprinted linen + cotton fabric from maramkiki would make a beautiful tabletop cloth. $40 per yard (57″ wide). chicago.
…………………………………………………………….
stylist's tip: If you have just a plain white or cream tablecloth, you can add layers to create texture. Use similar coloured fabric remnants to lay over your plain cloth base or display a few vintage doilies – I have a collection of vintage cotton doilies in my props cupboard for just such occassions. Keep an eye out for some in your local vintage shops and markets, as well as ebay. I styled a Christmas tabletop story for maria magazine using some of my doilies (I promise to show you soon).
…………………………………………………………….
After you've chosen your tablecloth, you can get started on adding textural elements. As you know I am loving the use of feathers lately…

…and I found these stunning feathers for cindy k's request yesterday. They are hand collected from a free range farm in Texas, carefully washed and dried, ready for using for decoration. (note: make sure the feathers you purchase are properly cleaned. Also try to source them from your local farms rather than commercial craft warehouses.)
Next, scatter some beeswax tealights around and light them! I can't help but light the candles while I'm decorating as it adds mood and helps my inspiration flow. It's also handy to see where the candles are most appropriate to place. Make sure you leave lots of room in the centre of your table for the centre piece and platters of food.
…………………………………………………………….
Now for the centrepiece. And what will it be? a simple collection of milk glass candleholders and vases…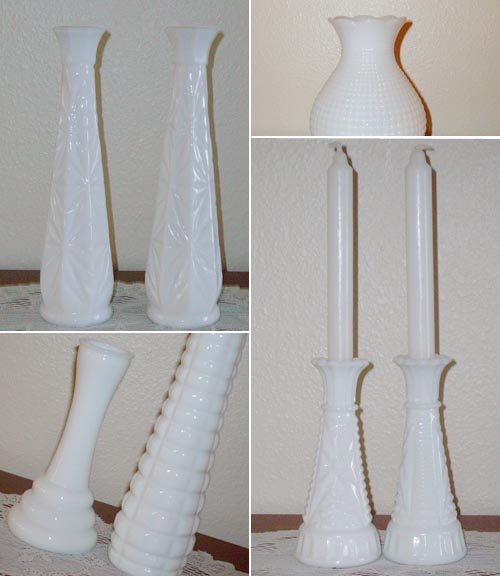 I've selected these ones from sister's vintage in orlando. All together these pieces are just $27. Fill them with tall white candles and single flower sprays and you have yourself a festive centrepiece that will look gorgeous by day & night. Place some tealight candles around the bottom and a few extra feathers. Step back and assess your masterpiece. The beauty with milk glass is that it mixes so well with clear glass and silver cutlery – once all your glasses and silverware and white plates are on the table, the milk glass adds a sophisticated softness to the table arrangement. And you can find milk glass at your local bric a brac store – just start a collection in one of your cupboard shelves and you can pull pieces from it for serving your various dishes (I also like this jug, these bud vases, and this serving platter)
…………………………………………………………….
And last but not least, the extra touches…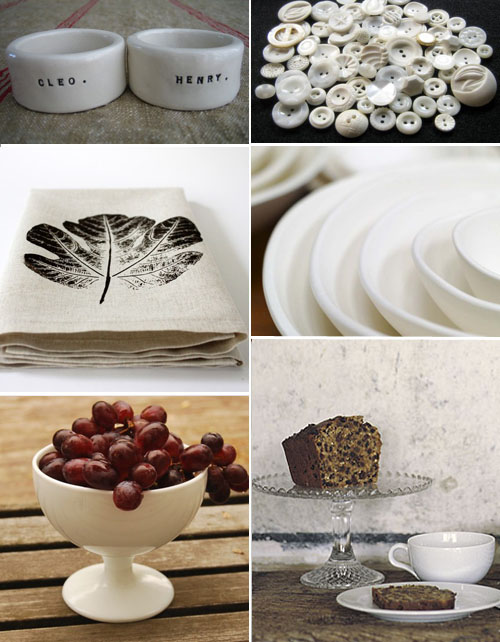 clockwise from top left:
1. rae dunn customised napkin rings. $22 for two.san fransisco.
2. a mix of vintage buttons to add to your plain white napkins, or tablecloth, or use with ribbon to make pretty napkin rings. 65 buttons for $10 from button contructions.
3. nesting bowls by sara paloma. $160. san fransisco.
4. cake plates from baileys home and garden. £18.
5. milk glass compote from callooh callay, $9.
6. oatmeal fig tea towel from lotta helleberg. $24.
…………………………………………………………….
So there you have it! I hope you find inspiration in this selection, do let me know.
coming up next… have your tree ready because I have a fabulous selection of festive ornaments in store…