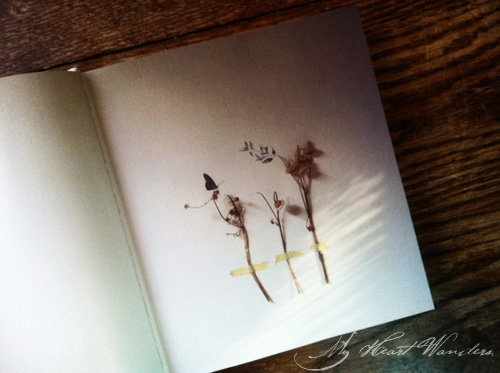 It's been a dazzling, and dare I say balmy weekend here in Sydney. Summer is definitely on the way and I've been scrambling through my closet to find some cotton skirts and dresses. And shoes – it appears my swollen pregnant feet last year broke most of them. I heard a good quote the other day in reference to becoming a parent: "each hour has now become 5 minutes". That is exactly how it feels for me, and then somehow, suddenly, night falls, and I crawl into bed at some unreasonably early hour of the evening. Do you remember the beginning of My Heart Wanders where I describe the jungle path? I've since realised that was no jungle path because THIS is the jungle path. This is the rockiest terrain I've ever traversed. It's also the most breathtakingly beautiful terrain I've ever laid eyes on.
Anyway, parenthood, it's a blog post/topic/category unto its own and one I'm not quite ready to write about. Instead let's talk books! And the design of…
So, I think this will be the last design related post I'll write for  My Heart Wanders. For this last post about the book design, I flicked through my copy to see what I'd be inspired to write about… there are the sweet page embellishments – tea stains, pressed flowers, water stains and the surprise at the end of the book (that I still would like to keep as a surprise so we can't talk about that)… and then my eyes rested on these pages you see above and below…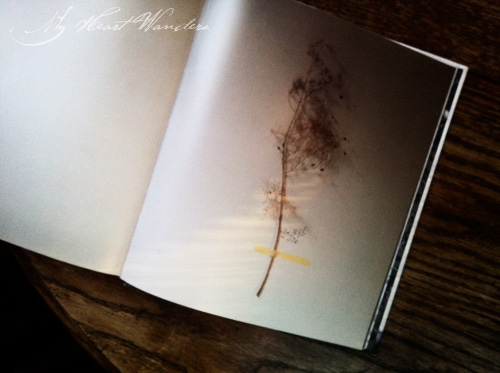 I call these photographs "breathers". It's something I incorporate in my client work too: When I photograph something, I like to create a story of images with "breathers" throughout – stop points, images for the eyes and mind to rest, reflect and breathe. These two images I placed at the beginning of the book (just before the prologue) and at the end (just before the epilogue). I took these photographs on a wall of the houseboat.  And serendipitously –  as so often happened while making this book – the light reflections from the water outside the boat windows shifted across my subject. Can you see what I mean? Here they are again…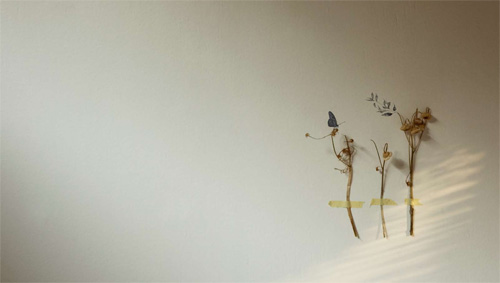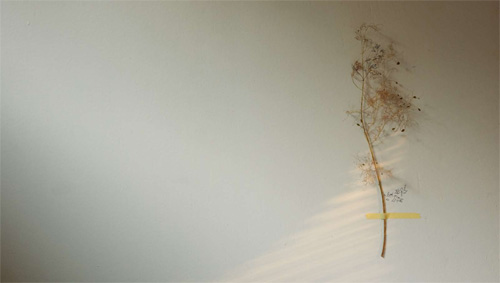 I could not have wished for something more subtle and beautiful. For me this represented how my story, my journey, was but a moment in time – some time, somewhere. How even though for me it was such an intimate and incredibly intense time in my life, it was a moment in time already passed. And it felt wonderful to have captured it. Bound it. Shared it.
I drew a little sitting butterfly and some leaves with pencil and added these to the photographs. It seemed the thing to do.
I hope you've enjoyed this behind-the-scenes look at some of the pages created for My Heart Wanders. Perhaps we can do this again some time?
Enjoy your week ahead mes amis. I'll be back in the (blog)house very soon.
xx