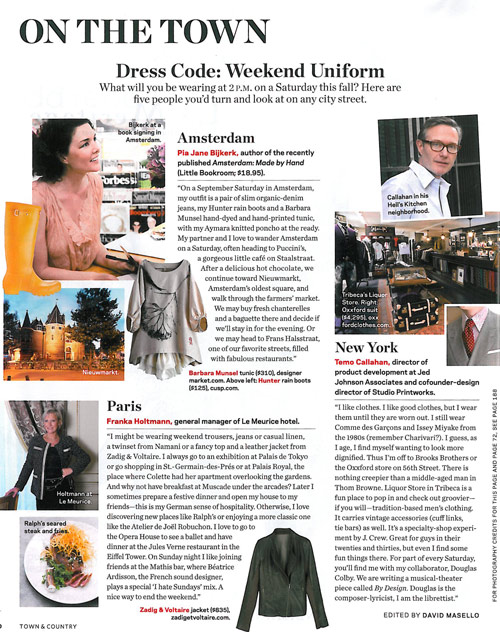 ………………………………
Yesterday I received the latest issue of Town & Country magazine in the mail, sent by lovely Linda from The Little Bookroom. Even though I knew the piece you see above would be coming out in the September issue, when I saw it in the flesh, a wave of surprise flushed my cheeks: How did I end up on this page, as "one of five people you'd turn to look at on the city street"?  Shyness aside, it's a real honor to be on this page, thank you so much Town & Country. If you live in the US, check out the latest issue of Town & Country to see the full article.
Thank you to Al Jensen for the portrait (remember he was the fab photographer on this very special day).
Outfit details in the article: barbara munsel tunic, organic denim jeans, hunter boots (an awesome gift from my wonderful friend liz), and my aymara poncho which you may recall I was wearing on this day.
………………………………
My last post about Paris is up next here in the (blog)house! Also, I've changed the blogs in the spotlight in the sidebar, and I've also done some general tidying – added a twitter button, updated the 'search' button, etc. Oh, and I've added a fun amazon widget which I found on Yvette's cool new website, it allows you to scroll through books that I recommend  – it's down at the bottom of the sidebar. x