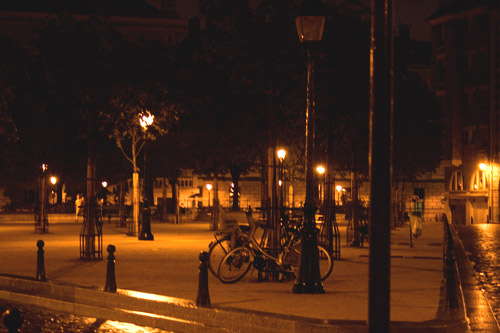 So the last two nights in Paris with Aunty Joyce were all about "the tower". On the third night together we'd planned a boat cruise on the Seine so that we could see it up close and personal, waterside. Romain and I did some serious reconnaissance of the area surrounding the Bateaux Les Vedettes du Pont-Neuf in the afternoon. It was not possible to get the stairs down from the Henri IV statue on the Pont Neuf with a wheelchair but we found out it was possible to come down a road closer to the Palais de Justice and then walk along the Seine and into the entrance of the Vedettes. However, as fate would have it, the skies opened up just at the time we were all to meet at the statue. It was quite the storm and it sent our plans into a spin. We decided to take shelter in Place Dauphine, just opposite the Henri IV statue, in a tiny Basque restaurant. We had only intended to have an apéro, hoping that the rain would ease. But the rain didn't seem to be easing and although we had the only available table outside under the awning, getting splashed every now and then by the rain, we thought it best to stay put for the time being and have dinner  –  and we are so glad we did.  All the staff were very accomodating and the food was fabulous. For entree Romain and I shared a camembert chaud cuit au vin blanc which was so incredibly delicious, it was the perfect dish to ease the wet weather blues. For the main I chose a Basque dish called Piquillos à la Luzienne which was stuffed small red peppers with brandade and tomato –miam miam. But then I tried Aunty Joyce's dish which was rissotto aux deux jambons and seriously, it was utter perfection. And then the desserts! oh la la – the panna cotta was the knock out although all the desserts we chose were really, really good. Here is a little peek at the menu board, although you probably can't read it since the writing is quite small, you can hopefully get a bit of the ambiance of the night…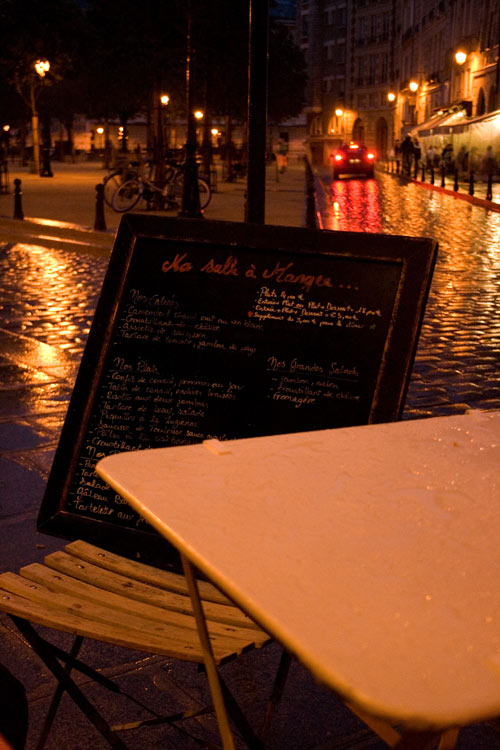 With the rain continuing to fall, and the food at ma salle à manger being so delicious, we decided that it really wasn't the night to be out on a boat on the Seine. So we postponed the boat trip for the next evening, and just relaxed a while at the restaurant…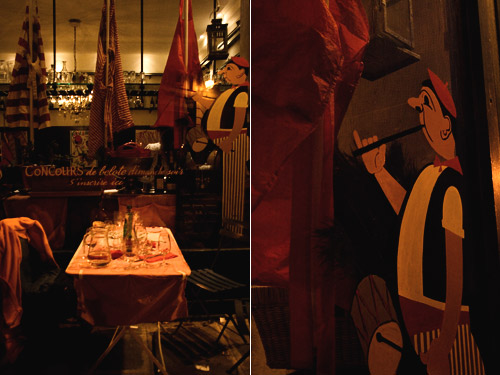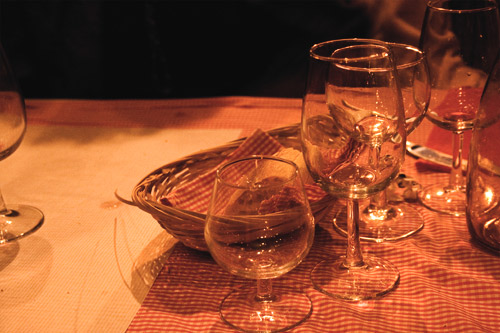 Just before we headed home I wanted to show Aunty Joyce the eiffel tower from the pont neuf. Luckily the rain had subsided for a moment and we were able to settle in one of the little nooks on the bridge and see the tower in all its glory. I didn't tell Aunty Joyce about the sparkles we were about to see, I just wanted her to see them for herself. And then, right on cue at 11pm, the tower lit up like a twinkling diamond, Joyce was ecstatic and could not get over how beautiful it looked. She described it as a dancing lady, dancing for Paris…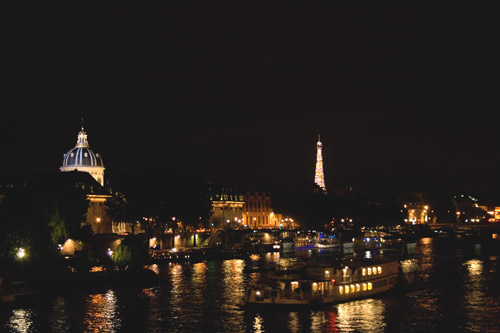 What a way to end the day! It was at that point that Joyce really knew her dream was well and truly a reality – there was now no denying she was in Paris, standing on the Pont Neuf, seeing the Eiffel Tower for the first time in her life. There were some tears of joy shed, followed by some quiet moments of reflection, followed by laughter and smiles. It was a magical moment.

The sun came back out the next day, and our plan to take the boat cruise that evening was all a-go.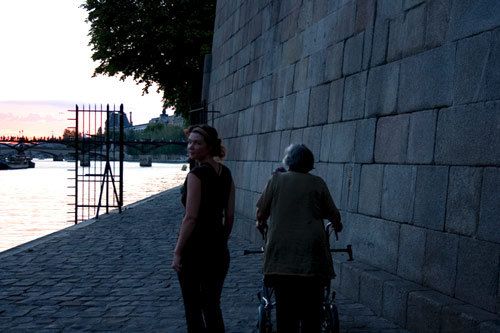 me and joyce, walking along the Seine.
We took the cobblestoned road that leads down along the Seine toward the boat mooring rather slowly. It was a bumpy ride, but it was perfect timing as the sun was setting and the breathtaking scenery took our minds off the cobblestones, check out the view we had…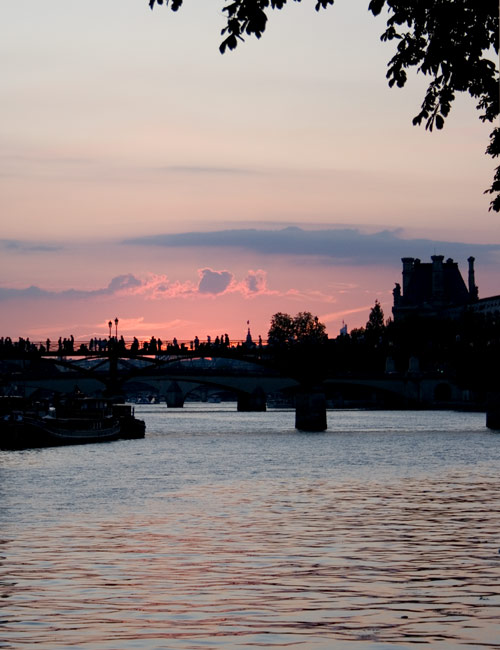 Wow! It was a glorious sunset, it could not have been more perfect. When we hopped on the boat, the sun began to dip further and as we cruised along the Seine the sky went from pink, to deep blue, to black…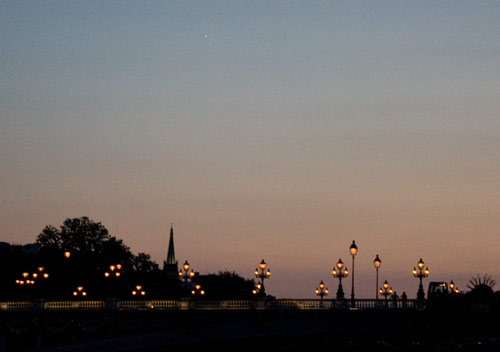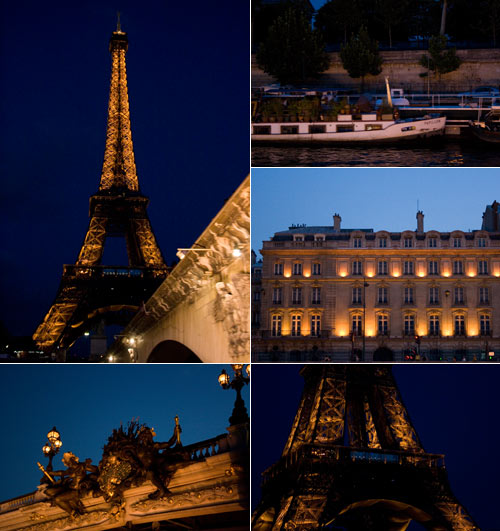 This was the first time Romain and I had ever taken one of these cruises and again, it was something we'd been curious about for some time.  The cruise itself wasn't exactly what I was hoping for – everyone on the boat was quite loud, and the student commentator who spoke in English and French was doing a great job except that we couldn't hear her over all the people talking. It would have been better to sit downstairs in the front where there was no one else, and then we could have just taken in the scenery. One thing I did really like about the boat ride though was going under all the bridges. I had no idea that each bridge was built so uniquely  – I was fascinated with the exposed architecture underneath each bridge – there were bridges made from brick,  stone,  wood, and iron and although I knew this from walking along them all so many times, I loved seeing underneath each one. From that angle they were just as beautiful if not more so, than the ornate architectural features above. I wasn't able to take any photos of the underneath because it was too dark, but that just means you will have to take a boat ride in Paris so you can see for yourself! Which is no doubt the favoured option really…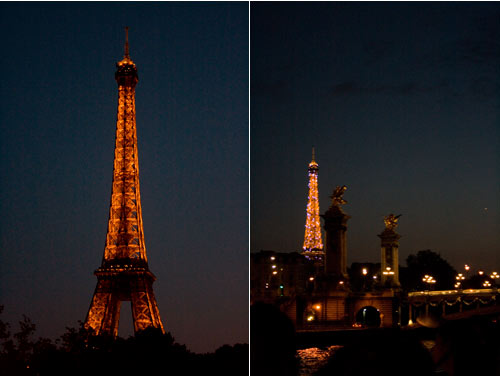 And that concluded our time in Paris together. It was a really big effort for Joyce to make it to this amazing city from across the other side of the world, after so many years of wanting, and wishing, she made it, and I am so very proud of her. In the book I made for her, I wrote a fun little message for her that went a little something like this…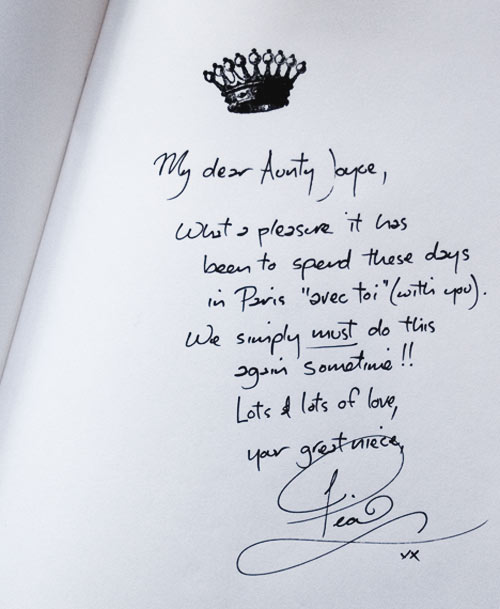 …I left lots of pages so that she could add more photos and mementos, and I suggested that she could ask new friends and people they meet along the way to write a little something in the book. In the next post I will tell you more about 'the making of' the book, and also share some of the things that Romain and I explored this time 'round in Paris – it just goes to show you that no matter how long you've lived in the city of lights, or how many times you've visited, there are always layers to unravel.
This post concludes my "joyce in paris" series, I hope you've enjoyed this special series of posts. How wonderful it is to me to now know that Aunty Joyce will no longer be saying "I wish one day I could travel to Paris". Instead she can say, "been there, done THAT" at the ripe young age of 90.
xx