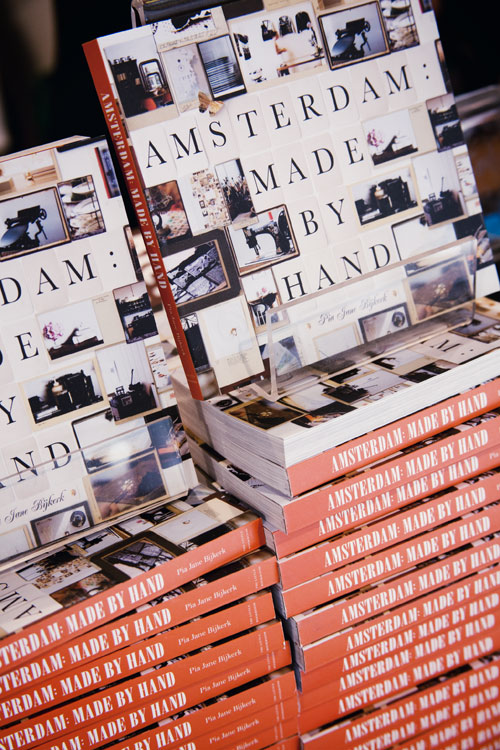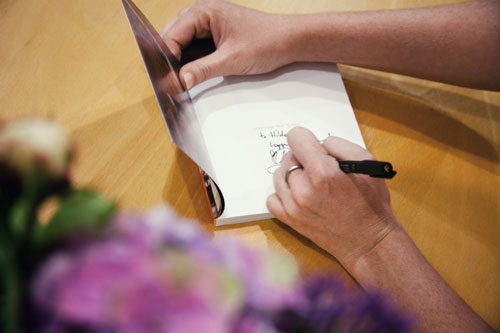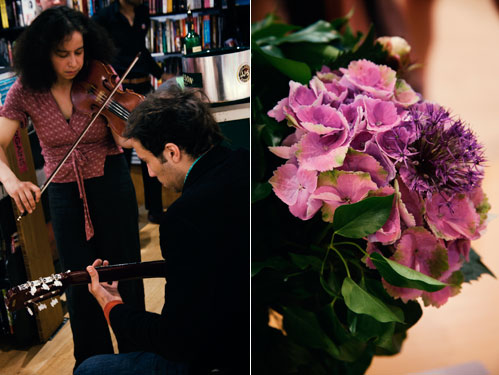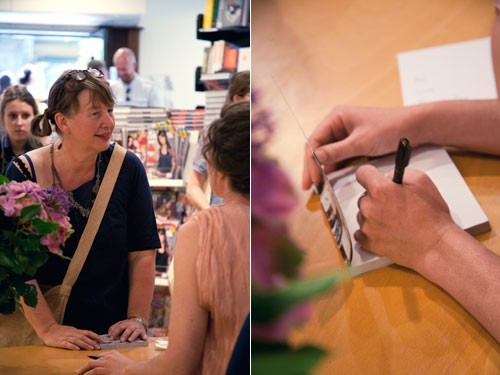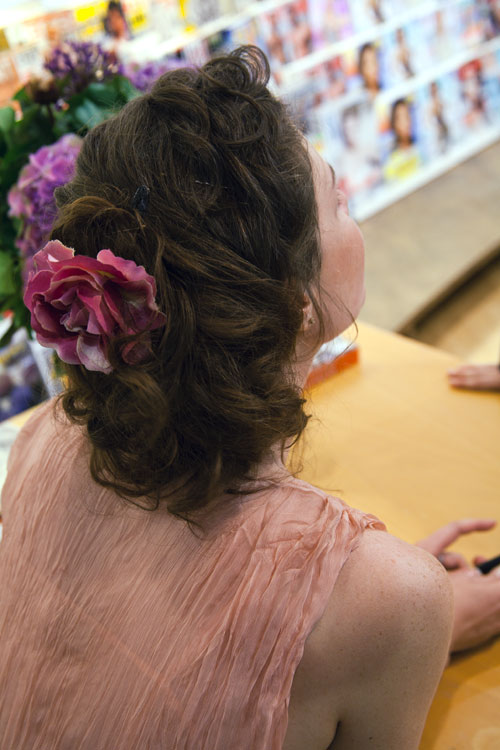 I'm still recovering from all the attention at Saturday's book launch. It was a great success, I was (and am still) overwhelmed by the number of people who came along and the amount of books I signed.  I was so very nervous before the event, so many "what if's" were running through my head. But as soon as I sat down at the signing table, all the nerves went away as I spent the next hour signing my little heart out and happily chatting away. Thank you so much to all who attended – you really made me feel like a star…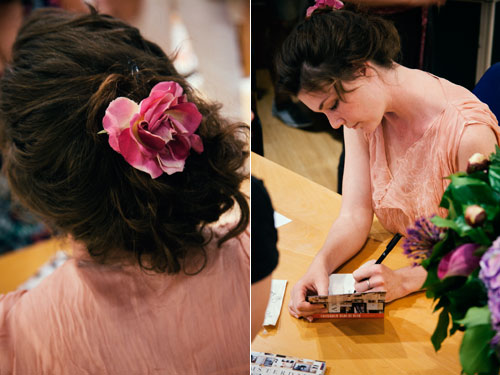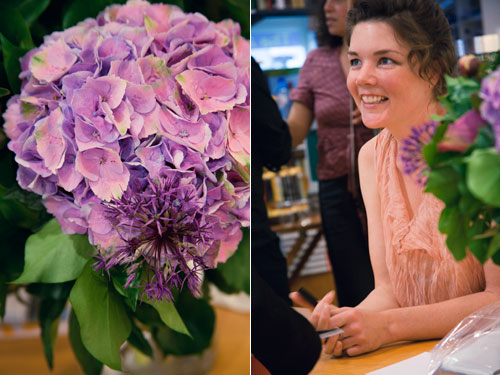 So would you like a re-cap of the launch? Okay, well, here is how it went: French Boy and I arrived at about 2:30pm. We went off to buy some flowers for the table, by then I was super anxious. It was a very hot day – quite unusual for Amsterdam so I was sure that everyone who had planned to come to the launch would instead, go to the beach. I had no idea if there would be any music, or if the nibbles would arrive in time, or if my publisher had made her flight. Yes that's right, my publisher from New York! It was the first time I was going to meet her face to face – we have worked on 2 books together and have been in close contact via email for more than 2 years, and Saturday marked our first ever meeting.
Once French Boy and I came back to the American Book Center with the flowers, everything started coming together – within minutes of each other, 2 friends (who didn't know each other at all) turned up with instruments! Arun (who is a freelance journalist here in Amsterdam and had recently interviewed me for an article in the June issue of Time Out – more about that soon) brought his guitar and Simone (who plays with one of my fave local bands,  Point Quiet) brought her violin. They decided to play together so off they went to find a little quiet alley to do some quick practice and then came back just in time for the first arrival of guests. Their music was INCREDIBLE. It was exactly what I had hoped for and envisioned, and as soon as they started playing I was filled with happiness. Thank you Arun and Simone!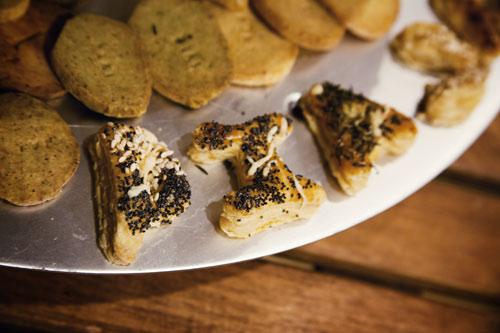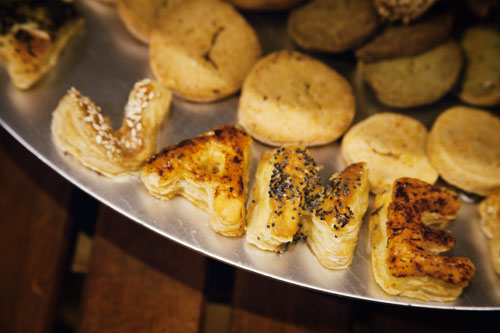 Then came my dear friends Yvette and Sophie from Aan de Amstel with their absolutely gorgeous nibbles which were letter-shaped pastries spelling out "amsterdam made by hand" and "pia jane bijkerk"…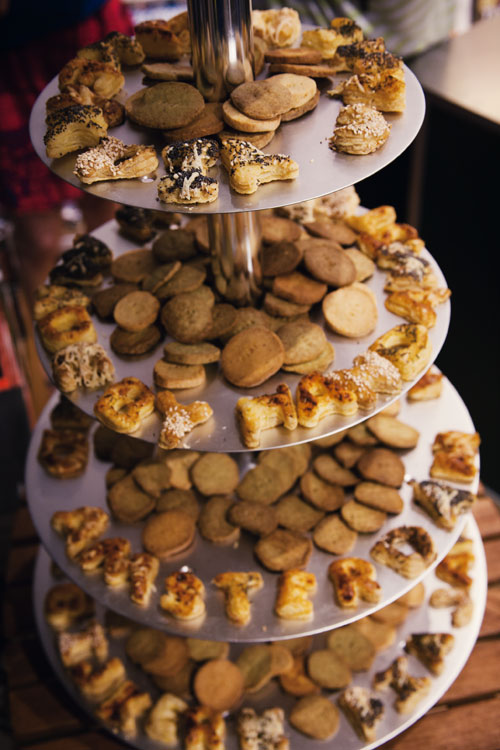 Aren't they clever? They also made little savoury biscuits that said "pia!" on each one, it was really amazing. Thank you so much Yvette and Sophie!!
All the while I was signing books and when I did dare to look up from the table I noticed a long line going all the way back, I couldn't believe it! There were so many people. I was thrilled to see familiar faces amongst the unfamiliar too – friends, local shop owners and designers, everyone made me feel very special. And everyone adored the barbara munsel dress I was wearing:  On the Thursday evening before the signing, Barbara came to Amsterdam to help fit a dress for me at YDU (which, as some of you already know,  is one of the stores featured in the book). The dress we picked suited me to a tee  – I'll be sure to take a pic of it in it's entirety so you can all get a good look at it, I'm completely in love with it, thank you barbara!!
Low and behold my publisher Angela and her husband Rea were sneakily standing in line, waiting to say hello, I was so happy to see them. We chatted for a bit and then I got back to the table to sign books and meet guests. What a rush, I was really on top of the world at that stage…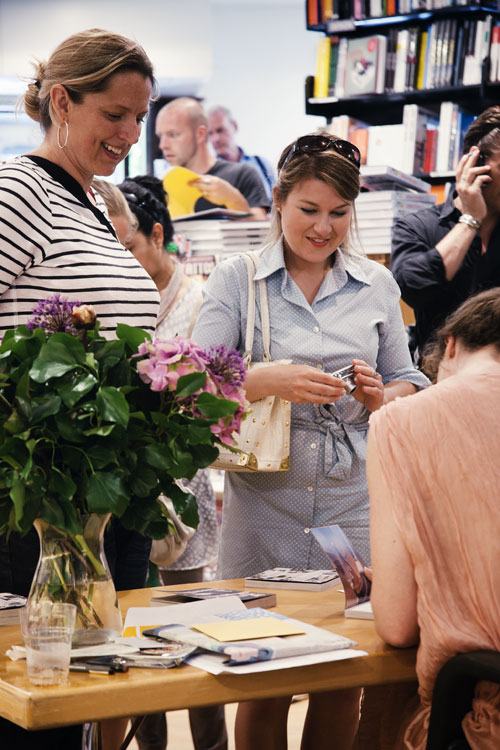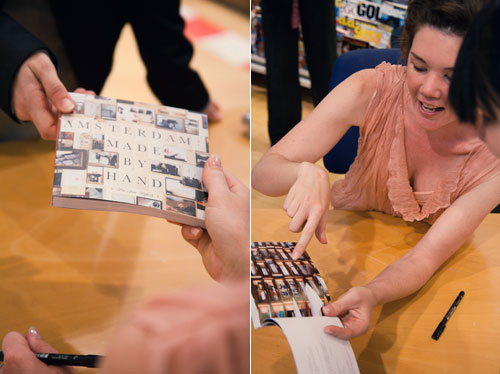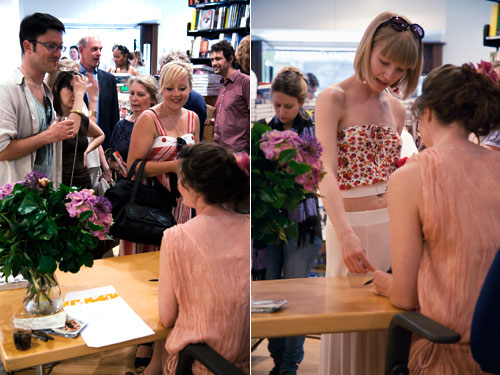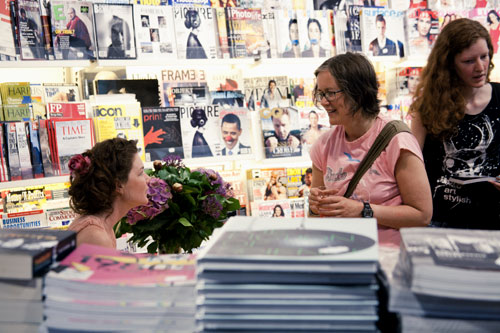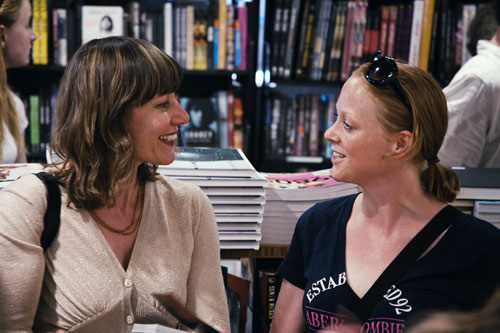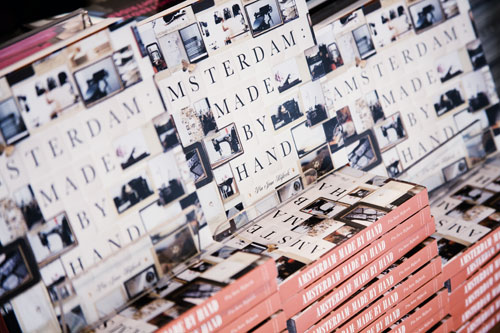 And throughout the whole afternoon, good friends & talented photographers Alan Jensen and Cath Conroy snapped photographs. You guys rock, thank you!!
I received incredible gifts as well, all of which I want to share with you here in the (blog)house in coming days. I'm overwhelmed by the generosity and encouragement I received on the day, I just cannot thank each of you enough…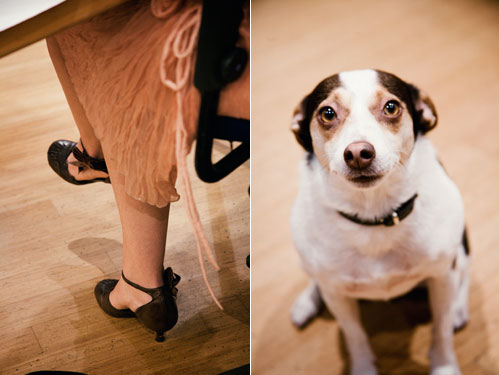 Here is a little detail of my shoes and a gorgeous shot of one of my dearest friends and loyal fan,  Marie.
Thank you to the American Book Center for hosting the official book launch and for lending me your front window.
I'll be back later to let you know about the other two events in Amsterdam that I'll be a part of in celebration of the release of the book this month. For now though, I need some quiet time to catch my breath.
xx
…………………………………………………………….
all photographs by Alan Jensen.