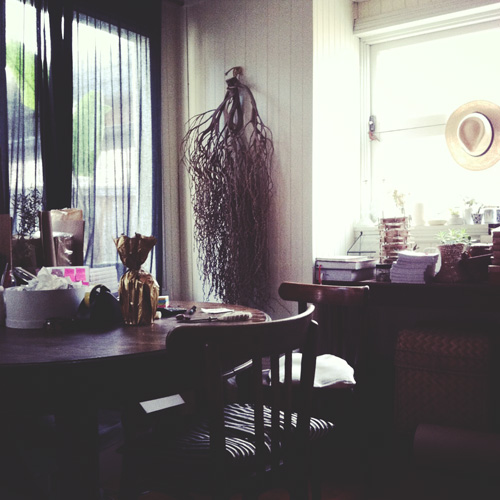 My days are spent trying to keep all the juggling pins up in the air, and honestly, I've never been a great juggler.  What will happen if one of the pins fall you ask? Well that happens often, and everything drops to the floor, then I pick them all back up and give it another go. Romain and I feel so incredibly tired all the time, and it does worry me, but I trust those who tell us they felt the same way when they first became parents. At around 8pm every night, which is when we get to connect at the end of the day, we just look at each other, and usually laugh at the absurdity of our frantic days. We laugh about how, 2 or so years ago, we sat on the sofa in our houseboat in a far away land, wondering what we'd cook for dinner, whether we should go out, where to? Should we call our friends to see what they're up to? Midnight would come around and we'd flop into bed, tired from staying up late, knowing we could sleep in until 9am or longer, whatever. Hilarious.
I just snapped the above photo to show you how neat this little corner of my home is at this very moment. It's the tidiest it's been in months. Along that window since February, boxes and boxes of Little Treasures: Made by Hand books have been lined up, now there are only ten or so boxes remaining.
It's a long weekend here in Australia and I will be taking those 3 days off to look after myself and my family.  I will try not to think about all the books and packages still to be sent out, or the people I still need to email, or the articles I still need to write, or the fees I need to pay and the invoices I need to send. I will clean, do loads of laundry, cook, garden, and attend to my chickens (yes, you heard right! I wrote about them here) – those juggling pins, along with changing nappies, settling, soothing, playing and feeding, all need to remain in the air.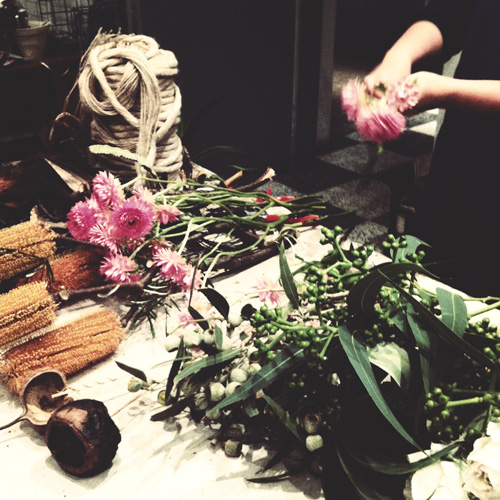 Last weekend I took lovely Tessa from New Zealand on her day wander which she bought during the campaign for Little Treasures. What a treat for both of us – I don't get the chance to wander and stop in at my favourite boutiques these days, and Tessa text me at the end of the day to say thank you again, that it was beyond her expectations. I can't tell you how happy that made me.  One of our favourite parts of the day was visiting Tracey Deep in her floral studio, watching her make one of her amazing floral scultpures (photo above). Thank you beautiful Tessa and Tracey! In an effort to allow some self-nurturing time back into my life, I promptly booked into Tracey's Beauty and the Bush workshop at Koskela, June 22th. I can't wait – want to join me? Details here.
Have a lovely weekend mes amis. I realise my blog is one of the juggling pins I haven't managed to add into the mix, I know you understand though, and I thank you with all my heart.
xx