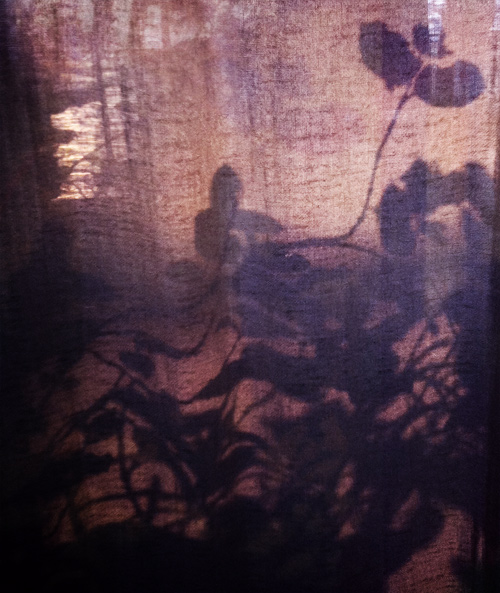 I took this photo the other day on my phone. It was dusk, I had just woken from a late afternoon nap, and this was what I saw as I opened my eyes.  I lay there and watched the scene as the sun set behind the curtain, it was one of the most beautiful impromptu nature performances I'd seen in quite some time.
…………………………………………
There is something else I want to share. Something rather wonderful. Many of you have noticed that I've been absent from the airwaves over the past few months. I've been very ill, but for the very loveliest of reasons:  I'm pregnant.
I'm now 5 months along. Indeed it's an incredibly wonderful surprise, something I've only ever dreamed of, not truly believing I would actually experience it, but always hoping. On the flip side, it's been an incredibly rough ride. Unfortunately due to the severity and consistency of my symptoms I had to cancel my work commitments, shoots, book events, and travel which included the fabulous workshop in Canada.  Blogging, emailing, and anything of the sort, has also been out of my reach. At first I was confused, anxious, and worried but my doctor informed me there is a small percentage of women who experience intense symptoms throughout the entire pregnancy. In my life I'd never met anyone who had experienced the symptoms to this extent, so it was a shock to me. But the good news is that over the past few weeks I've been having some moments of reprieve from the symptoms, so lets hope those moments turn into days, and maybe even weeks.
Aside from all that, it is pure magic. I am now experiencing lots of movement, and when I rest, I rest knowing  – and feeling – there is a life growing inside me, I am mesmerized. Romain and I are both so happy, and I couldn't be more nurtured, I feel blessed, regardless of the difficulties.
Thank you for all your lovely, caring emails and comments over the past few months, I apologise for not being able to respond to all. Although I can't commit to much else at this stage (i.e. consistent blogging or normal work schedule), I strive for it every day. In the meantime, your continual support in my work, my books, and my photography is beyond words, I'm so looking forward to getting back into the thick of it – for now, it's one new adventure at a time.
xx