Wow, has this month flown by or what? I can't believe it's already time for the Urban Arts Festival!
This Saturday, June 26th between 1-6pm on the spui (the big cobblestoned square outside the American Book Center) is where you'll find this giant outdoor atelier featuring a plethora of creative individuals displaying and creating work on-site, especially for the festival. The concept is to cross fertilize the world of design and crafts. There is a fabulous line up of artists and artisans including graphic designers, illustrators, graffiti artists, fiber artists, paper-toy designers, authors – all with an urban edge.
I'll be there not only perusing the stalls to see what everyone is up to but also signing copies of Amsterdam: Made by Hand so if you have not yet got yourself a signed copy of the book then this is your last chance as the Urban Arts Festival wraps up my month-long book launch celebrations!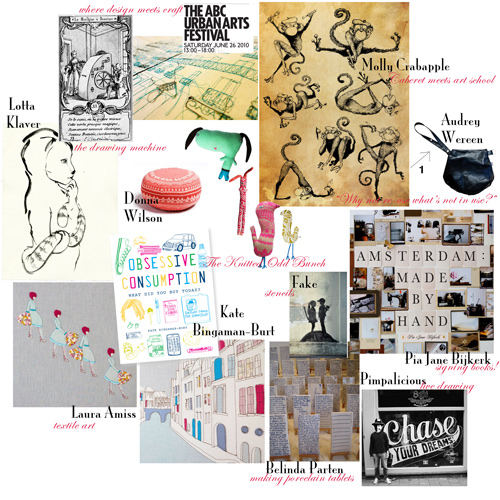 Click on the above collage to enlarge and see some of the creative people who will be there. Also check out the ABC treehouse calender for workshops scheduled for the day (just scroll down to June 26th and then click on the various event links to find out more). And for more detailed information about the festival and links to each artist, click here.
I'll be at the book signing table at 3pm, hope to see you then!
xx
PS For those interested in Paris: Made by Hand, the American Book Center has ordered more, they should be in store now and yes of course I'm happy to sign copies as well on Saturday!