…………………………………………………
UPDATE: I've decided to wait until there are 100 comments on this post before I announce the winners and before I continue posting in the (blog)house. So, please help spread the word, post this post on your blogs, let's all help to get this message out there! Victoria from sfgirlbybay wrote a lovely post about it today – thank you vic! And there have been some great comments & conversation on her post in response to it already. One thing that comes about in conversation time & time again with this subject is that bloggers fear that they have to ask permission every time they post about someone's work  – please let me clarify – this poster's message is not targeted to people who promote other artists work – for example, I'm fully aware that people write posts about my work and they have not first asked me permission, I personally do not have a problem with that because I appreciate the exposure. Instead, this poster is to raise awareness and educate bloggers – new and old – who take images off people's sites and do not credit the image at all, and do not bother to find out who created the image.  At the very least my fellow bloggers, we need to credit the ORIGINAL source – not the last place you saw it, but the original source. Thank you to all who have commented on this post so far, and to those who have helped spread the message. px
PS these prints which are for sale in special limited edition by Mammoth Collection are NEW & IMPROVED – you may have noticed on the original poster there were a number of little mistakes, but since then I had help from my dear friend Therese who helped form the original poster into a beautiful, printable piece of art. So, if you are blogging about the print, please use the NEW print, not the old one. Thank you!
…………………………………………………
You thought I'd forgotten all about "giving credit", didn't you? But I hadn't at all, in fact, I've been working determinedly this past month with the awe-inspiring online print house Mammoth Collection, turning our original 'streetcred' image credit flowchart into something rather spectacular.
With many thanks to Troy & Ben from Mammoth, and my dear friend + designer Therese Petre who helped me shape the original piece into poster format, I would (finally!) like to announce that the "giving credit" print is now, officially, for sale…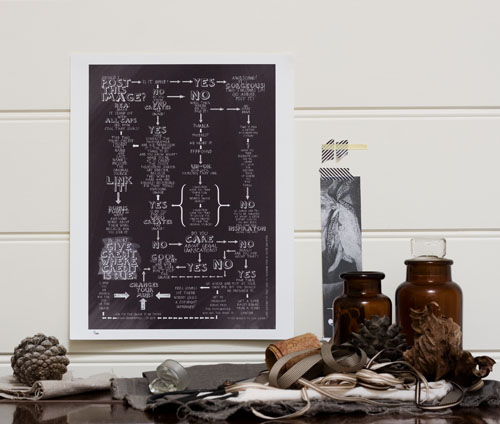 It comes in four gorgeous colourways: Storm Cloud (pictured above), Fuschia (pictured below)…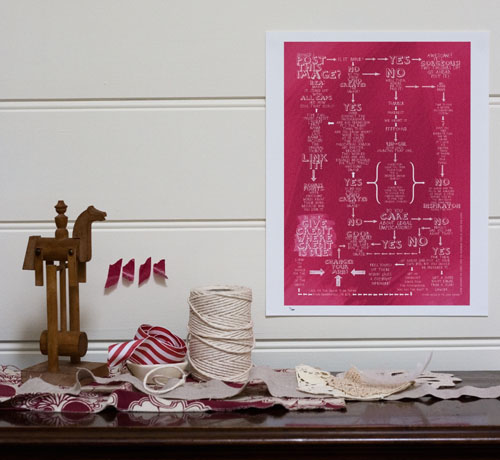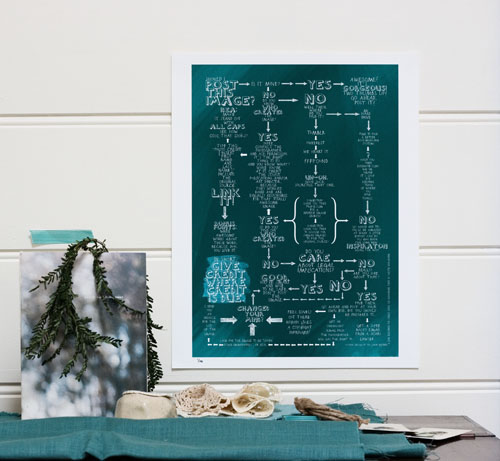 and Butterscotch…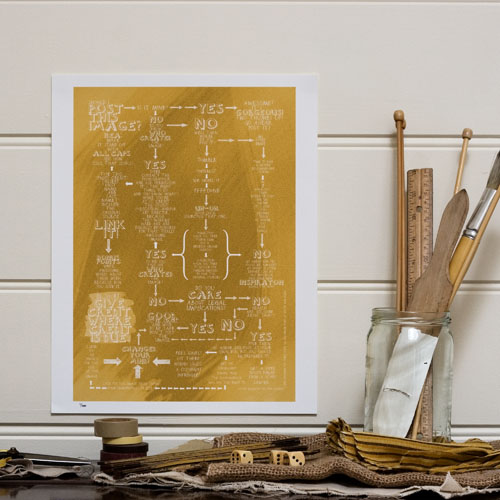 And they each come in four sizes: 8×10(edition of 200), 11×14(edition of 100), 16×20 (edition of 20)and a whopping 24×30(edition of 10). Each print is made in-house using archival pigment inks on heavyweight 100% cotton fibre archival paper, and each is numbered by hand and signed. For more info about the prints, Troy & Ben asked me some questions for their fab Mammoth blog, click here to read the full interview.
……………………………………………………………………………………………………………………
The extra exciting news is that Mammoth are offering to giveaway 2 $20 vouchers as part of the launch of the collection. This means 2 lucky (blog)house readers can choose an 8×10 "giving credit" print in any colour or put the voucher toward one of the larger prints! To be in the chance to win, just write a comment on this post about why you think giving credit is important.
On Wednesday, June 1st we'll announce the winners.
……………………………………………………………………………………………………………………
A big thank you to Erin, Chelsea, Lisa, Nichole, and Amanda for being such wonderful support and inspiration throughout this giving credit journey. It's very exciting to know that our email conversation some months back have amounted to these beautiful prints. And a never-ending hug to my dear friend Yvette for offering her incredibly handmade fonts, of which I do believe make these prints so special. Each of us hope that this little initiative will spark the beginning of other online projects as well as be able to create funds to put toward an education+arts foundation of sorts. Small steps first, but what a wonderful beginning.
Please feel free to spread the word about the prints and special giveaway on your blogs, to your friends, or to people in the street! You are welcome to use any of the photos in this post to help spread the word – I give you my permission with one request: "give credit where credit is due".
Thank you mes amis!
xx