WordPress database error: [Disk full (/var/tmp/#sql_4b4_2); waiting for someone to free some space...]
SELECT DISTINCT ID,post_title,post_date,post_content,MATCH(post_title,post_content) AGAINST ('preparing for the book launch... <a href=\"http://archives.piajanebijkerk.com/WordPress/wp-content/uploads/2010/05/PJB_portraitambh.jpg\"><img class=\"aligncenter size-full wp-image-9397\" title=\"PJB_portraitambh\" src=\"http://archives.piajanebijkerk.com/WordPress/wp-content/uploads/2010/05/PJB_portraitambh.jpg\" alt=\"\" width=\"500\" height=\"563\" /></a><a href=\"http://archives.piajanebijkerk.com/WordPress/wp-content/uploads/2010/05/PJB_booklaunch_portrait.jpg\"> </a><a href=\"http://archives.piajanebijkerk.com/WordPress/wp-content/uploads/2010/05/PJB_AMBHbooklaunchportrait.jpg\"> </a>I am in the midst of preparing for <a href=\"http://archives.piajanebijkerk.com/WordPress/2010/05/05/amsterdam-made-by-hand-official-book-launch-come-one-come-all/\" target=\"_blank\">the book launch</a> which will be here, in Amsterdam at the <a href=\"http://www.abc.nl/\" target=\"_blank\">American Book Center </a>(Spui 12) on Saturday June 5th at 3pm. Will you be coming? Oh, I hope so. If you live in or near Amsterdam, or will be traveling to Amsterdam at that time, please come along. It is open for all, you can read more about it <a href=\"http://archives.piajanebijkerk.com/WordPress/2010/05/05/amsterdam-made-by-hand-official-book-launch-come-one-come-all/\" target=\"_blank\">here</a>, or <a href=\"http://www.facebook.com/pages/Pia-Jane-Bijkerk/71858474856?\" target=\"_blank\">click here </a>to join the <a href=\"http://www.facebook.com/pages/Pia-Jane-Bijkerk/71858474856?\" target=\"_blank\">facebook event page</a>... <a href=\"http://archives.piajanebijkerk.com/WordPress/wp-content/uploads/2010/05/PJB_booklaunch2010.jpg\"><img class=\"aligncenter size-full wp-image-9390\" title=\"PJB_booklaunch2010\" src=\"http://archives.piajanebijkerk.com/WordPress/wp-content/uploads/2010/05/PJB_booklaunch2010.jpg\" alt=\"\" width=\"500\" height=\"411\" /></a> I\'m also making an <a href=\"http://www.littlebookroom.com/amsterdambyhand.html\" target=\"_blank\">Amsterdam: Made by Hand</a> window display at the <a href=\"http://www.abc.nl/\" target=\"_blank\">American Book Center</a>. They have gigantic windows though - if I thought the <a href=\"http://archives.piajanebijkerk.com/WordPress/2009/08/06/behind-the-scenes-making-the-whsmith-window-display/\" target=\"_blank\">WH Smith window display</a> in Paris was a challenge last year, well, what can I say, this one is a bigger challenge! It\'s over 4 meters long, and you know, it\'s just a little book so I\'m going to have to think of something to fill that space! Luckily I\'ve got some ideas (which I\'m busy writing about in the first photo above). Also my friend <a href=\"http://www.swarmhome.com/bio.html\" target=\"_blank\">Leslie</a> let me raid her wallpaper stash the other day for inspiration and material (evidence is also above in the first photo, on the chair). I\'m planning to put the display up on June 1st to mark the official arrival of the books in stores around the world. I have heard a few of you have already received your pre-ordered copies, is that right? <a href=\"http://archives.piajanebijkerk.com/WordPress/wp-content/uploads/2010/05/PJB_ambhbooklaunchflyers.jpg\"> </a><a href=\"http://archives.piajanebijkerk.com/WordPress/wp-content/uploads/2010/05/6a00d83451e8d469e20134819b3.jpg\"><img class=\"aligncenter size-full wp-image-9395\" title=\"6a00d83451e8d469e20134819b3\" src=\"http://archives.piajanebijkerk.com/WordPress/wp-content/uploads/2010/05/6a00d83451e8d469e20134819b3.jpg\" alt=\"\" width=\"500\" height=\"324\" /></a><small>photo above taken by the lovely irene from <a href=\"http://bloesem.blogs.com/bloesem/\" target=\"_blank\">bloesem</a>.</small> I also want to say a big thank you to Irene from <a href=\"http://bloesem.blogs.com/bloesem/\" target=\"_blank\">Bloesem</a> and Holly from <a href=\"http://decor8blog.com\" target=\"_blank\">Decor8</a> for their awesome reviews posted today! <a href=\"http://decor8blog.com/2010/05/25/amsterdam-made-by-hand/\" target=\"_blank\">Click here</a> to read <a href=\"http://decor8blog.com/2010/05/25/amsterdam-made-by-hand/\" target=\"_blank\">Holly\'s review,</a> and <a href=\"http://bloesem.blogs.com/bloesem/2010/05/amsterdam-made-by-hand.html\" target=\"_blank\">here </a>to read <a href=\"http://bloesem.blogs.com/bloesem/2010/05/amsterdam-made-by-hand.html\" target=\"_blank\">Irene\'s review</a>. I really like their photos of the book. Thank you so much Holly and Irene!') AS score FROM wp_posts WHERE MATCH (post_title,post_content) AGAINST ('preparing for the book launch... <a href=\"http://archives.piajanebijkerk.com/WordPress/wp-content/uploads/2010/05/PJB_portraitambh.jpg\"><img class=\"aligncenter size-full wp-image-9397\" title=\"PJB_portraitambh\" src=\"http://archives.piajanebijkerk.com/WordPress/wp-content/uploads/2010/05/PJB_portraitambh.jpg\" alt=\"\" width=\"500\" height=\"563\" /></a><a href=\"http://archives.piajanebijkerk.com/WordPress/wp-content/uploads/2010/05/PJB_booklaunch_portrait.jpg\"> </a><a href=\"http://archives.piajanebijkerk.com/WordPress/wp-content/uploads/2010/05/PJB_AMBHbooklaunchportrait.jpg\"> </a>I am in the midst of preparing for <a href=\"http://archives.piajanebijkerk.com/WordPress/2010/05/05/amsterdam-made-by-hand-official-book-launch-come-one-come-all/\" target=\"_blank\">the book launch</a> which will be here, in Amsterdam at the <a href=\"http://www.abc.nl/\" target=\"_blank\">American Book Center </a>(Spui 12) on Saturday June 5th at 3pm. Will you be coming? Oh, I hope so. If you live in or near Amsterdam, or will be traveling to Amsterdam at that time, please come along. It is open for all, you can read more about it <a href=\"http://archives.piajanebijkerk.com/WordPress/2010/05/05/amsterdam-made-by-hand-official-book-launch-come-one-come-all/\" target=\"_blank\">here</a>, or <a href=\"http://www.facebook.com/pages/Pia-Jane-Bijkerk/71858474856?\" target=\"_blank\">click here </a>to join the <a href=\"http://www.facebook.com/pages/Pia-Jane-Bijkerk/71858474856?\" target=\"_blank\">facebook event page</a>... <a href=\"http://archives.piajanebijkerk.com/WordPress/wp-content/uploads/2010/05/PJB_booklaunch2010.jpg\"><img class=\"aligncenter size-full wp-image-9390\" title=\"PJB_booklaunch2010\" src=\"http://archives.piajanebijkerk.com/WordPress/wp-content/uploads/2010/05/PJB_booklaunch2010.jpg\" alt=\"\" width=\"500\" height=\"411\" /></a> I\'m also making an <a href=\"http://www.littlebookroom.com/amsterdambyhand.html\" target=\"_blank\">Amsterdam: Made by Hand</a> window display at the <a href=\"http://www.abc.nl/\" target=\"_blank\">American Book Center</a>. They have gigantic windows though - if I thought the <a href=\"http://archives.piajanebijkerk.com/WordPress/2009/08/06/behind-the-scenes-making-the-whsmith-window-display/\" target=\"_blank\">WH Smith window display</a> in Paris was a challenge last year, well, what can I say, this one is a bigger challenge! It\'s over 4 meters long, and you know, it\'s just a little book so I\'m going to have to think of something to fill that space! Luckily I\'ve got some ideas (which I\'m busy writing about in the first photo above). Also my friend <a href=\"http://www.swarmhome.com/bio.html\" target=\"_blank\">Leslie</a> let me raid her wallpaper stash the other day for inspiration and material (evidence is also above in the first photo, on the chair). I\'m planning to put the display up on June 1st to mark the official arrival of the books in stores around the world. I have heard a few of you have already received your pre-ordered copies, is that right? <a href=\"http://archives.piajanebijkerk.com/WordPress/wp-content/uploads/2010/05/PJB_ambhbooklaunchflyers.jpg\"> </a><a href=\"http://archives.piajanebijkerk.com/WordPress/wp-content/uploads/2010/05/6a00d83451e8d469e20134819b3.jpg\"><img class=\"aligncenter size-full wp-image-9395\" title=\"6a00d83451e8d469e20134819b3\" src=\"http://archives.piajanebijkerk.com/WordPress/wp-content/uploads/2010/05/6a00d83451e8d469e20134819b3.jpg\" alt=\"\" width=\"500\" height=\"324\" /></a><small>photo above taken by the lovely irene from <a href=\"http://bloesem.blogs.com/bloesem/\" target=\"_blank\">bloesem</a>.</small> I also want to say a big thank you to Irene from <a href=\"http://bloesem.blogs.com/bloesem/\" target=\"_blank\">Bloesem</a> and Holly from <a href=\"http://decor8blog.com\" target=\"_blank\">Decor8</a> for their awesome reviews posted today! <a href=\"http://decor8blog.com/2010/05/25/amsterdam-made-by-hand/\" target=\"_blank\">Click here</a> to read <a href=\"http://decor8blog.com/2010/05/25/amsterdam-made-by-hand/\" target=\"_blank\">Holly\'s review,</a> and <a href=\"http://bloesem.blogs.com/bloesem/2010/05/amsterdam-made-by-hand.html\" target=\"_blank\">here </a>to read <a href=\"http://bloesem.blogs.com/bloesem/2010/05/amsterdam-made-by-hand.html\" target=\"_blank\">Irene\'s review</a>. I really like their photos of the book. Thank you so much Holly and Irene!') AND post_date <= '2020-08-08 10:33:37' AND post_status = 'publish' AND id != 9376 AND post_type = 'post' ORDER BY score DESC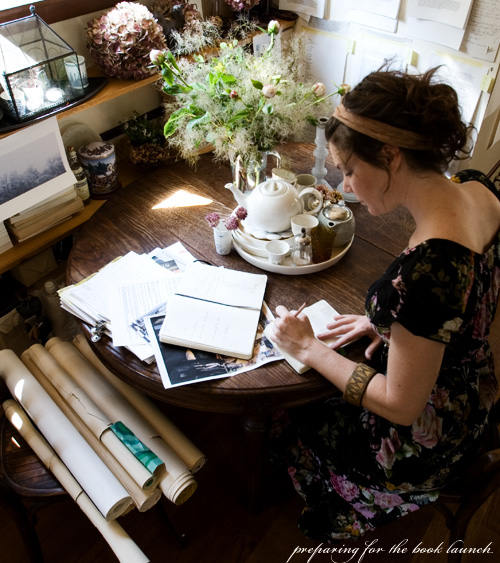 I am in the midst of preparing for the book launch which will be here, in Amsterdam at the American Book Center (Spui 12) on Saturday June 5th at 3pm. Will you be coming? Oh, I hope so. If you live in or near Amsterdam, or will be traveling to Amsterdam at that time, please come along. It is open for all, you can read more about it here, or click here to join the facebook event page…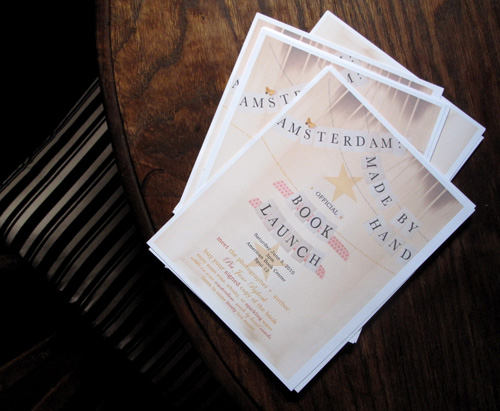 I'm also making an Amsterdam: Made by Hand window display at the American Book Center. They have gigantic windows though – if I thought the WH Smith window display in Paris was a challenge last year, well, what can I say, this one is a bigger challenge! It's over 4 meters long, and you know, it's just a little book so I'm going to have to think of something to fill that space! Luckily I've got some ideas (which I'm busy writing about in the first photo above). Also my friend Leslie let me raid her wallpaper stash the other day for inspiration and material (evidence is also above in the first photo, on the chair).
I'm planning to put the display up on June 1st to mark the official arrival of the books in stores around the world. I have heard a few of you have already received your pre-ordered copies, is that right?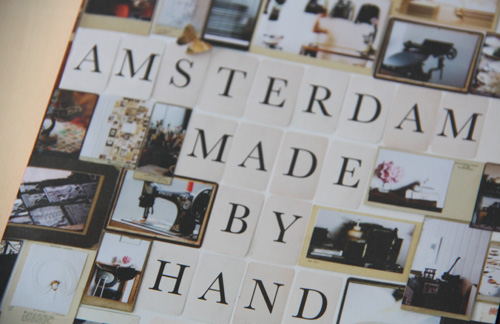 photo above taken by the lovely irene from bloesem.
I also want to say a big thank you to Irene from Bloesem and Holly from Decor8 for their awesome reviews posted today! Click here to read Holly's review, and here to read Irene's review. I really like their photos of the book. Thank you so much Holly and Irene!