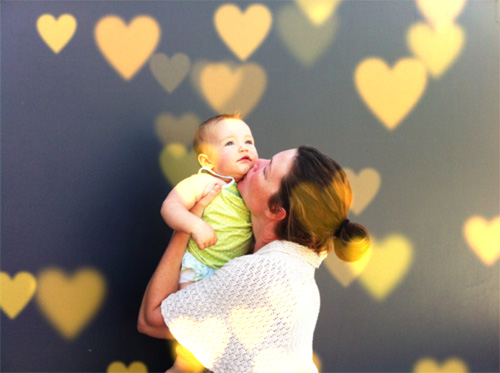 With 52 hours to go, this morning, it happened. We reached the goal. We did it you guys!!
I can't believe it.
Around this time last week we were not even half way there, and I honestly thought there was no way it would happen. I felt utterly hopeless by last Thursday, and while blubbering through a conversation with Fran on the phone that day I told her that we should forget about it, that she should call the printer and say there will be no book to print. Being the beautiful, sensible friend and manager she is, she listened, sympathised, and then said, "let's talk some more tomorrow".
Knowing how I was feeling, you guys started rallying support like I'd never imagined. You wrote incredible instagram messages, emailed all your friends, facebooked, tweeted, pinned and blogged! You wrote from your hearts and let the world know how much you wanted Little Treasures: Made by Hand to be published.
I woke up the next day and found your letters and messages of support. Once again you gave my heart wings, and gave me the energy to keep on trucking. And because of YOU, we made it happen.
I had no idea we'd still have hours to spare, and today I planned to share with you the amazing items that will be in the $400 package! I'm smitten with this collection, and even though we've reached the goal I do hope some of you will still pledge for this exclusive package, not just because I've spent the last 2 days pulling it together and photographing it, but because this is so special and you won't find something like this again!
Initially in the package I mentioned there would be 4 treasures. But now there will actually be 9 handmade treasures in total! And all made by talented artisans across the globe.  Take a look…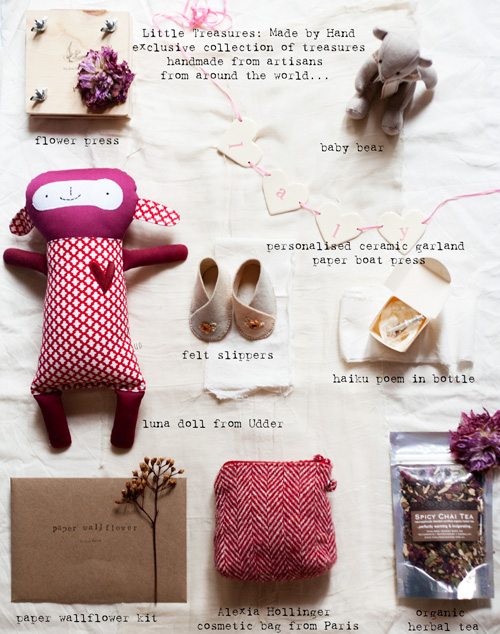 Although this is Laly's collection pictured above, each $400 package will be tailored to YOU  – all you do is let us know if your items are for a boy or girl (or you!), and we will pick the colours suitable, and then you can tell us the name you would like for the garland, and which tea you'd like (there will be a choice of three – chai, french earl grey or mother nurture).
And of course you will also receive a personally signed and wrapped copy of Little Treasures: Made by Hand, so that's 10 treasures altogether!
There are only 7 of these packages available, and only 40 hours left to make your pledge!
…………………………………………..
There are also some fabulous people on a waiting list, wanting to do a day wander together here in Sydney so if you like this idea then email us and we'll organise the five we need, then you can each pledge separately.
…………………………………………..
And about the shipping, for those who haven't had a chance to update your orders, we'll send you a simple paypal invoice for the amount, so don't worry about updating your pledges at this stage.
…………………………………………..
Thank you again, you amazing, beautiful creatures!
I have just one more thing that I'd like to say:
VIVENT LES ARTISTES!!*
xx
* (Long live artists!!!)