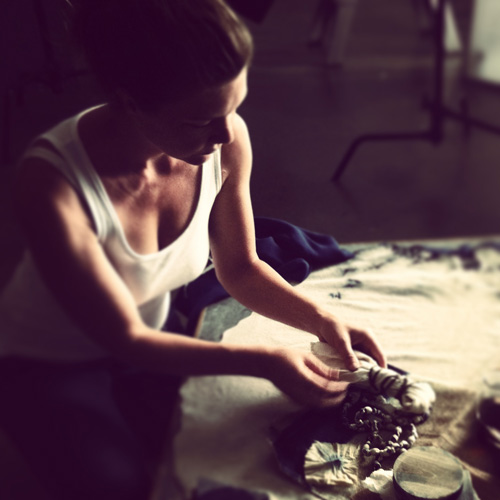 portrait photograph by my awesome assistant, Julia Gordon
On Monday I was on a shoot for Country Style magazine, creating tabletop shots with my assistant Julia, and photographer Craig Wall for my upcoming magazine columns. It was a full day shoot – the first full day, 10 hour long shoot I have been on since being pregnant with Laly. It was the first time I'd been away from her for more than 5 hours. In the morning, in the hours before I left, my heart began to hurt. While driving to the studio in Alexandria with a car chock-a-block full of props, I told myself to 'just get over it'. But the ache remained for the day although I did have fun playing with props and making things with Julia.
We finished shooting at 6pm, I think I've never packed my car so quickly. I gave Julia the fastest thanks-for-everything hug and backed out of the loading dock as fast as legally possible. I got home just in time to be able to give Laly her last feed of the day. We sat quietly in her room, curtains drawn, and just gazed into each others eyes as she fed.
It's been a rough week since then. I know she's picking up on my stress to meet story deadlines and book deadlines. I strive to find the balance.
xx
PS Thank you so much for your ongoing support with raising funds to help self-publish Little Treasures: Made by Hand. We've had some technical issues with pozible while they upgraded their website, and we are so thankful for your patience in pledging and signing in.  If you have any queries AT ALL, do not hesitate to contact me by email (click here), and either myself or Fran will get back to you pronto.
PPS It's my 35th birthday tomorrow. I have nothing planned, should I? Ideas?