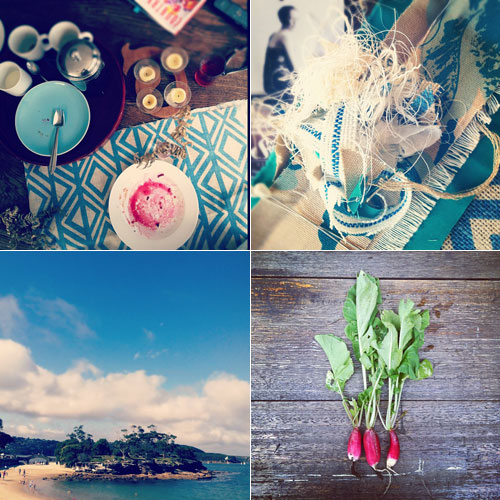 clockwise from top left: "after lunch colours"; "sewing day, colours du jour"; beautiful balmoral beach; our first harvest.

The weather in Sydney is glorious right now – sunny blue skies, beautiful sea breezes… summer is definitely on its way. Being the homebody that I am, I've been mostly enjoying the weather from the comfort of my home. I'm growing organic vegies and herbs in our little backyard (above is evidence of our first tiny harvest! Three radishes, they were delicious, I can't wait for more), and on the front porch I have created a little retreat from the sun, complete with comfy cushions and bamboo blinds. Below is a glimpse of the backyard and the front porch…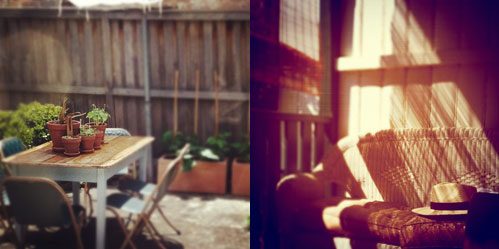 I'm finally getting the house organised, it's taken a lot longer than I had planned, but it's coming together so nicely, I'm eager to show you the spaces I've been creating.
Meanwhile, I'm going to be sending out the first batch of books at the end of this week, so if you'd like to receive My Heart Wanders, or Paris: Made by Hand, or Amsterdam:Made by Hand (or all three), signed and wrapped and delivered to your front door by the end of this month, then place your order now so I can include you with this first batch.  Thank you for the wonderful orders so far, I'm so looking forward to signing the books with your names and sending them off around the world – a little piece of my heart will be wandering off with each parcel.