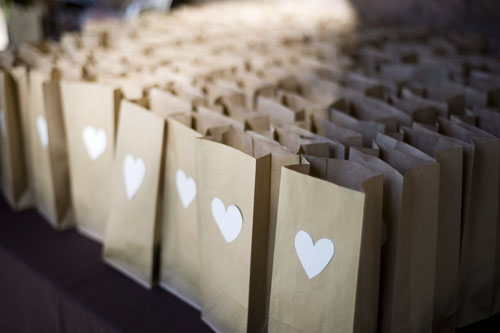 goodie bags at the door – inside each was a special gift, made by hand by Kylie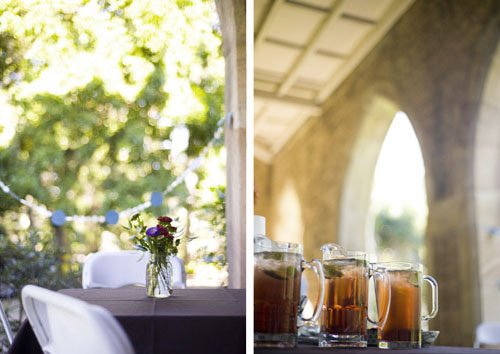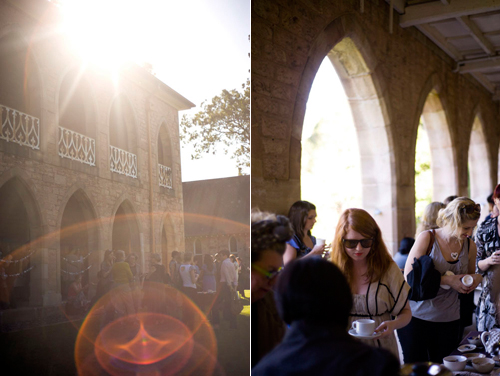 I can't believe this spectacular event in Brisbane was over a month ago. I've been wanting to share these photos with you for all that time. They were taken by the very talented Natalie McComas who is a Brisbane-based photographer. Natalie wandered around for the whole afternoon snapping gorgeous moments like you see above and below…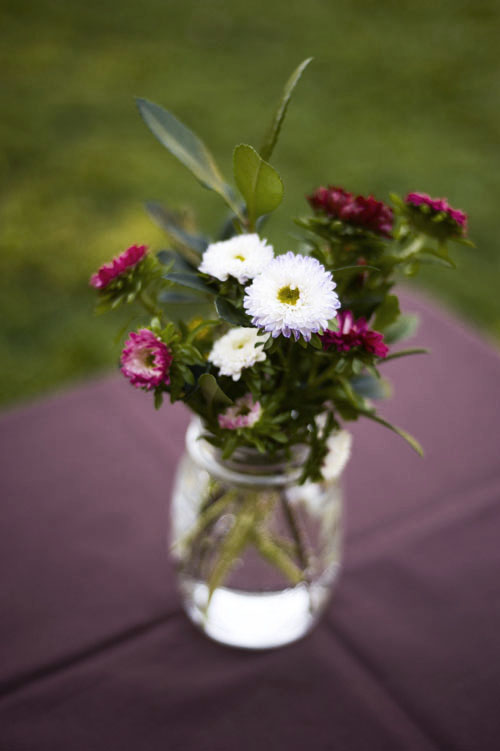 stunning flower arrangements made by my sweet friend Zoë
This book launch was the creation of the flourishing creative community in Brisbane, organised by my dear friend Kylie from paper boat press. How it came about is a wonderful story of its own: When I moved to Sydney in February, Kylie called to ask, "So what have you got planned to celebrate the release of My Heart Wanders?" In a rather deflated tone I said, "I haven't thought of a thing. I'm so exhausted from the move and completion of the book itself, I can't seem to find the energy to…" at which point she declared, "no need to do a thing! I have decided I am going to host a very special book party for you, it can be whatever you want." To hear her enthusiasm and boundless support was enough to get me giddy with anticipation, and over the following months we chatted about what kind of a celebration it could be. An afternoon tea at the neighbouring secreted oasis (also known as st. francis theological college in milton) was what we conjured up, and before I knew it she had the support and enthusiasm of the creative community in Brisbane, all buying tickets to join in the celebration, and donating crafted goodness for lucky door prizes. When the day arrived it was truly magical, I could not have dreamed up anything like it…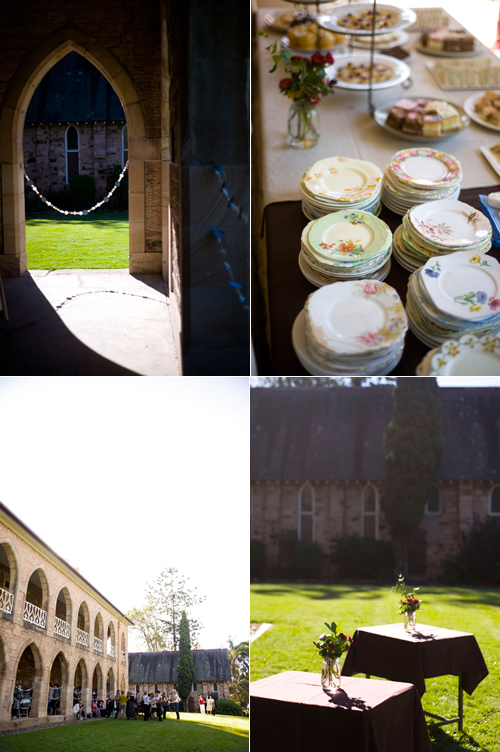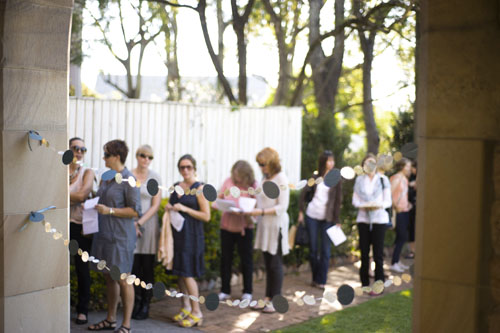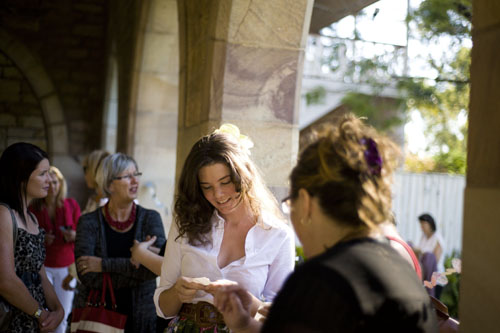 On arrival, guests lined up to give their names and have raffle tickets issued, and then strolled along the patio to mingle. I was rapt to see they were quick to get hold of their copies of the book and flick through as they sipped tea and chatted with new friends…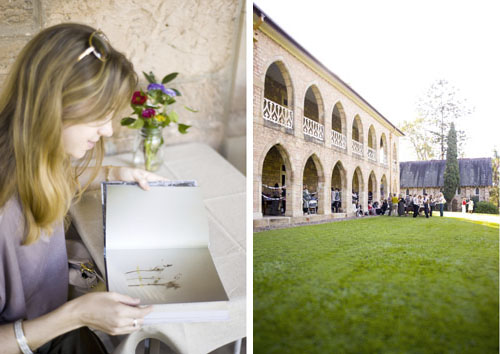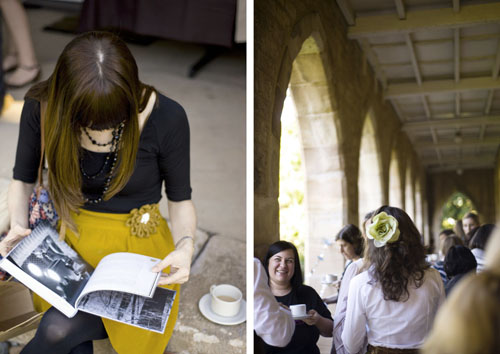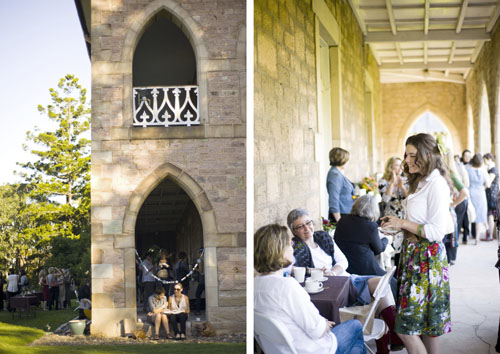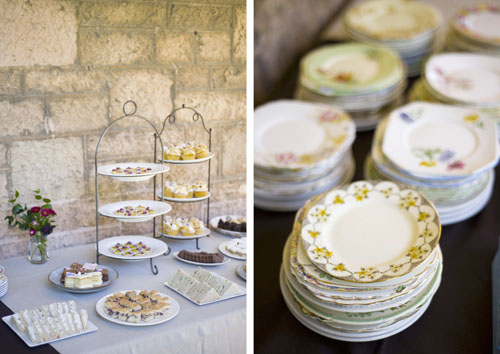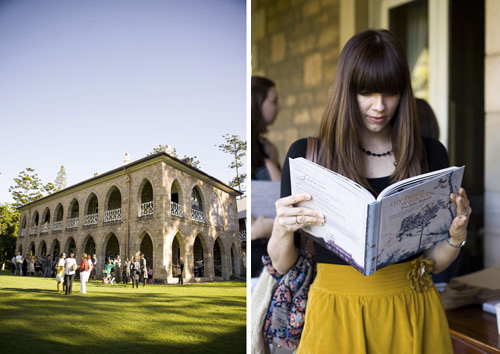 Guests took their copies off to enjoy quiet moments reading the book…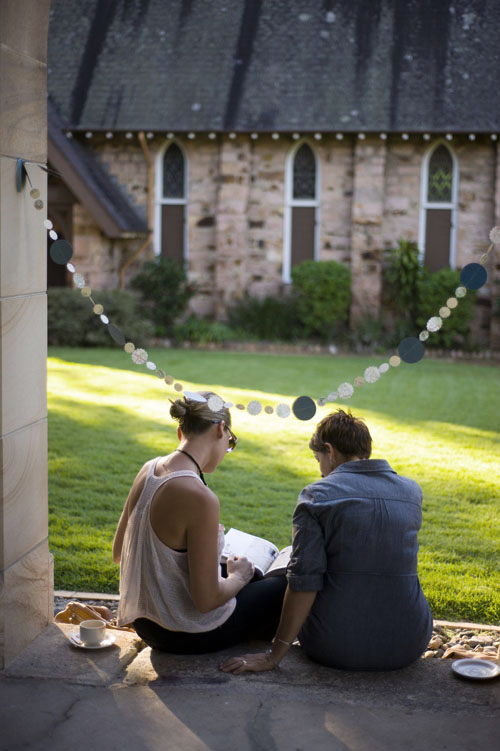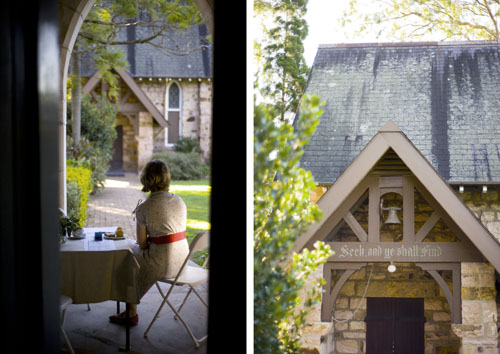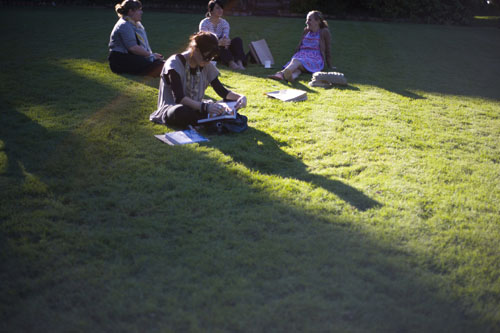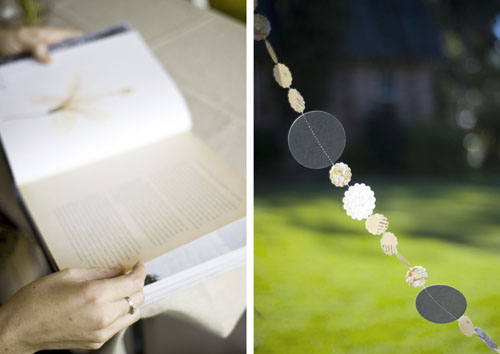 …and when it came time to start signing, they lined up and waited patiently as I chatted with each guest.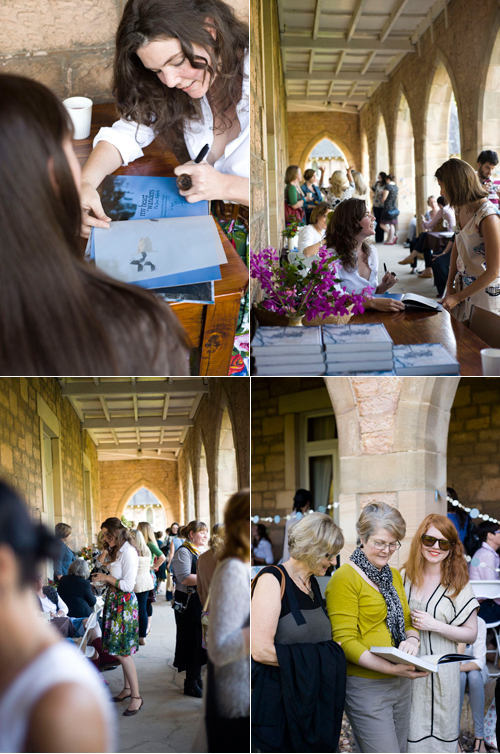 The atmosphere was quite something, and I put it all down to the guests, the helpers, the venue, and Kylie – the amazing host herself –  who made me feel so relaxed, even when it came time to stand up in front of everyone and say a few words…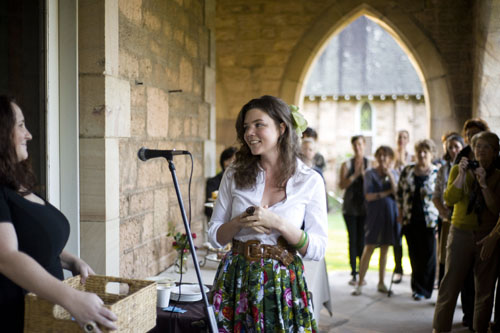 …and draw the winners of the amazing lucky door prizes. There were three large collections of handmade goodies to give away, all donated by some of Brisbane's most creative and generous crafters – please click on all their links below to see what beautiful treasures they make and sell…
michelle at nook
nicole from hot toffee
alarna from little jane street
sarah from red felt flower
kia hing-fay
erin from blossom creations
toni from giddy girl design
kim from udessi
tiel from tsk tsk
sharon muir
louise from loose.leaf paper
liana kabel
kristina from old yarns
alischa from bespoke press
selene from heikehaus
jennifer orland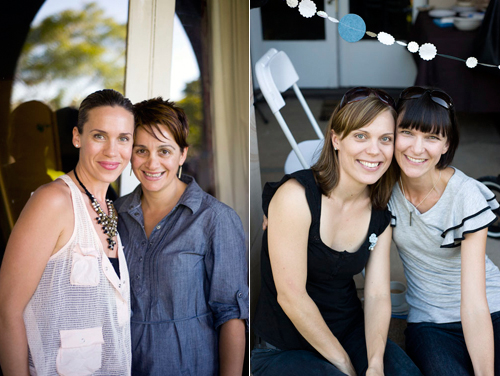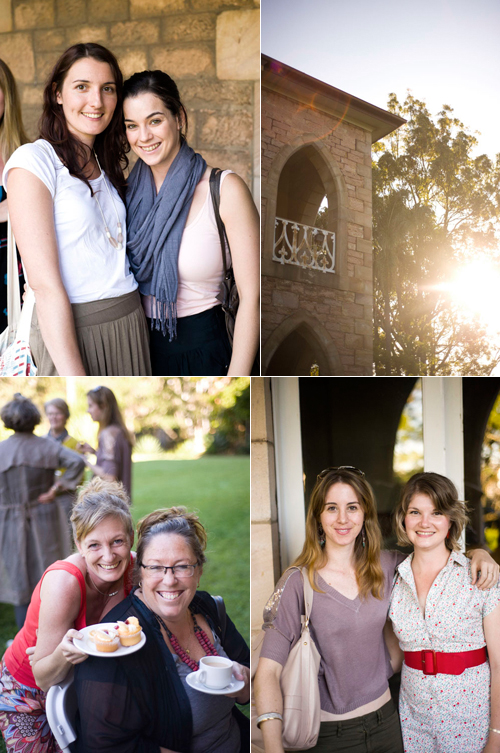 What beautiful smiles. To make the day so special took many many hands. In the kitchen were Kylie's friends Maria and Jan, making cups of teas and bringing out sandwiches and cakes for everyone. Kylie's dear friend Sarah made the cutest butterfly cakes, and my sweet pal and fellow ex-Amsterdam dweller Zoë spent the morning creating spectacular posies for the tables, bringing over the supplies and food, as well as greeting all the guests. Kylie's mum brought along some stunning bouquets from her garden…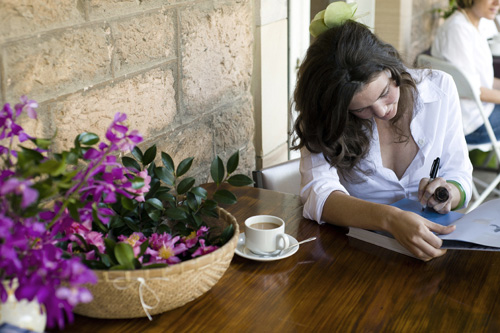 …and Kylie's sister Tiffany graciously manned the book table for the afternoon. Kylie's brother and Dad helped out on the day too – setting up all the chairs and tables, and putting up signs in the street to direct guests to parking places. Sweet Kristina from old yarns made all the garlands especially for the event – she had collected pages from old french books, maps, and soft blue card that matched the colours of my book cover, cutting them into pretty circles and flower motifs and sewing them together to make long garlands which were strung between the stone pillars.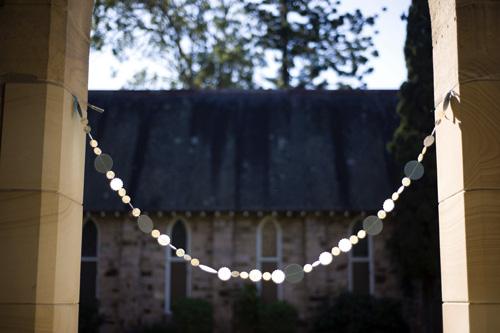 At the end of the day, a handful of Kylie's friends stayed back to clean, pack and collect. It was truly amazing to see such a community of support,  a shining example of what community spirit is all about. I cannot thank each of these contributors enough, I'm still mesmerized by their generosity. If this event was a microcosm of the city's community at large, then I can now see how and why Brisbane recovered so swiftly from the floods earlier in the year – the city truly looks amazing right now, no doubt it's with thanks to the people who live there.
Among the beautiful Brisbane bloggers who came along for the event was A-M from the house that A-M built – I've been following her blog for a few years now, inspired by her two beautiful boys who always write her the most incredible letters (I posted one here some years back). It was a treat to meet the lovely and talented fashion designer Mady from an abundance of and her friend dayle of green bean food.  There was also Tracey from Quiet Paws, Ana from coleccionando estrellas, and Cate from A White Carousel. I also met new blogger Hayley from stylimerence who interviewed me on the day, you can read her beautiful post about the event right here.  I was elated to meet the delightful and eminent author Kate Morton who also came along – I've been a fan of her novels (as you may recall this post in the (blog)house library) for some time now so it was a rather special moment to meet her in person.
Thank you again Natalie for all the fab photos, and to everyone who came along, you really made it a celebration I will always remember – it's moments like these that make me feel like all the intense hard work was worth it.
xx
PS Also while I'm here in the (blog)house, I'd like to let you know that homelife (which is the website for publications such as inside out and country style) are giving members a chance to win one of ten signed copies of My Heart Wanders. The competition ends on June 22, to find out more,  just click here.
PPS There is more going on in the (blog)house, did you know? Yep, it's a busy household! Marjorie's been cooking up a succulent (cue french accent) seasonal menu in the (blog)kitchen, while Christine is saying her goodbyes in the guest quarters – thank you so much Christine for sharing the delights of New England with us all.  There will be a new guest arriving any minute now… I'll give you only one hint: New York, New York.