So what else was I going to tell you about on this last trip? Oh yes, my experience of making the book for Aunty Joyce. Well, it wasn't so much a "book" as maybe a "zine", or a "visual diary". I didn't get the idea to make it until I was in Paris so unfortunately I didn't have any of my crafting tools with me except a signing pen. I thought BHV would be the place to get everything I needed, including some quick print outs of photos to stick in the book, but unfortunately they didn't have anything that I needed- the notebooks were all of the 'back to school' variety (I wanted something a little french, or at least that had some french words on the cover), and the "instant" photo machine was actually a 3 day turnaround. So Romain and I looked for a copy shop, or a photo lab around the area but each time we found one it was either closed or, as one proprietor used the excuse "we've run out of photo paper for the machine". indeed. So, our final trial was fnac, and low and behold, they had a real instant photo machine! So I put my usb stick in and printed out 10 photos that I randomly chose earlier that morning, all with key elements from Joyce's time thus far in paris, and some family snaps of us all together etc. That is when we discovered the instant machine had a postcard option which we thought was pretty cool. The notebook I found at Merci, as well as the japanese tape. Oh and the paris stamps I bought at Melodies Graphiques.
So, if you come up with the same spontaneous idea of creating a notebook of your adventures in Paris, then know that you can go to fnac in les halles to fulfill your instant photo needs. You could also stop in one of the metros and take some photo booth photos of yourself for good measure. Romain and I attempted this late one night but he accidentally broke the machine by pressing too often on the buttons.  If you happen to be in the pont neuf metro and want to take photo booth photos, I'm here to tell you it is probably still broken. oops.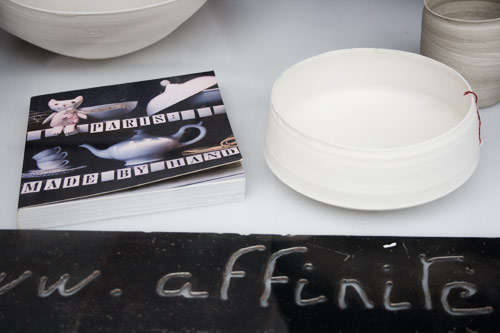 Here are some photos of the wonderful window display at emmanuelle wittmann's atelier, how lovely that she put le book in her window among her beautiful creations. Merci Emmanuelle!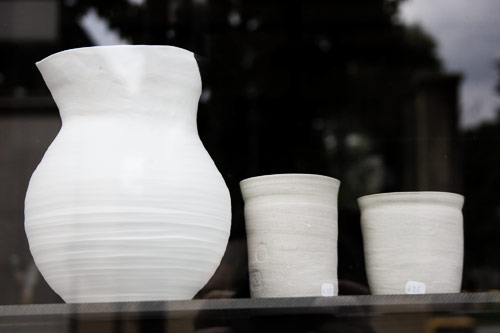 And one last thing, I want to tell you about a great cafe Romain and I stopped in for lunch in the Canal St Martin area. It's called "L'Atmosphere". It was one of those places again that I'd often walked past but had never been in and it was really good – the service was great, the food delicious, and at the end we ordered a 'café gourmand' and a 'thé gourmand' for me, and it was lovely- lots of little desserts including a mini creme brulee, along with a pot of tea. miam.
Therefore if you happen to be in the Canal St. Martin area (10th arrondisment) on 'wander 6' (pg113) in Paris: Made by Hand, then check out L'Atmosphere. The address is: 49 rue Lucien Sampaix, 75010 Paris and they are open every day of the week. Sydney-based photographer Jillian Leiboff just got back from Paris and wrote a great post with beautiful images about her wander of the area, visiting some of the ateliers and shops  from the book, check out her post here. Thank you Jillian!
Before we got on the train to head back to Amsterdam, I spotted this piece of advice/street art on the pavement crossing a bridge, heading toward the gare du nord…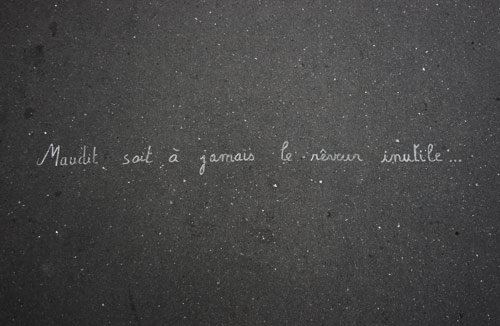 In English it is something like "forever cursed is the useless dreamer…". And I thought how fitting this sentence was for my time in paris on this particular occasion, although I'm not exactly sure how to interpret this sentence, I'd love to know your thoughts on it…