Just finished reading:

Isabel Losada's A Beginners Guide to Changing the World. Hilarious. Motivating. Fun. and totally me. So much so that if Isabel didn't write this book it would have been me, I'm sure of it. She speaks my language. "Think Globally. Act Joyfully." A must read.
+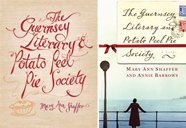 Mary Shaffer's The Guernsey Literary & Potato Peel Pie Society. "Every single page is a literary piece of perfection in it's own right." Who said this? me. just a moment ago when I finished reading the book. Read my brief review here and here.

My 'Dam Life by fellow Australian + once upon a time Amsterdammer, Sean Condon. I'm not sure it's safe to admit at this early stage in my reading (i'm up to page 37) that I actually relate to this guy and his crazy antics, but it's the truth. And I'm all over that.

On the coffee table:

Photographer Hans Silvester's stella book on tribal fashion titled Natural Fashion.
I adore this book and am so inspired everytime i pick it up. Guests love it.
+

I invested in Tim Walker's Pictures book. It's massive. and filled with fabulous photographs and sketches. As you can imagine, it's pretty awesome.
Also in my library you will find:

For the artist in you…
The Artists Way by Julia Cameron
Business for the entrepeneur…
The 7 Habits of Highly Effective People by Stephen R. Covey
The E-Myth (Revisited) by Michael Gerber
Rich Dad Poor Dad by Robert Kiyosaki
Cash Flow (which is not a book but a game) by the above mentioned Kiyosaki
Losing My Virginity by Richard Branson

Pure Inspiration + Indulgence…
Water Babies by Charles Kingsley
all Tin Tin's by Hergé, now available in cute small versions, perfect for reading on planes and trains
all Les Schroumpfs (The Smurfs) by Peyo
Griffin & Sabine by Nick Bantock – all three books
Literary Loves…
Selected Works Of Gertrude Stein
Beyond The Curve by Japanese author Kobo Abe
Edgar Allan Poe (has a shelf of his own)
Cooking…
Healthy Cooking by Rosemary Stanton – a must have on the shelf.
Luscious by Michele Cranston (and any other Michele Cranston book, her recipes are real and all divine)
Take Three by Jill Dupleix – just 3 main ingredients to remember, easy peasy and delicious ideas.
Jamie Oliver (has a shelf of his own)
more cookbooks to come as I get the chance to peruse the cooking section of my bookshelf.
Interiors…
My Island Home by India Hicks
Sensual Home by Ilse Crawford
The Treehouse Book by Peter Nelson and Judy Nelson… I want to build a treehouse in the backyard now.
Vivre à la Montagne by Philippe Saharoff and Gwenaëlle Leprat… and have a house in the mountains too.
A Place for Everything: Organizing the Stuff of Life by Peri Wolfman and Charles Gold
Recycled Home by Mark Bailey and Sally Bailey (read our review here)
Junk Style by Melanie Molesworth
Pottery Barn Kids: Kids' Rooms (Pottery Barn Kids) by Clay Ide, Gretchen Clark, and Melanie Acevedo
Fashion….
It's Vintage, Darling!: How to Be a Clothes Connoisseur by Christa Weil

Tibet + China
Tibet, Tibet: A Personal History of a Lost Land by Patrick French
Cave in the Snow by Tenzin Palmo
Tintin Au Tibet (Tintin) by Hergé
Last Seen in Lhasa: The Story of an Extraordinary Friendship in Modern Tibet by Claire Scobie
The Tibetan Book of Living and Dying by His Holiness the Dalai Lama and Sogyal Rinpoche
The Secret Lives of Alexandra David-Neel: A Biography of the Explorer of Tibet and Its Forbidden Practices by Barbara Foster and Michael Foster
My Journey to Lhasa by Alexandra David-Neel
Dalai Lama, My Son: A Mother's Story by Diki Tsering
Mantras and Misdemeanours by Vanessa Walker
Reincarnation by Vicki McKenzie
A Beginners Guide to Changing the World by Isabel Losada
Mao's Last Dancer by Li Cunxin
Becoming Madame Mao by Anchee Min
Wild Swans: Three Daughters of China by Jung Chang
Mao: The Unknown Story by Jung Chang (Author), Jon Halliday
Wrestling The Dragon by Gaby Naher
Namma: A Tibetan Love Story by Kate Karko

Travel…
Monsoon Diaries by Shoba Narayan
A Baby in A Backpack to Bhutan by Bunty Avieson
Holy Cow by Sarah MacDonald
Almost French by Sarah Turnbull
City Walks: Paris published by Chronicle Books
City Walks: Amsterdam published by Chronicle Books
and my book! Paris: Made By Hand by Pia Jane Bijkerk 🙂
Books I would like to add to the library:
Small Eco Houses (Evergreen Series) by Simone Schleifer
New Sustainable Homes: Designs for Healthy Living by James Grayson Trulove
What Remains by Sally Mann
Reviews and suggestions for additions are very welcome.