It's not news to you that as an interior stylist I derive alot of my inspiration from nature. And I'm just as besotted with the era of the roaring 20's, in both interiors and fashion. so when I began creating this selection of fashiony gifts 'for her', I wasn't surprised to see that my inspirations were so apparent…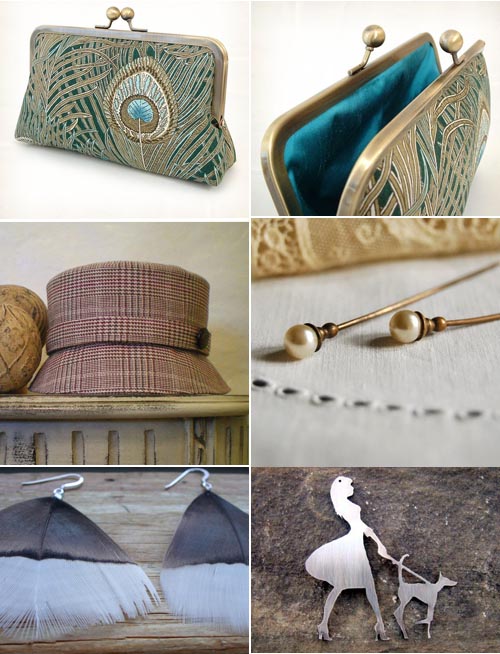 above, clockwise from top left:
1 + 2. This peacock purse is from ruby red rose in Bristol, UK. The fabrics and designs are lush, and a clutch purse is just such a perfect, girly gift, non? $85
3. I love vintage hat pins! Surely I'm not the only one? These are cute as, and come from Callooh Callay's etsy vintage shop in Missouri, and cost $22.
4. This ornament is pretty and perfect for a girl with a dog! It's from Marriage of Metal. $18.
5. I was VERY excited to find these native american made feather earrings from Leelinau. $23.
6. The Emma hat, from BKM Hatittude based in Northern California. All handmade, 100% cotton. and just $25.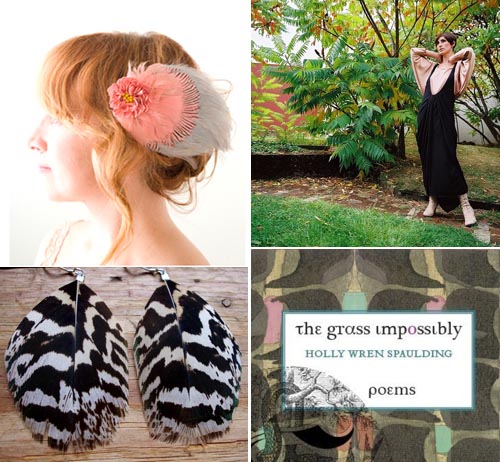 clockwise, from top left.
1. ban.do head piece – i think every girl needs a ban.do in their stocking this year, don't you? based in LA. $85.
2. I'm totally in love with liza rietz's collection this season, and this scooped cowl knit number is just one of them. Portland. $228.
3. Every classy gal needs a little book of fine poetry in her bag! And this one looks like a little piece of magic. Written by Holly Wren Spaulding of Hende, it's called The Grass Impossibly. Signed, limited edition. just $10.
4. and again with the feathers! Because feathers are beautiful. These also from Leelinau in Wisconsin. $23.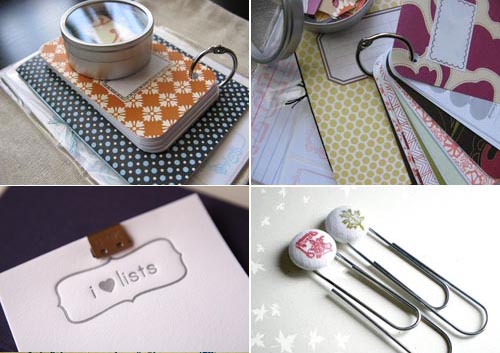 and just a little round up of items for those girls out there who are fabulous at being organised! (oh i strive to be you! these goodies would help me…)
clockwise from top left:
1. + 2. briones & co. have the coolest little organising kits. From Columbus Ohio. $20.
3. decorated paper clips. super cute. and just $5 from Crow and Iris.
4. Simple Song's i love lists letterpress sheets. set of 12 for $7, only two in stock so get in quick.
…………………………………………….
I do hope you find some pieces in there for the girls in your life, if they are anything like me then they will love these items. I will just add a little disclaimer here that I have only selected a few items from just a few of my favourite boutiques and designers. I know and love WAY TOO MANY boutiques and designers around the globe who fit into my philosophy to recommend in just one post, so please be sure to check out the fashion and handmade categories while you are here – I mention favourite designers throughout the year and will continue to do so. Also remember to click on the links above and check out what else is in each store because there is PLENTY more where these came from! Oh and I can't help it, just one more for the road: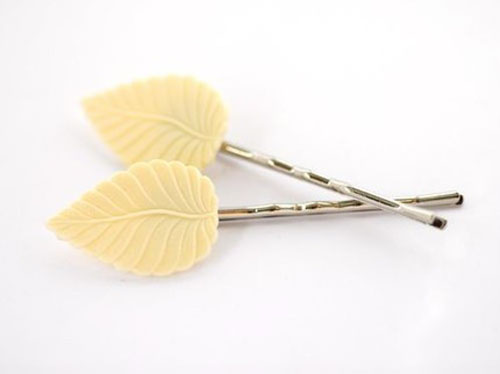 vintage leaf pins from sprout studio in san francisco. $8.50.
xx
…………………………………………….
Tomorrow is for the boys!
PS I cleaned all the outside of the boat windows today. I'm rather proud.