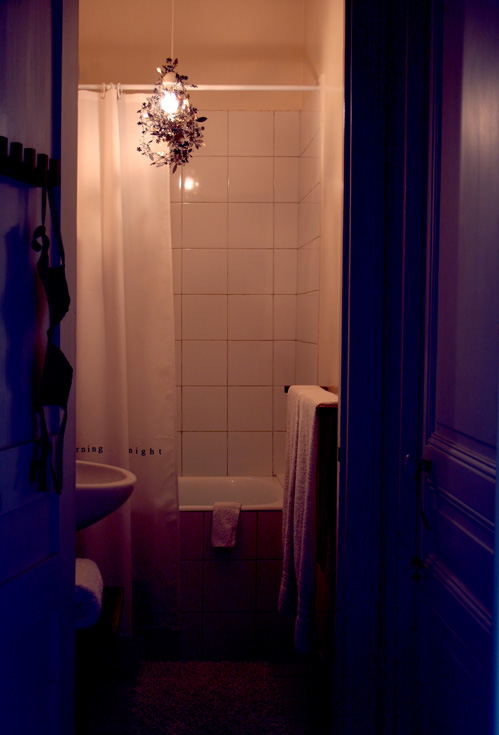 I know it's not what I said I'd post, but I thought you might like to see the bathroom before and after of the paris abode. It wasn't included in Grace's post and I just remembered that you hadn't seen it yet, so here it is!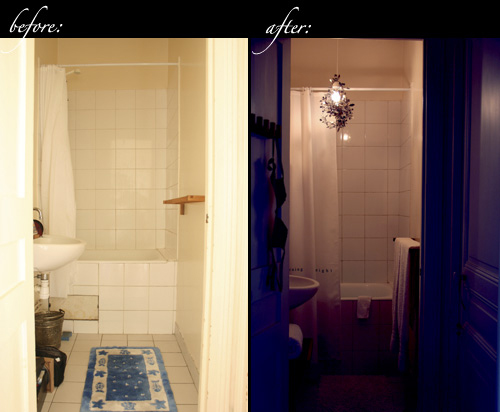 A bit of a change, n'est-ce pas?
Since the bathroom was so tiny and there was no natural light, I wanted to play with it's petite-ness and create a space that was intimate, dramatic and sumptuous (without spending a bundle). So first I scrubbed it from top to bottom to bring back the whiteness as much as possible. I bought a tord boontje garland in black for the ceiling light. The flower shapes from the garland created beautiful shadows all over the antique-cream walls, ceiling, and white tiled floors. I bought two simple white shower curtains – the one with the words for the outside of the bath (to cover that hideous hole!), and a cheaper, plain one to fall into the interior of the bath. I chose accessories from Ikea's Molger range for the towel rack, door hooks and mirrored cabinet. For a little extra storage I bought a wooden tray with stand that tucked neatly in the left hand corner, and found second hand boxes to hide toiletries. Organic white cotton towels completed the look. And the Elle McPherson bra hanging on the door hook was a beautiful gift from my dear friend michi .