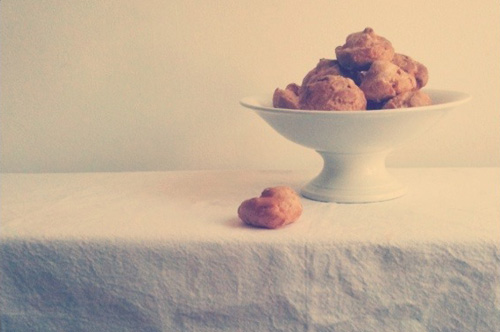 all photos and recipes in this post by Marjorie Taylor from The Cook's Atelier
Marjorie Taylor's Spring Menu:
*
Gougères
endive salad with roquette, fava beans, garden radishes
and oil-cured olives
Monsieur Vossot's filet de canard with Jerusalem artichokes, asparagus, fava beans, young spinach and herbs
Orange sorbet
Strawberry tartlet with soft cream
*
Gougères recipe:
Makes about 30 1 1/2-inch hors d'oeuvres
Gougères are the perfect little bite served with a chilled glass of crémant from Burgundy…
1 1/4 cups water
10 tablespoons butter
1 teaspoon sea salt
1 cup all purpose flour
5 eggs
3/4 cup Gruyère cheese, grated
Preheat the oven to 350 degrees F.  Line a baking sheet with parchment paper.
To make the choux paste, combine the water, butter and sea salt in a heavy saucepan over medium heat until the butter melts and the mixture comes to a full boil.  Immediately remove from heat, add the flour all at once, stirring vigorously with a wooden spoon.  Keep stirring until the mixture has formed a smooth mass and pulls away from the sides of the pan.   Beat the mixture over low heat for a minute or so more to dry it.
Make an egg glaze:  Whisk one of the eggs in a bowl and set aside.  With a wooden spoon, beat the remaining eggs into the dough one by one, beating thoroughly after each addition.  Beat just enough of the reserved beaten egg into the dough until it is shiny and just falls from the spoon.  Beat in the Gruyère cheese.  Transfer the warm dough to a pastry bag fitted with a 1/2-inch plain tip, and pipe onto the prepared baking sheet.  Brush the tops with the egg glaze and lightly sprinkle the top with a little cheese.
Place the gougères in the oven immediately and bake until they have puffed, are nicely browned, and feel light for their size, about 25 minutes.  These are delicious served warm straight from the oven.  Or, let cool completely, and store in an airtight container for up to a few days, and recrisp in a 350 degree oven for 5 minutes.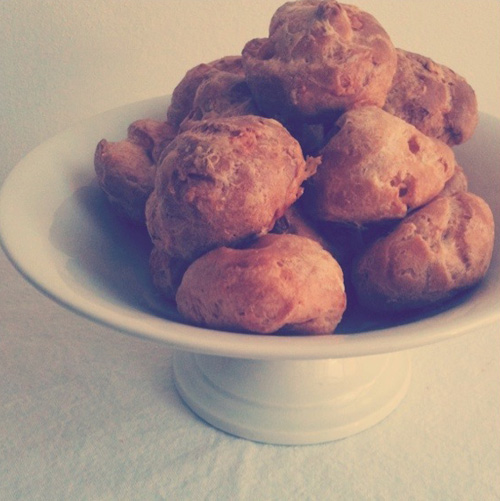 ……………………………………………………………
Endive salad with fava beans, roquette, oil-cured olives and garden radishes
Serves 6
This salad is a favorite at The Cook's Atelier and the ingredients can vary depending on what looks good at the market…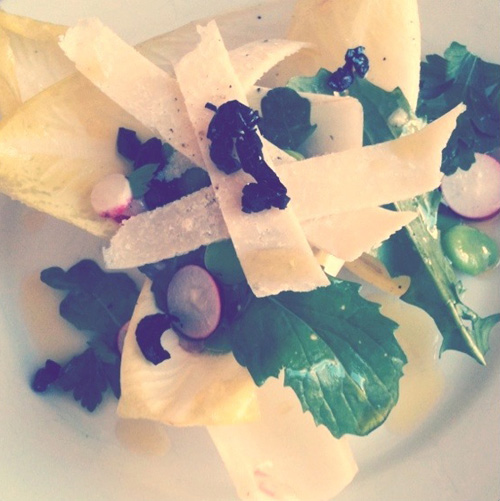 5 Belgian endives, cores removed, separated into spears
1 handful of roquette
1 handful of radishes, thinly sliced
1 cup shucked fava beans
1/3 cup oil-cured black olives, pitted and thinly sliced length-wise
2 tablespoons chervil or flat-leaf parsley leaves
lemon slices (optional)
Parmesan, cut into thin slices using a vegetable peeler
A grind or two of black pepper and a sprinkling of fleur de sel
Lemon vinaigrette:
1 shallot, finely diced
1 tablespoon lemon juice
3 tablespoons extra-virgin olive oil
Sea salt and freshly ground black pepper to taste
In a large bowl, place the shallot, lemon juice and a pinch of salt and set aside for 5 minutes.  Whisk in the olive oil.   Add a few grinds of pepper and taste for seasoning.  Add the endive, roquette, radishes and fava beans to the bowl and toss to gently coat in the vinaigrette.  Arrange the salad on chilled plates, piling it up in the center.  Tuck the lemon slices in and around the salad.  Scatter the chervil and olives over the top of the salad finish with a few slices of Parmesan.
……………………………………………………………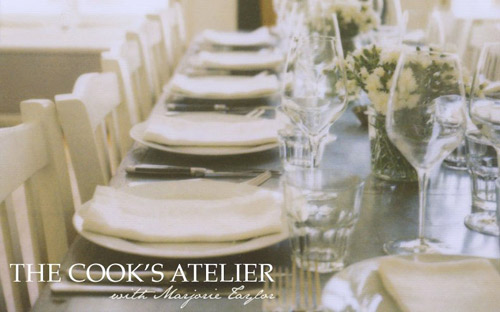 Recipe from Marjorie Taylor, The Cook's Atelier