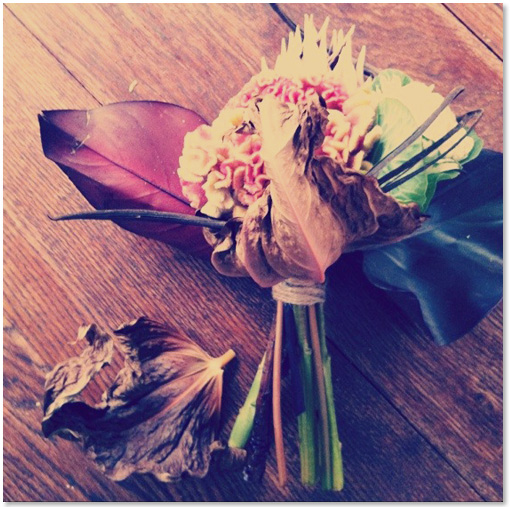 beautiful floral sculpture by tracey deep
Since settling back in Australia – but especially over the last few days during the book launch events – the question I have been asked the most is "Why did you move back to Sydney?" Has this been on your mind too? I thought I'd answer that question here, in the (blog)house in case there are more of you wondering the same thing:
I came back to Sydney for my Mum.
I wanted to say this at the launch on Friday night at Ariel, but when I practiced saying it out loud in the days leading up to it, each time I'd choke up with tears before the answer came out, so on the night I thought it best not to.  Also, I know mum dislikes the spotlight as much as I do (can you imagine how anxious I was writing about her throughout My Heart Wanders? Thank goodness she loves it), so I thought it wiser not to shine it in her direction.
But I'll shine it on her here now: Happy Mother's Day Mum. It's so nice to not be so far away.
I'm off to Brisbane today to celebrate the book's release with many wonderful and creative Brisbane folk this Saturday, just in time for Mother's Day. I know a number of people are bringing their mums along, and have bought copies of My Heart Wanders to give to their mums on Mother's Day – thank you! I will try to keep you posted on my whereabouts via twitter, which has now become my mini visual diary as I post photos during my days through instagram.
Next week I'll definitely catch you up on all the events over the past week. For now, you can see some great photos of Friday night's Sydney launch on Jillian Leiboff's blog (thank you Jillian!).
xx
PS yesterday I created some little foresty oases in the windows of two great bookstores in Sydney – Better Read than Dead, and Oscar & Friends in Surry Hills, I'd love it if you would swing by these bookstores to have a look, and tell your friends about them, thank you so very much.
PPS if you've missed out on some of the events already, there are still a few more coming up – please check the sidebar for the schedule. x