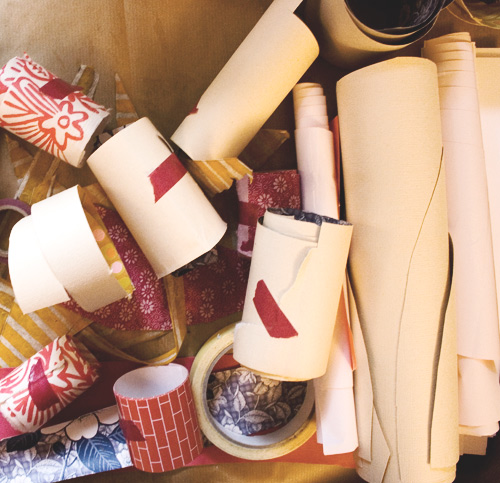 On Saturday, this little boat was full of buzzing activity. My fabulous friend Rani came over to help make the window display and boy, did she work hard! 9 hours of cutting and pasting, I'm quite sure she never wants to see purple, yellow, pink, red and orange paper and ribbon ever again.  Needless to say I'm very grateful for her helping hand, there is no way I could have created this without her  (I'd certainly be a frantic mess right now instead of a relaxed mess!) – thank you Rani!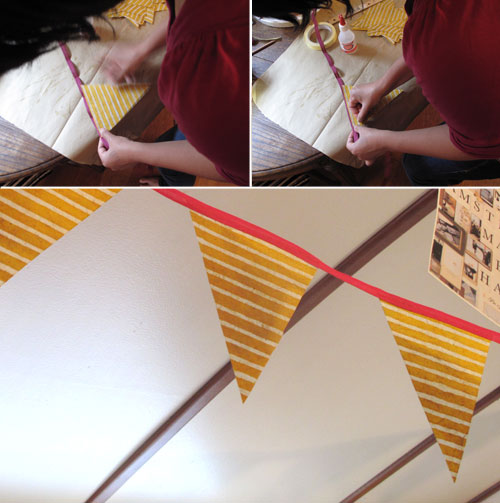 Above is "the bunting making " station. Rani was busy assembling these gorgeous flags with wax paper and ribbon. Pretty, non?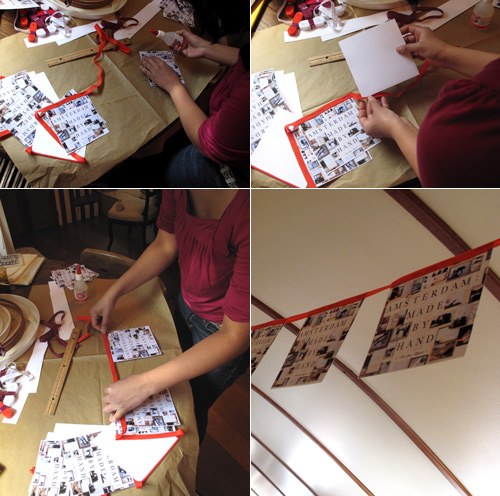 And then came "the Amsterdam: Made by Hand book cover garland making" station. That's one long sentence, and it's one long garland!
We chose orange ribbon for the book cover garland as the book's spine is orange and so we thought that would be rather fitting. Here I am below sketching and cutting the heavy duty cardboard cut outs.  It was pretty tough cardboard, I was kind of regretting such heavy duty stuff but then I really didn't want the display falling all over the place in the window so, it was a little more labour intensive but hopefully worth it in the long run…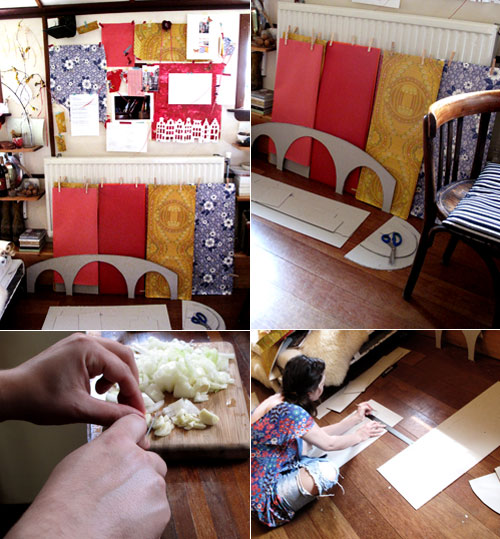 From top left, clockwise: moodboard and cardboard cut outs; French Boy chopping onions and garlic for one of his delectable dishes; me sketching.
But it was French Boy's catering that stole the day's events. Yes, he decided that would be his thing for the day, and cater he did! When Rani arrived at the boat he handed us each a plate of crepes which he'd just made, they were smothered with chocolate spread and we devoured them in a heartbeat – they were the perfect way to start the day! Then for lunch he made a delicious and healthy spicy tuna pasta with steamed green beans on the side. He brought us cups of tea throughout the afternoon, poured us an apéritif of cremant at around 6pm, and then his pièce de résistance was a boeuf carottes with boiled turnips and parsely. And then chocolate and strawberries for dessert!! It was quite a feast, and it made the day extra special and fun.
……………………………………………..
Thank you Rani and French Boy!!
Next up: adding the finishing touches.