Yesterday I was going through some of my old photo albums in search of something in particular for inspiration, but instead of finding what I was looking for, I found this…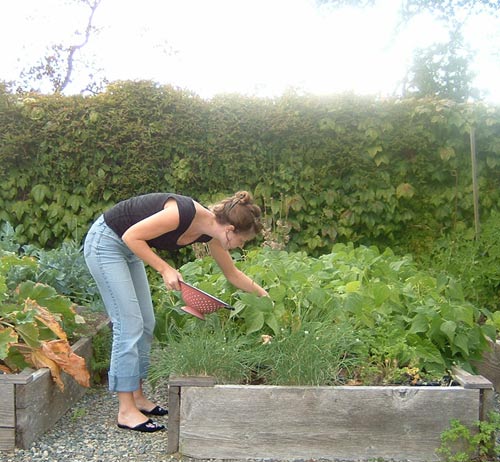 My heart stood still for a moment as I looked at it, whisking me back in time to a place, people, and land that I so dearly love. In this photo I am picking beans for dinner in my ex-partner's parent's home (gees, try to say that fast ten times), on Vancouver Island, in Canada. I remember asking my partner if he's be so kind to snap a photo of me in this moment, because I wanted to remember it for always. I'm so glad he did. thank you m.
………………………………………………………….
It's been a busy week here in le petit bateau, with lots of wonderful things happening that I hope to be able to share with you very soon. This weekend I would like to try to spend some time outside as it is forecast to be beautiful weather. It's a long weekend to boot, so I will be back in the (blog)house on Tuesday with a very special week for you – it will be dedicated to my weekend in Paris, complete with soundscapes. In the meantime, if you would like to get a little bit more behind-the-scenes, you can join in the fun on my facebook page, where I write what I'm up to, and chat with friends.
Thank you everyone, for being here. My world would not be complete without you.
xx