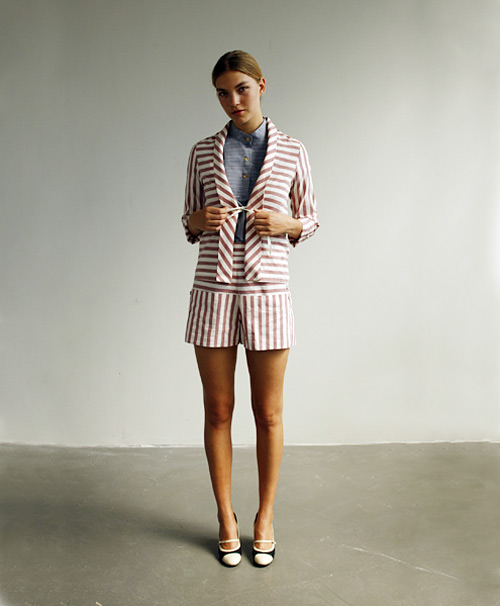 I'm a sucker for real fashion – you know, the type that you can wear any day, everyday, and look über stylish and sophisticated without being OTT (over-the-top. also referred to in camera angle lingo, in case you need to know that). I like clothes that feel good on my skin, and move when I move, and that don't feel restrictive. And you all know how much I LOVE natural fibres, and 'conscious' clothing. So I bet you are not surprised that I am totally in love with Jackson, Johnston & Roe's Spring collection. Take a look…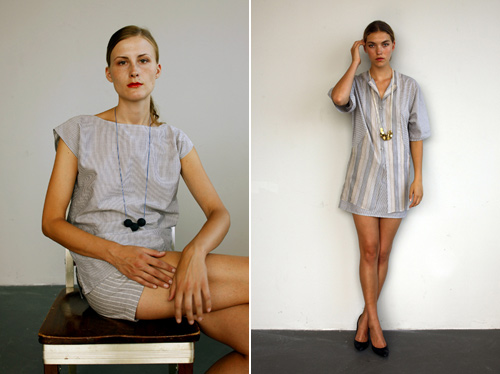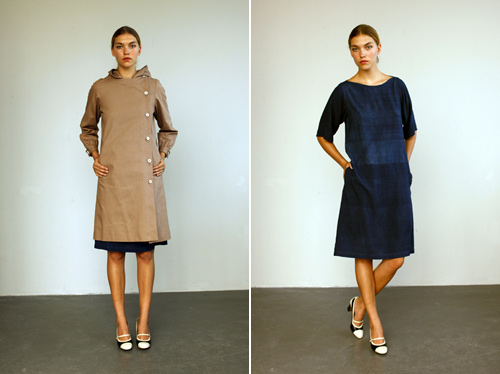 I have my first Jackson, Johnston & Roe pieces in my wardrobe right now, just in time for Spring! They include the april travel coat you see above (gorgeous!! and I can't WAIT to travel in april with it!), the v-neck shirt which is so soft and incredibly comfortable, and the study jacket (top photo) in grey and white.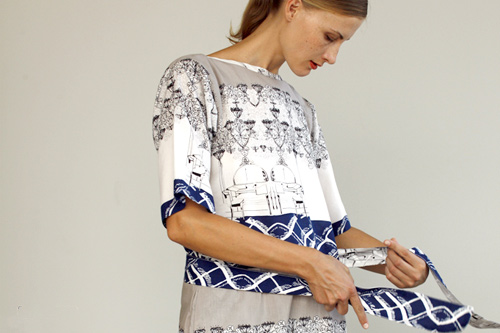 For this season, the designers behind the label created their own print as you see above. They were inspired by the early 20th century surrealist practice and created an "exquisite corpse print" where they each drew a section. I love this idea! I've held this fabric in my hands and it is indeed, exquisite.
Jackson, Johnston & Roe use sustainable and organic fabric, wood and recycled paper buttons,as well as hand dyed peace silk which is a process that does not kill the worm.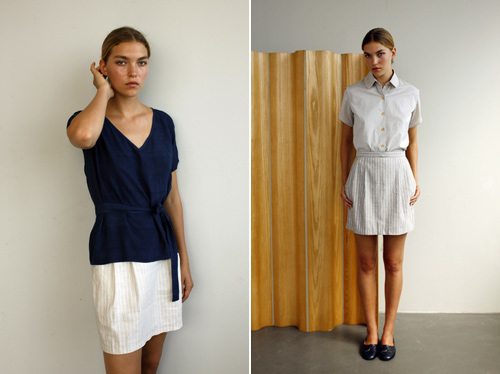 left: perrine v-neck shirt and right: jules shirt with museum date skirt
Their inspiration for the collection is such a beautiful story – one of their muses and dear friends recently shared the history of her mother's boarding school. She attended La Legion d' Honneur L'ecole au chateau D'ecouen from October 1952 to July 1955. The April travel coat is fashioned after a coat in her "trousseau". The designers were inspired this season by the idea of a modern day trousseau; the clothes you take with you… to school. On an adventure. Or to start a new life.
So who are the designers behind this fabulous collection? They are Sara Moffat, Teo Griscom and Riley Salyards, who assumed their grandfathers' names (being Jackson, Johnston & Roe) for their womenswear line. The childhood friends draw from each of their distinctive artistic disciplines to create these small collections which are made in New York City. The collection is sold at selected stores across America, but you can also contact the sales department direct to find out more.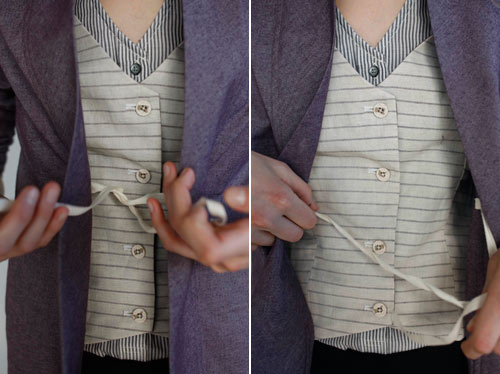 above and below is a sneak peek of their fall '09 collection…
Oh I would love to get into the minds of these designers – how much fun would it be to find out how they come up with their designs, and what inspires them?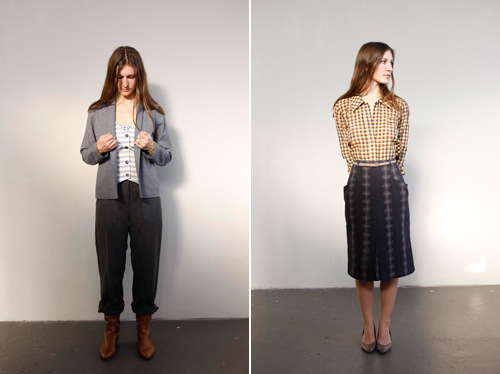 Well guess what? I am thrilled to reveal that our mystery guest in the new (blog)house is none other than one of Jackson, Johnston & Roe's very own designers, Riley Salyards! Yes, I've kept her a bit of a secret from you all (although I've casually mentioned her here, here and here you may recall). Riley is a dear friend of mine here in Amsterdam. She is one of the most inspiring people I've ever met, and I was so thrilled when she said 'yes' to being my first guest here in the new guest quarters. Spending time with Riley is one of my favourite things to do here in Amsterdam. She has such a unique vision – she makes incredible things, she sings! and every time I leave her company I am filled with inspiration. Thank you dear Riley, for agreeing to share some of your life and own inspirations here in my (blog)house over the next month. Please enjoy your stay.
Oh, and shall we meet up this afternoon for some champagne in the kitchen with yvette? I hear she's got a delicious bouillabaisse cooking for us!

(check out Riley's first post here, there will be another one coming this afternoon).
All images courtesy of Jackson, Johnston & Roe. Photographed by Bill Phelps.