In my rush to get out to my spontaneous thanksgiving meal last night I forgot to post one of my proudest discoveries for holiday gift ideas: for him…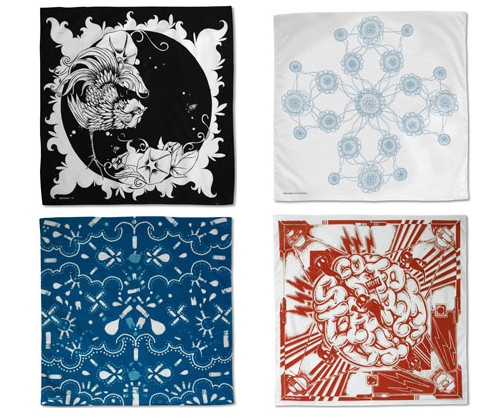 These limited edition handmade bandannas come from a recent exhibition called bootlegger, curated by Melbourne based artist Niels 'Nails' Oeltjen. Selected artists were invited to express their ideas in the form of an original drawing, painting, or print, and the images created were then printed onto fabric and made into bandannas, which were shown and sold at the exhibition. You can read more about the exhibition here. And best of all, you can purchase the bandannas right here! They are AU$66, with editions limited strictly to 20 per design. I think this is just one of the most fabulous boy gifts ever, don't you?
…………………………………………………….
Bandanna findings with much thanks to Australian Edge.
PS oh the kids, I've forgotten the kids! no i have not, i would never! but as it turns out i've had a very full day and i need a rest. so i've decided to post my holiday gift ideas: for kids this weekend instead. See you then!