A quick scroll down the length of this post will reveal that perhaps I went a bit overboard while out on my hunt to find goodies for the kids, but how could I resist?! My goal was to find online eco-friendly, handmade, economical, sustainable gift ideas for kids all over the world, of varying ages, be them boys or girls. And on top of all that be über stylish and cool. Well, the task was all too much fun and I just couldn't help it, take a look at all the cool things I found…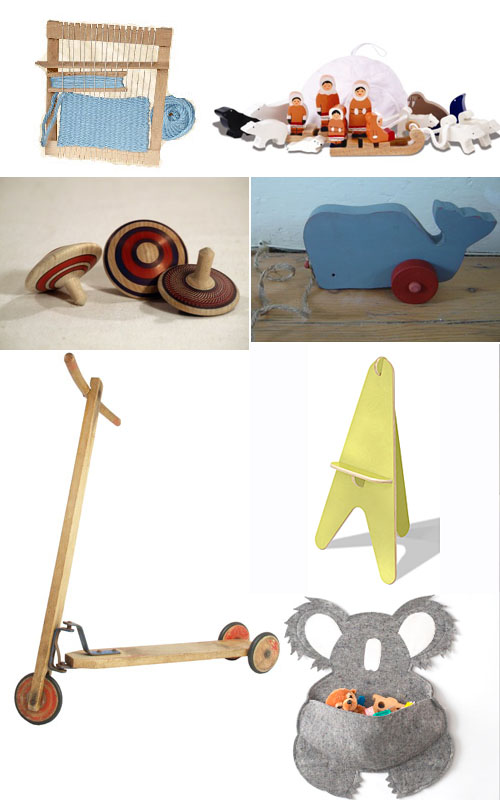 First up in this fabulous collection, clockwise from top left:
1. My First Weaving Loom, available through Our Green House. You know how some toys influence you so much that they stay in your mind forever? Well this is one of them. I would have LOVED this as a child. Made in the USA. $22.50
2. Our Green House has amazing things for kids, including this 17 piece arctic exploration set. Ages 3+ $34.
3. I adore this handmade wooden whale pull-toy. He is made in Nova Scotia, from etsy seller Sleeping Forest. $25.
4. ecotots art easel from wild dill. just totally rad. $160.
5. This koala pouch is made from 100% wool industrial felt and hangs on the wall or back of the door to store small items. I love it! And not just because it's a koala bear. Available from Zanisa. $95.
6. Vintage wooden scooter/step, available from tas-ka here in The Netherlands. €17.50
7. Spinning tops. These ones are just the coolest. Available at Sleeping Forest. $22 each.
……………………………………………..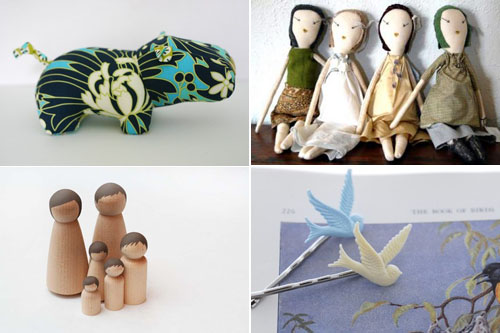 clockwise from top left:
1. this blue hippo is hippo-licious! It's made in Western Australia by Two Little Banshees. $32. (note: stuffed with poly-fill, perhaps you can request your order to be stuffed with wool fleece instead.)
2. Jess Brown rag dolls. Totally cute. Totally stylin'. Totally sustainable. Available from twig. $118.
3. vintage swallow bobby pins for a special little girl's christmas stocking, from sprout studio, in san fransiscio, $9.
4. Dress your own wooden doll set from goose grease, based in brooklyn. $15.
……………………………………………..

1. wooden map blocks (how cool would these look piled up on your sideboard?) from sparkle power in Cleveland Ohio. $15.
2. french wooden alphabet set from bibitty in salt lake city. $78.
……………………………………………..

let's get cooking! from left to right:
1. Make your kids a cardboard play kitchen! The complete instruction guide is available online from forty-two roads in philly. $8.
2. 100% bamboo kitchen utensils for kids. You could even paint these with milk paint if you want them to be colourful & bright! Available from re:modern. $24.
3. I think this little vintage toaster is perfect for a play kitchen don't you? It's from pony party. $12.50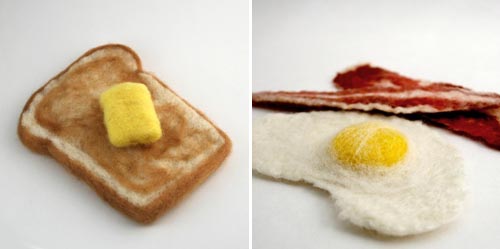 Felt toast & butter, and bacon & eggs – how utterly adorable. $5 and $10, from bee mice elf .
……………………………………………..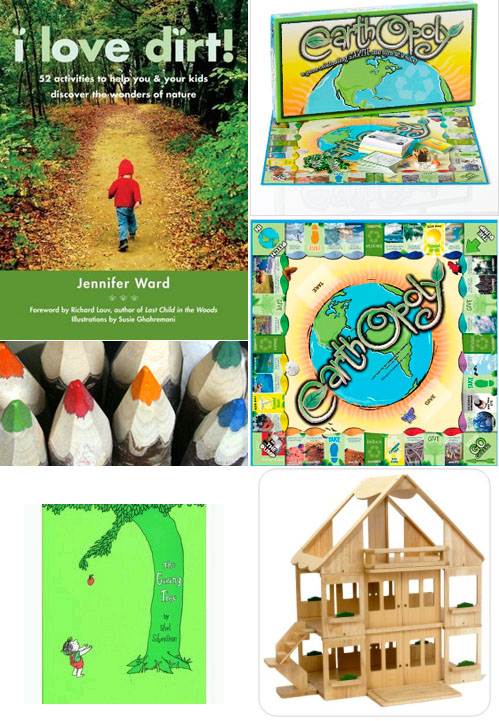 clockwise from top left:
1. I love dirt too! I found this awesome book by Jennifer Ward over at Liberty Post's, you can read all about it and buy it here.
2. Earthopoly. This sounds like the coolest game of the century. Its from Zanisa. $25.
3. The ultimate dolls house. with removable stairs, terrace, shrubs. wow. Available from our green house. $125.
4. I fell in love with artist Shel Silverstein's words and drawings when I first discovered his poems in my local library while growing up in Pennsylvania. And I remember we were asked to read a favourite poem in english class and I chose one of his. This book of his called The Giving Tree looks a treat. Available through our green house, $16.99.
5. pencils made from twigs in poland. too cool for school. Available through our green house also. $22.
……………………………………………..

Vintage board games!! So cool. I found these at the vintage toy box based in the UK. Just scroll through the collection to find the games you love and share them with your kids.
……………………………………………..
And now let's look at just a few of my favourite clothing lines for kids…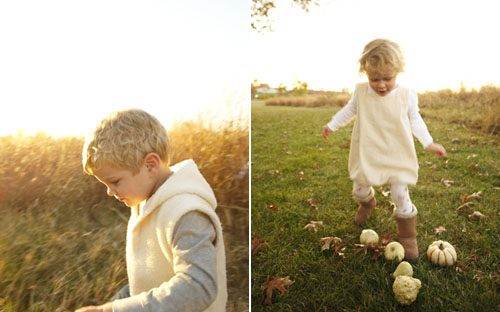 Periwinkle Bloom's outfits are too darling. Just look at that sherpa hoodie and that gorgeous flannel bubble dress? Homegrown and homemade in the US of A. $88 and $84 respectively.
……………………………………………..

Pamela Tang makes the cutest dresses and shorts for the little'uns. $59 and $39 respectively. Made down under.
……………………………………………..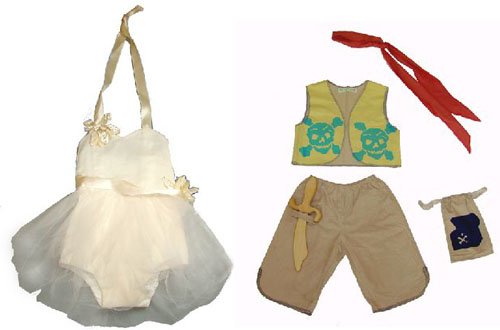 I love these dress up outfits from non chalont mom, made with organic fabrics. Approx $160 each.
……………………………………………..
So that's it! That's my christmas collection for the kids. I do hope you find some things in there for your own kiddies. If you are hungry for even more cool eco-friendly ideas for kids, head over to Bloesem Kids collection right here.
I'm off to make some dinner now and get myself sorted for this coming week's events. Next up I will be showcasing my favourite decorating tips and decorations for the holiday season. Oh it just gets better.
But wait, there's just one more treasure I simply must share with you…

These bub carriers are awesome! They look much more simple to use that the ones you need to tie. They're priced at around $45 – 80, and are made by bronwen handcrafted in New York.
……………………………………………..