"Hims" are always hard to buy for aren't they? They just make it so hard with their masculinity and all. I like to steer away from the list of toys they always request – ipods, video games, iphones, etc and give them something that is handmade, thoughtful, and appeals to their soft centres. Here I have found a few things that I think might just do the trick…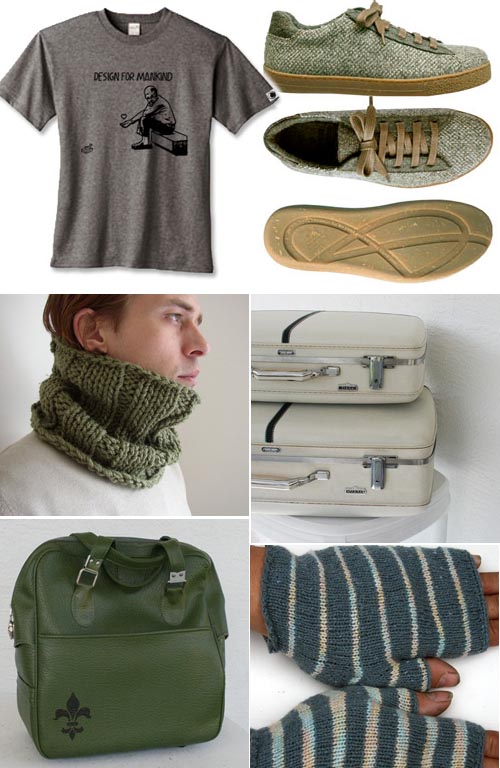 Clockwise from top left:
1. Our very own Erin has her very own t-shirt! And even better is that it is part of Sonadei's recycled t-shirt collection. Isn't this the grooviest? It is the perfect boy gift. Read more about how the t-shirts are made here, and buy Erin's tee here. $21.50.
2. Po-Zu shoes. Are just. So. Good. Read all about these incredibly stylish eco friendly shoes here (click on the "pure" link), and check for your nearest stockist here. The UK online boutique, The Natural Store, have a great selection of Po-Zu's, click here to browse the selection. The ones featured above are £95. (There is a range for girls too and I have a pair of the slippers. My feet are in heaven) (and they come in the coolest coconut box, you almost just have to get a pair so you can have the box).
3. These upcycled vintage suitcases rock. They are from Get Ready Set Go! based in Michigan. $99.95
4. These hand knitted fingerless gloves would look super cool on a dude. They are made with cashmerino yarn by Knit Happens , cost $54, and are made in the UK.
5. Another cool upcycled bag! Hot stuff. This one is also from Get Ready Set Go!$48.50.
6. So masculine is this cowl. It is hand knitted by Moo Cow Hand Knits based in the UK. $35.

And for the fancy man (ie the man in your life that wears a suit – I personally don't know any, but I know they're out there!) On the left: clipper ship print ties from toy breaker. $30. Michigan. (also check out the whole store, there are HEAPS of cool designs). On the right: man scarf, perfect for suit wearers. $35. UK.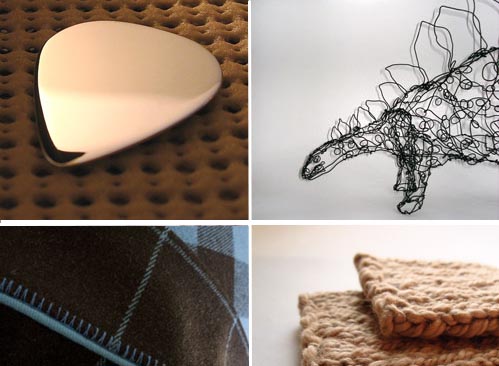 Homewares for boys? you bet!
Clockwise from top left:
1. not officially homewares-y, BUT this handmade sterling silver guitar pick is not only going to go down an absolute treat with your musically talented male recipient, but it is one of those pieces that will look smashing just casually lying on his coffee table. You can also get a special message engraved on it for him! It's from Andros Creations in Ohio. $60.
2. Guys love dinosaurs. It's a fact! And this wire stegosaurus is so perfectly manly. It's made by New york sculptor Susan Graham from sugar susan's, and is priced at $88.
3. Organic cotton dishcloths. You think I am joking? I am not! Guys need to clean up too, right? (if the men in your life do not clean up after themselves, we need to talk). I have these double knit dishcloths myself from eco kate and I can tell you, THEY ARE FABULOUS. And note to all: If you are still buying manufactured dish sponges, please stop. $11.50 for two. New Jersey.
4. And last but not least, I adore this check alpine blanket from one eco home in the UK. It is made with 100% wool from sheep grazed in alpine meadows on the French Alps, and have been used for centuries for hunting, skiing, and climbing. £145.00 – £220.00
I'm now regretting my rule of not exchanging christmas gifts with French Boy this year. That silver pick has his name all over it (you may have to wait until your birthday my love).
……………………………………………
So I do hope there are some treats in there for you to give to your 'him'. And as I always say, do check out each store link as there are so many goodies that I could pick from each, but I just select one or two for this post. Oh, one more that I just can't resist…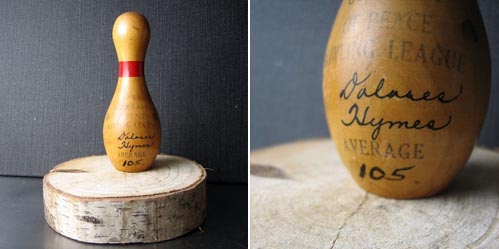 How gorgeous is this vintage bowling pin?! It comes from Brooklyn rehab's poppytalk market stall and is a whole whopping $6.50. Quick! I simply must know that one of you have whipped it up for your man/you/me. Also be sure to check out the rest of poppytalk's holiday market while you are there as it's only open until December 12.
……………………………………………….
Extra note: I am taking French Boy out for a very spontaneous surprise dinner – i noticed his comment on Aran's pumpkin pie below, and so I thought I'd scout out a restaurant to have a Thanksgiving dinner here in Amsterdam, complete with pumpkin pie. I found a place, but… it could be great, or it could be not so great. We will find out! This will be his FIRST ever thankgiving dinner. shhhhhhh.
I will be back tomorrow with holiday gifts for the kiddies!
xx