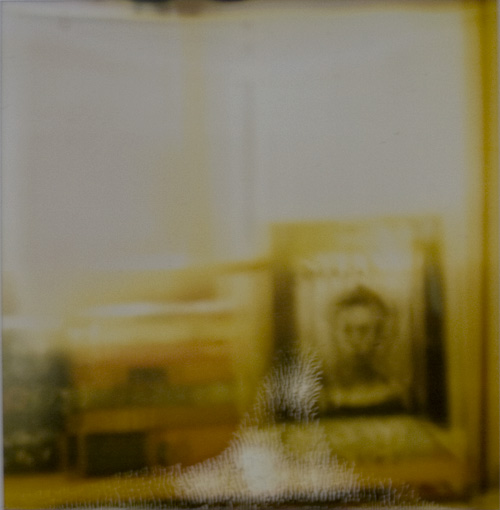 You are forgiven if you have no idea what this is. It's one of my bookshelves here on the boat, and that strange man's face looming about is from the cover of a book of photographer Paul Strand's work. And as Annie suggested in the comments on the previous polaroid: I shall not quit my day job. promise.
Have a fabulous weekend everybody!
P.S. Check out this incredible illustration piece on Corine's blog.
P.P.S. Jools, who lives in Brisbane, Australia has been inspired by my soundscapes and wanders and has been posting her daily walks on her blog called passion pages, for the past week. Her walks are breathtaking – she lives in one of the most beautiful parts of Australia, go and take a look. And notice the footwear on a winter's day – thongs! I can't even wear my flip flops here and it's summer.
P.P.P.S just when you thought I had run out of P.S's… check out this fabulous photo Taryn sent me the other day – she is rockin' with style, and it just goes to show that your wandering hearts can be found, and fashioned, in the most unlikely of places. Thanks Taryn!