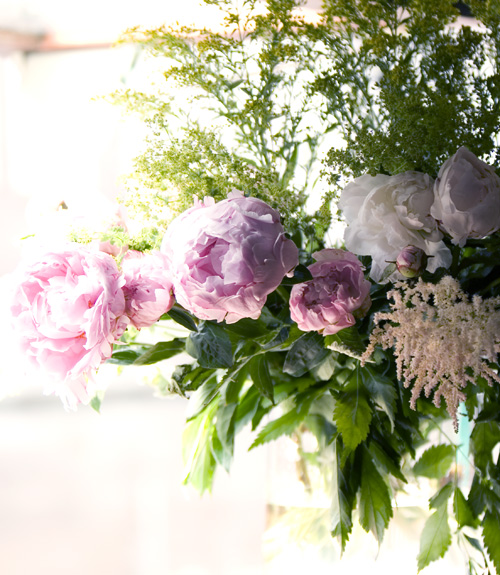 As it turns out, a good nights sleep does do the trick! and a morning ride around the canals, a stop into one of my favourite boutiques, and a delicious breakfast in the Joordan…it all helps.
This morning I was returning props from yesterday's shoot, and I can tell you, that is the worst part of the job. Sometimes I'm drawn to tears, having to return such incredible props. And many times I just can't part with the goods so I buy them. Above are some of the flowers I bought for the shoot. Mes chères fleurs! I think they are so beautiful. Peonies of course are in season, but I also love these little fluffy blossoms. I don't know the names unfortunately. Don't they all go so well together?
Also on the kitchen table:

French Boy and I like to try different wines from all over the world but with the French palate that we (umm, namely he) has, we are pretty picky and often stick with the French ones we love. But we have noticed a good number of reds coming from South Africa lately. The other day, we tried this one with dinner and it was succulent. So I kept the bottle to let you all know about it, and we will be stocking up on a few for the wine cellar (aka a cupboard in the hull of the boat). And guess what – it is fair trade and organic! I know, we couldn't believe it – we felt like we had hit the jackpot. The label is called "African Star" and the one we had was labeled 'organic red 2007': its harvested in South Africa by a company called Stellar Organic Winery. Proceeds go to one of the local primary schools. Jackpot, right?!!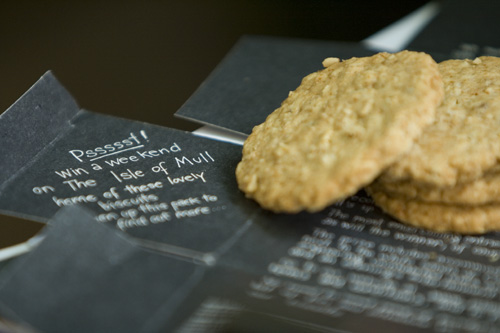 These Oat Crumbles. I've been having them with my tea lately and they are sooooo delicious. They melt in your mouth. Made by Island Bakery Organics on The Isle of Mull in Scotland.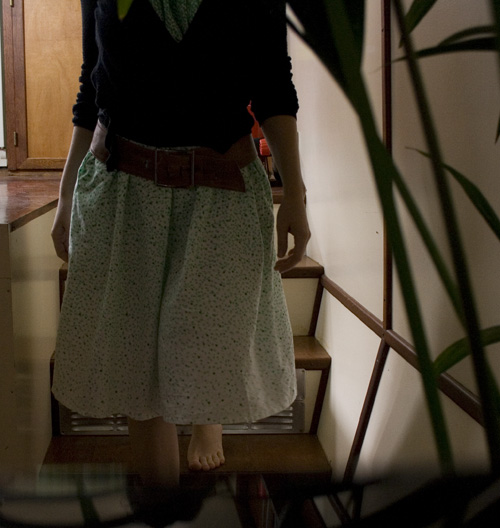 And this is my favourite outift combo du jour. I don't know why I felt like showing you but I just do. I'm loving it that much. Maybe it's the summer weather we are having lately, and the freedom to be in flowy frocks and flip flops. I bought this dress for 10 euros at Free P Star vintage clothing in Paris. It's one of my favourite stops. The belt is handmade, I bought it at the art and crafts markets in The Corso, in Manly, Sydney. The cotton wrap is about 10 years old, I have no idea where I found that one but it has followed me around on my travels, it still holds its shape and is so soft. I usually pin a flower to the wrap to complete 'the look'. And wear Thai black cotton flip flops on my feet. And my hair up off my neck.
Okay, enough procrastination on my part. Time to get back to the grind stone. Enjoy your day mes chers amis.