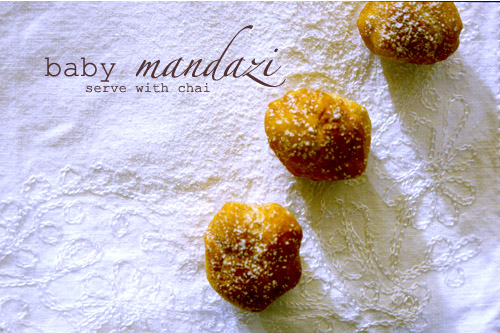 Mandazis are best described as doughnut-like breads very popular in Kenya. Anywhere you travel to in Kenya there are Mandazis being served in all sorts of shapes and sizes, and are traditionally served with my favourite beverage, Chai (Indian tea).
In light of the Kenyan crisis and my appeal to support the Kenyan people, I thought it might be nice to share one of their recipes with you. As with all traditional recipes, once I get into the kitchen I tend to re-work them (habit of occupation!) and with this one instead of making the traditional larger Mandazis I have made smaller ones that are perfect for morning or afternoon tea. I highly recommend you make up a pot of chai with them too, the spices in the tea perfectly compliment the spices in the mandazis. So,invite your friends and the kids over for some Kenyan inspired afternoon tea and munch on these baby mandazis.
Makes about 50
2 cups warm water
4 cups flour
1 tspn baking powder
1/2 cup brown sugar
a pinch of salt
1/4 tspn mix of all or some or these spices: allspice, cardamom, cinnamon, ginger
2 Tbs butter
1/4 cup warm milk
1 lightly beaten egg
your preferred oil for deep-frying
How To:
In a bowl combine all the dry ingredients: flour, baking powder, sugar, and spices. In another bowl, mix the water, butter, milk, and egg together. Gradually add the wet ingredients to the dry ingredients. Knead the dough until it becomes smooth and elastic (add a little extra flour if necessary). Leave the dough to rest for a few minutes.
Roll the dough out and then break apart into small pieces or cut into little shapes if desired (baby heart shapes would be nice).
Heat a few cups of your chosen vegetable oil in a deep pot (I use a wok). To check when the oil is hot enough, I place a little piece of bread and if it sizzles it is ready, if it does not, try again in another moment. Deep fry the baby doughs in the hot oil, gently rotating. Remove when the baby mandazis are golden brown. Place onto a paper towel to drain. Dust with a little icing sugar. Serve warm with a pot of milky chai.