Only a few weeks ago I was asked to shoot a very special project in Kenya for 2008, a project that you all would LOVE as it would feature incredible designers of homewares and fashion that have not yet been available to the Western world. I was more than excited to participate, an opportunity to shoot and write about this exclusive guide of secret designers is a dream come true.
Days before signing off the dates for this project, Kenya erupted into mayhem with the presidential election being unexpectedly rigged. The people of Kenya are in uproar that this has happened – they have been one of the most peaceful and economically grounded countries of the continent. Violence and killings have taken the country by storm and innocent children, men and women who are protesting against the corruption are being killed, the number of deaths is growing by the second.
Obviously the project is now on standby and will be until things change positively, this may never happen. And it certainly won't unless we speak up to put an end to this brutality. I have already signed the petition, I urge you to do the same – remember it is just your name, but it is someone else's life. And to educate your friends and family about this matter.
In light of the horrific-ness that is happening right now in Kenya, I have decided to showcase a range of African designers every day. My goal would be that I showcase one a day until peace is returned in Kenya. I cannot bear violence, corruption, greed and murdering of any kind, and most certainly of innocent people like you and me.
So let's put Africa in the spotlight because bottom line is, Africa, we freakin' love you!!!!
For a more indepth account go to the afropolitan blog.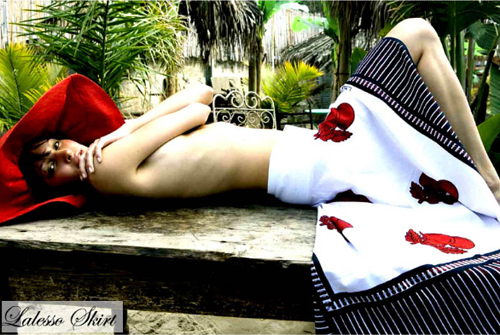 So, s'pose you want to know more about these fabulous designs? Well let me tell you! I was not going to share this secret for some time (I've been holding on to it so damn tight, I still don't want to let it go!) but there is no time like the present so here they are for you. Allow the red velvet curtains to be drawn back as I introduce you to the fabulous Olivia and Alice with their incredible brand, LaLesso…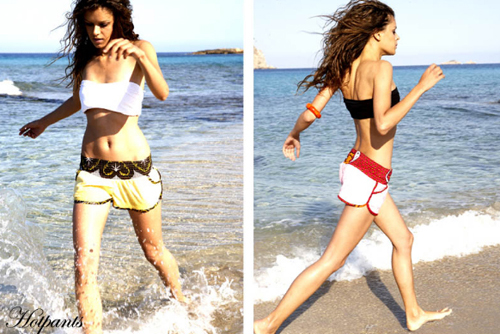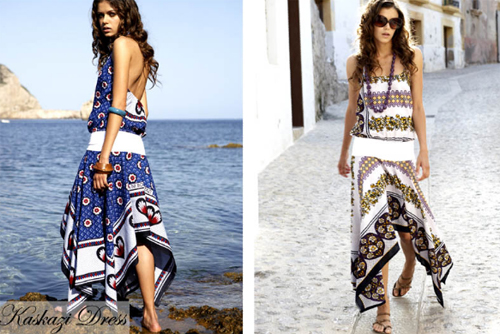 Olivia is originally from Kenya but now lives in London, you can read all about the company profile by going to the LaLesso website. Olivia sent me some of her latest designs for a shoot I did in Paris last year (I am wearing the Kaskazi dress featured above in my first ever post) and so it's with firm authority I can tell you LaLesso dresses are HOT! The fabric is so soft, the designs are heart stopping (I have had people stop me in the street EVERY TIME I have worn a LaLesso dress out). And I haven't even mentioned how utterly cool and stylish the bikinis and hotpants are!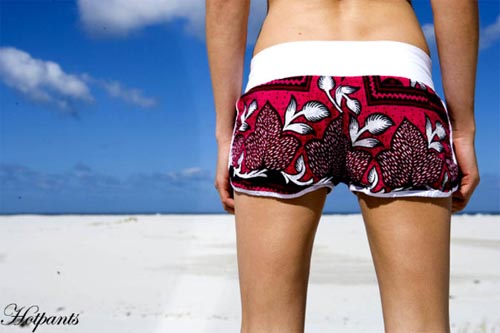 Nor how fantastic the company profile is and how the fabric is made. I will just have to post about LaLesso again later on so I can blab on further, they inspire me so.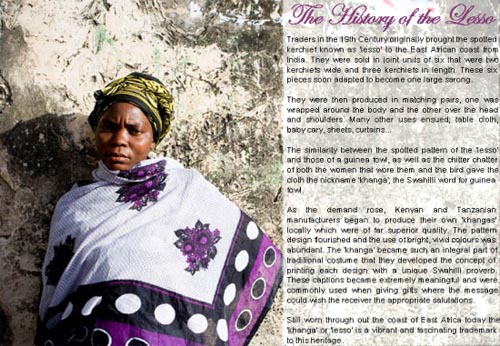 LaLesso will launch in Australia soon but all you Aussies out there, I suggest you get an order in now to catch the end of summer (you will be the hottest thing on the beach in a LaLesso, I guarantee it!) and the rest of us in the States and Europe, place your orders now to be first in for summer '08! so go straight to the LaLesso Bazaar.
If you have any African designers you can contribute please let me know. And even better, why not create an African-inspired post of your own!