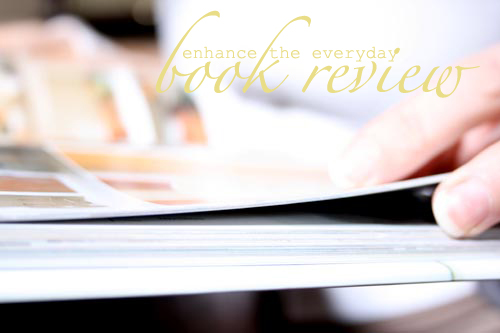 I wrote a brief review about this fab book over a year ago, and I still adore it just as much, so I thought I'd repost the review for you here in the library! Here it is…

Based on Mark and Sally Bailey's farm property in the Herefordshire countryside of the UK, Recycled Home, pour moi, is love at first sight with a staircase and an old giant's scissors hanging on a worn out wall on the front cover. Their intro exposes perfectly their decorating philosophy: "Use what you've got, be true to the structure of your house and the materials it is made from… think of your home as a delicious experiment."
The book is filled with the most delectable photographs by South African Debi Treloar: One of my favourites being a tiny copper-sailed boat resting serenely on top of an old-fashioned door knob. And if you love wood, warm whites and textures you will love this book. Be warned though – you will end up wanting to buy everything at your next antique & flea market visit as this book guides you to seeing the beauty in things you would never have looked twice at.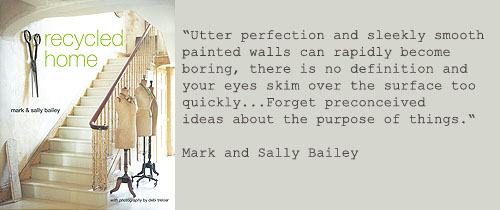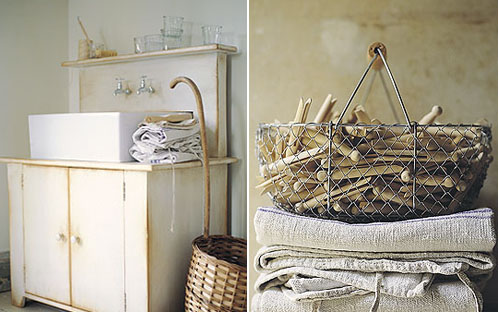 I love the textile section where you will find an old otherwise boring chest of drawers with wrapped handles in different wild vintage fabrics, stairs covered with a patchwork of mini persian rugs, and the fabric of an old bathing tent made into stunning curtains. But as I flick through the pages, my added tip as a stylist to make this style work in your own home is organisation. Without organisation, this look can quickly design itself into a display of useless scraps.
WHAT I LOVE:
Bath rack made from a rustic sawn-off ladder with a wooden tray slotted into it.
Rescued wooden planks as individual ergonomic head boards.
Individual toothbrush holders made from oak blocks.
Tiny animal figures cut out from red vintage paper and pinned to a weathered white paneled wall.
WHAT I'M 'OVER':
Big found letters dominating and 'naming' a space. Although I am a word & font fanatic and was so thrilled when this came into style a decade ago, I've now seen enough to make me instantly walk away from a space if I see a letter in sight. I am currently working on an interiors book and I can whisper you this: I will be giving you some alternative uses for your found letters!
Ticking fabric. Love it in subtle doses (like in tea towels etc) but loathing it on mass scale in a room.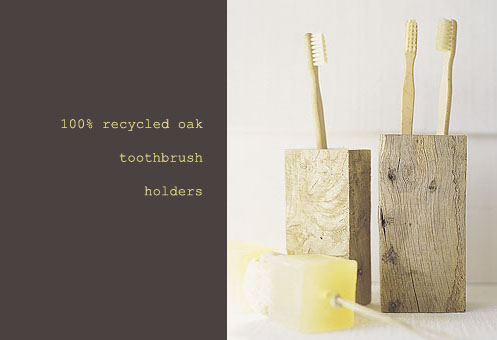 Mark and Sally have included a fabulous resource section from across Europe at the back of their book. And what more could you want? What about a website where you can buy their awesome finds and creations? Wouldn't that be great? Yes it would and here it is!
Enhance The Everyday rating for Recycled Home by Mark and Sally Bailey: 4 outta 5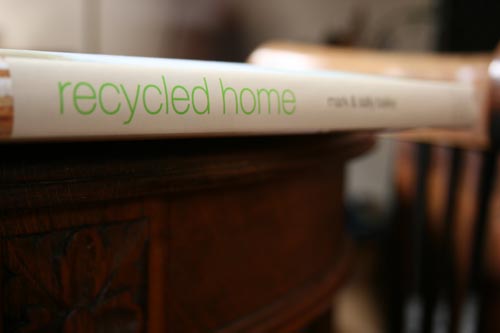 (original post here)