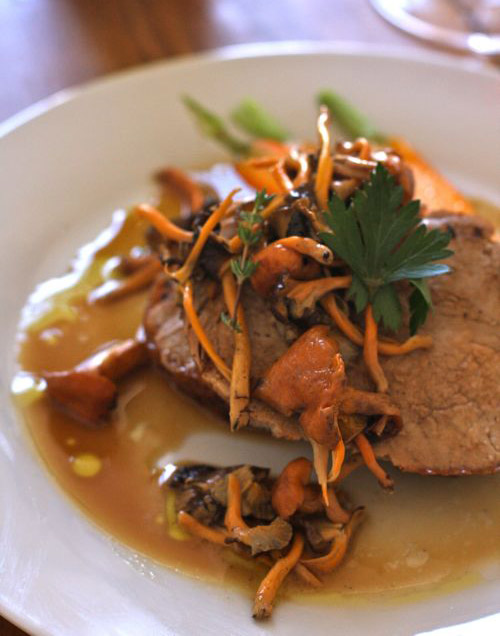 photograph by Marjorie Taylor
As a cook,  I am inspired by the markets and particularly the small artisan producers.  For example,  I work closely with my neighborhood butcher for each week's menu and I get my produce from my favorite, small producers at the local market in Beaune on Saturday or Wednesday.  On Fridays, I'll visit Madame Loichot's potager to gather the ingredients for "dinner for the cook". Today I am sharing my next recipe from the autumn menu, Rôti de veau. Bon appétit…
Rôti de veau
Inspired by Bouchon, by Thomas Keller and A platter of figs, by David Tanis
Serves 6 to 8
One 4 1/2-pound veal top round roast
Sea salt and freshly ground black pepper
1 large bouquet of basil (about 2 ounces)
2 heads garlic, separated into cloves but skin left on, smashed
1 1/2 bunch thyme sprigs (about 3 ounces)
olive oil
3 tablespoons butter
-Trim away any sinew, silver skin from the meat.  Season lightly on all sides with salt and pepper.  Remove the basil leaves from the stems.  Lay a large piece of plastic wrap on the counter.  Distribute half of the basil leaves, one-quarter of the garlic cloves, and one-third of the thyme over the plastic.  Place the roast on the top and distribute the remaining basil, another quarter of the garlic cloves, and half of the remaining thyme over the top of the meat.  Tightly wrap the plastic around the meat and refrigerate for 24 hours.
To roast the meat…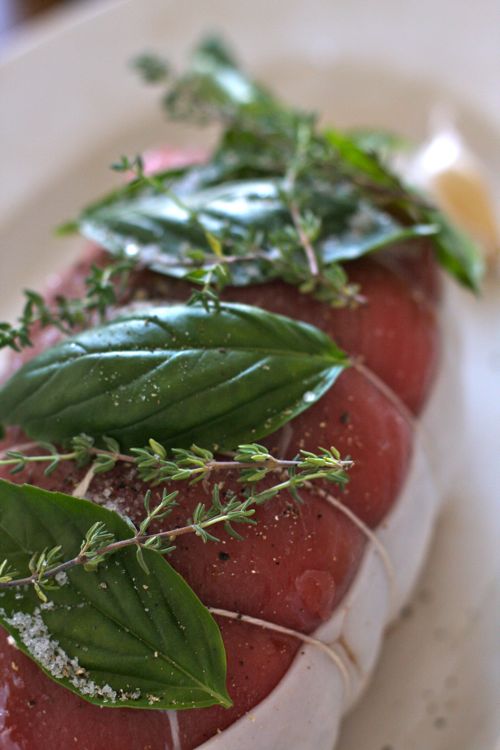 -Preheat the oven to 350 degrees.
-Unwrap the roast and place it on a cutting board.  Remove and discard any herbs or garlic clinging to the meat.  Tie a piece of kitchen twine around the center of the roast, then, moving outward from the center to each end, tie the roast at about 1-inch intervals.
-Season the roast generously with salt and pepper, pressing the salt and pepper into the meat, and let rest at room temperature for 30 minutes.
-Heat a thin film of olive oil in a large heavy ovenproof skillet over high heat.  Add the butter, then add the roast and lightly brown on all sides.  Baste the meat from time to time with the oil and butter by tilting the skillet and using a large spoon.  When the roast is evenly browned, after about 5 minutes, add the remaining thyme and garlic to the skillet.  Baste the meat with the butter and arrange the thyme over it.
-Transfer the skillet to the oven and roast for 50 to 60 minutes, or until an instant-read thermometer inserted in the center of the meat registers 140 degrees F.  Remove the skillet from the oven and remove the roast to a cutting board to rest for about 10 minutes.
While the roast is out of the oven and resting, pour off the fat from the skillet.  Add a little water or white wine and scrape up the roasty bits from the bottom of the pan to make the white wine jus.  Taste for seasoning.
1 pound chanterelle mushrooms
2 tablespoons unsalted butter
2 shallots, finely chopped
1 cups dark chicken stock, preferably homemade
Melt the butter in a saucepan.  Slowly sauté the shallots in the butter, stirring occasionally, until light browned.  Turn up the heat and add the mushrooms, salt and pepper.  Stew the mushrooms with the shallots for a minute or two, then add the chicken stock and simmer for 5 minutes, until mushrooms are tender.
To serve:
Slice the meat, arrange it on a platter, and spoon over the white wine jus and mushrooms.
……………………………………………………………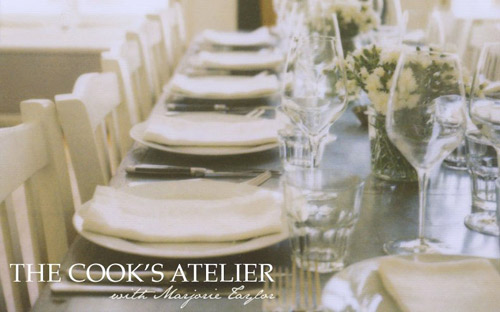 Recipe from Marjorie Taylor, The Cook's Atelier