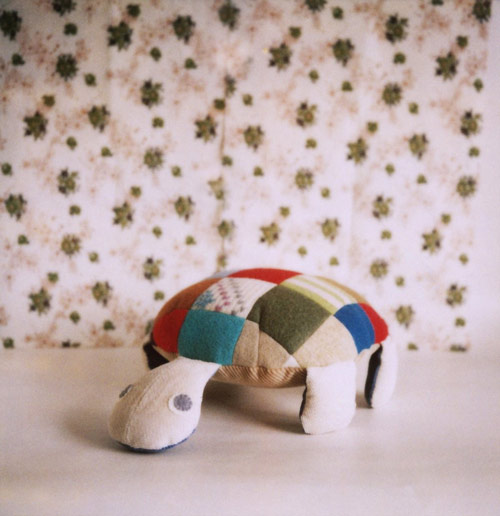 So here we are, the last holiday gift guide. I have chosen gifts that are pretty much gender neutral, bar the odd gorgeous dress and hair clips (like below!). I remember as a kid, I was always as fascinated with the boys toys as I was with girly things. So I'm thinking, I'm possibly not alone, right? Well, here are some ideas for the little'uns in your life. First up I fell in love with the little guy you see above the moment I laid eyes on him. He is made by my favourite dress US$70.00 custom orders only. location: Vancouver, BC, ships internationally.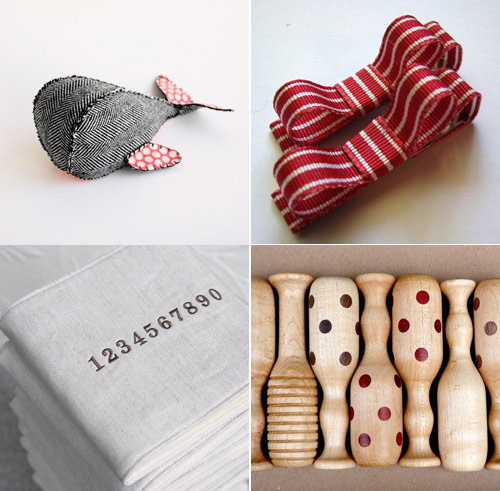 clockwise from top left: handmade whale by tiny warbler US$35 location: vancouver, BC ships internationally; candy cane striped non slip hair clips by everyday clippies US$4.00 location: michigan; wooden rattles (love the polka dots!) from little sappling toys US$38.00 location: Boise, ID; fabric number book US$48.00 from pilo sale location: toronto.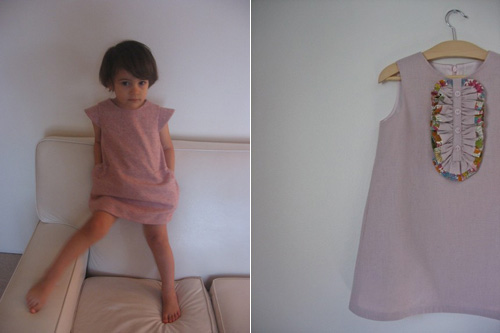 I think this little lass is the perfect model for this dress, isn't she gorgeous? So is the dress of course. US$54.00 Made from a rose wool blend by mette location: vancouver (again! I see a theme). Also love this linen number with little ruffles, also by mette . US$50.00.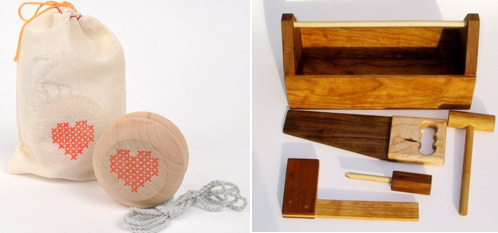 Yoyos!! They are the coolest aren't they? Love this one from something's hiding here US$10.00 location: philadelphia; wooden toy tool box, yes yes please!! US$60.00 from wood toy shop location: Portland, Oregan.

Oh just look at these tiny cashmere sippers. US$48.00 made by woolybaby location: Philadelphia; and then there are the lambswool tweed ones, too too cute. US$30.00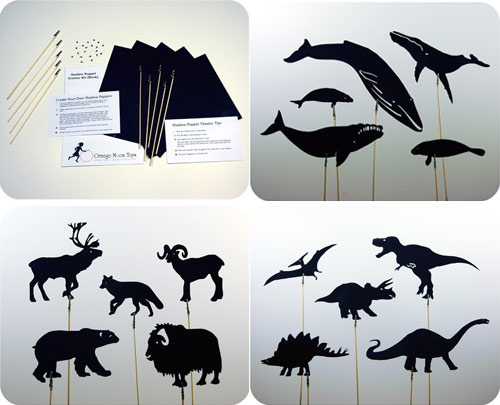 Shadow puppets!! Because I KNOW you love them as much as I do.  There is a great range available from  orange moon toys – diy kits are US$20.00, sets are US$30 location: wisconsin, ships internationally.

trucks! But not just any trucks, these ones are made in Europe by sprig,  with reclaimed wood and recycled plastic $15.00 each available online at wild dill location: california. And for some more serious playtime…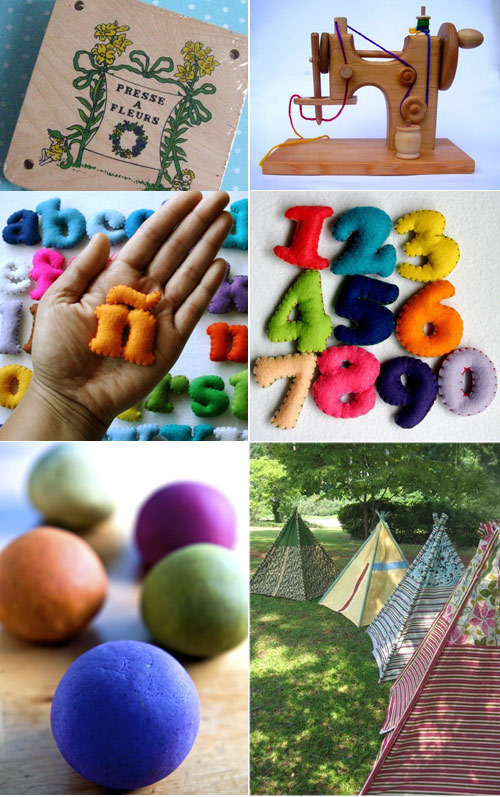 clockwise from top left: vintage flower press – but I don't want you to buy it because I want it for myself. It's just US$5.50 from ismoyo location: new york; wooden sewing machine – awesome. US$65.00 from wood clinic location: Vancouver Island; felt numbers from michima US$14.00 location: New Jersey; teepees! from gracey bean baby US$130.00 location: US; gluten free lavender scented play clay US$4.50 location: seattle; spanish felt letters (there is also norwegian/danish and german available) from michima US $40.00 location: New Jersey (ships internationally).
………………………………………………….
So that's it! That's my kids holiday gift guide collection for 2009. I do hope you find some things in there for your own kiddies. If you are hungry for even more cool eco-friendly ideas for kids, check out my guide for last year and click on the shop links.