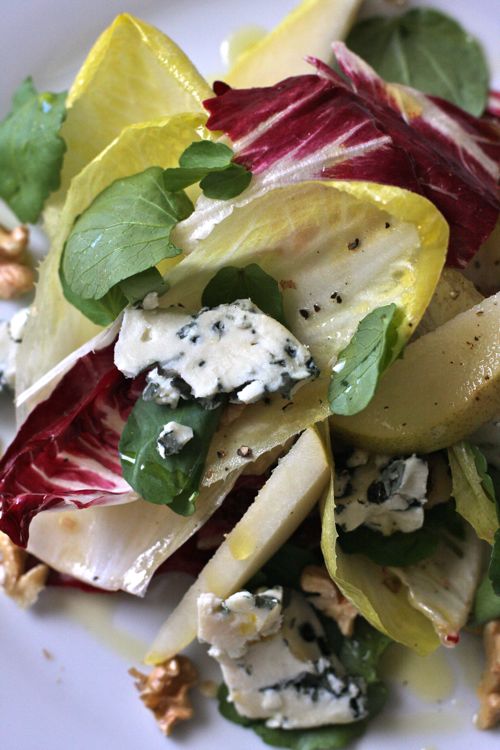 This Winter market salad is one of my all time favorites.  I've been making it for years, but not sure where I may have seen the inspiration for it.  It is my "go to" salad in the fall and winter months.  I love the combination of the Roquefort with the pears.  Heaven…
Winter market salad
1/4 cup walnuts, toasted
2 Belgian endives, cores removed, separated into spears
1 head of radicchio, torn into pieces
2 D'Anjou pears, cored, and cut into eights
1 bunch watercress, rinsed and leaves removed
1/4 pound of Roquefort, crumbled
Vinaigrette:
1 shallot, diced
1 tablespoon red wine vinegar
3 tablespoons olive oil
Salt and freshly ground pepper to taste
-Preheat the oven to 375o degrees.
-Toast the walnuts on a baking sheet 8 to 10 minutes, until they smell nutty and are a light golden brown.  Remove them from the oven, when they have cooled, chop them coarsely and set aside.
-In a large bowl, add the shallot to the vinegar and let set aside for 10 minutes. Whisk in the olive oil and add the salt and pepper to taste. Add the endive, radicchio, pears and watercress to the bowl and toss to gently coat in the vinaigrette.  Add the blue cheese and walnuts and toss. Season with salt and few grindings of black pepper and serve on chilled salad plates.
……………………………………………………………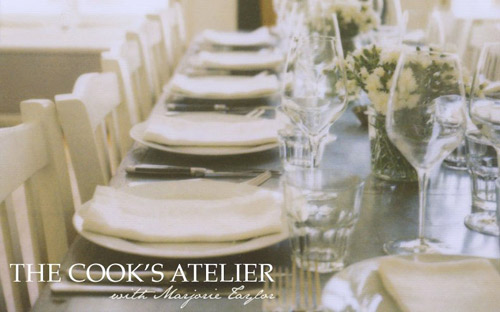 Recipe from Marjorie Taylor, The Cook's Atelier