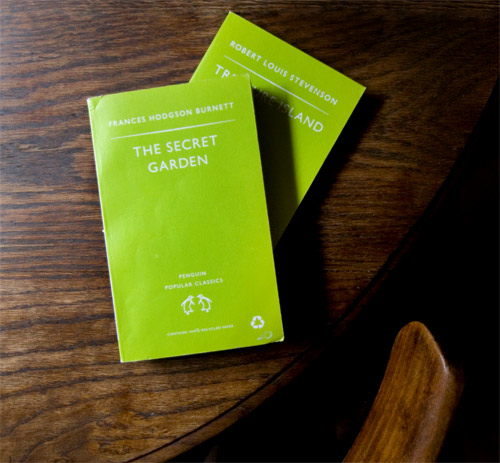 It's been so long since I came in here to the (blog)house library to let you know what I'm reading. And the reason is that I am in the midst of writing my second book. I can't read and write at the same time.
But! I love to read. So how to get around this? Well, I found a way. I have found that I can read French comics or childhood classics – I've noticed that if the books are written in old English or in another language altogether, then I can manage to get my reading fix without it interfering with my work. So lately I've been carrying around these penguin classics which I've been buying at WhSmith in Paris. I've just finished The Secret Garden by Frances Hodgson Burnett which I hadn't read for 20 years or more. What a fabulous, fabulous book. If you have not read this book then please, please do. It is incredibly inspiring. I forgot how great it is.
And now I am reading Treasure Island by Robert Louis Stevenson. I have never read this one, and so far, I'm loving it.
This little series of classics is great – perfect for traveling or carrying around in your handbag, cheap (only 3.40euro), and made from 100% recycled paper. I'm inspired by the books themselves, and I'm thinking I might make something from their pages once I'm finished. When I do, Ill be sure to show + tell my creation(s) here in the (blog)house.