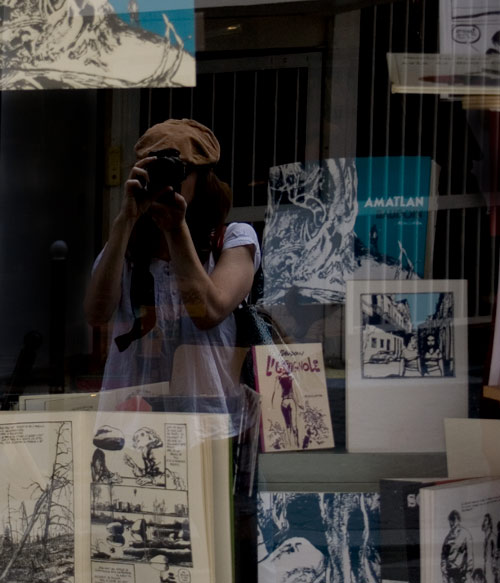 You may all be well aware by now that as much as I love music (and taking photos, food, nature, art, all things handmade…), I love books. And it just so happens that on one of my favourite wanders in paris: made by hand (that being wander 6) there is one of my favourite bookstores in the world. It is a rather particular bookstore. To be precise, it sells comics…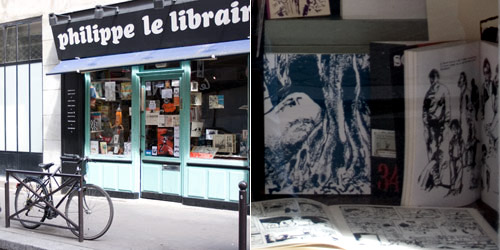 The French love comics, and it didn't take me long to understand why – comic books these days are bound pages of incredible hand drawn illustrations by both well-known and lesser-known artists. These books are like short films on paper, storyboards. And for me, they have been the most fabulous way to learn the French language. The first French comic I read with French Boy's help was Les Schtroumpfs, or as I've known them best, The Smurfs. Just to be able to pronounce 'schtroumpf' is not so easy (its something like schhhhhhtrrrroooompf), and you may recall the stories are filled with such sentences as "the smurfs smurfed this and they smurfed that, and everything is smurfalicious". It's bloody hard to say this in French. I persevered.
Today I am rather proud to announce that I can now read such books on my own. And my very first illustrative book which I've read on my own in French, I bought at philippe's during my recent weekend in paris. It is called mon frère nocturne by joanna hellgren, and it is one of the most beautiful stories I've ever read…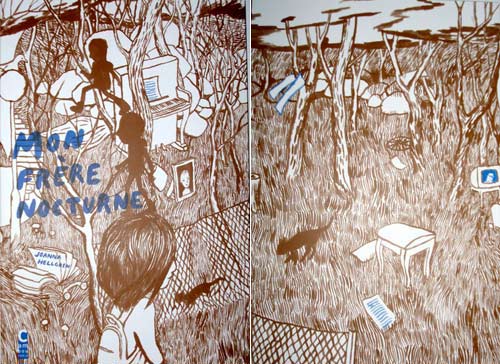 mon frère nocturne is a little story about a boy who is about to turn ten. and that's all I will say. Its a very moving story that resonated deeply with me. It also features a piano. Here are a couple of pages from the book which I found on the publisher's website …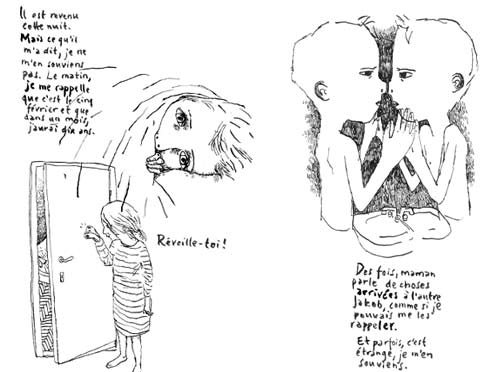 I highly recommend you check out more of Joanna's work on her extensive online portfolio. And of course, while on wander 6, please go and check out philippe's fabulous bookstore – it's just opposite galerie vegetale.