Many years ago as I was perusing the impressively crammed shelf dedicated to interior decorating at my favourite local bookstore (which is Bookoccino's in Avalon, Sydney, Australia), I came across India Hicks Island Life. And i felt 'the buzz'. You know the feeling, as you open a book for the first time at a random page and are immediately struck by the structure and style and composition of an interior setting. Then you slowly lift to the next page, and the next and the next and your belly flips and you simply must have this book. Back then the book had just arrived on bookshelves around the world, so it was at top dollar. But I could not walk out without it…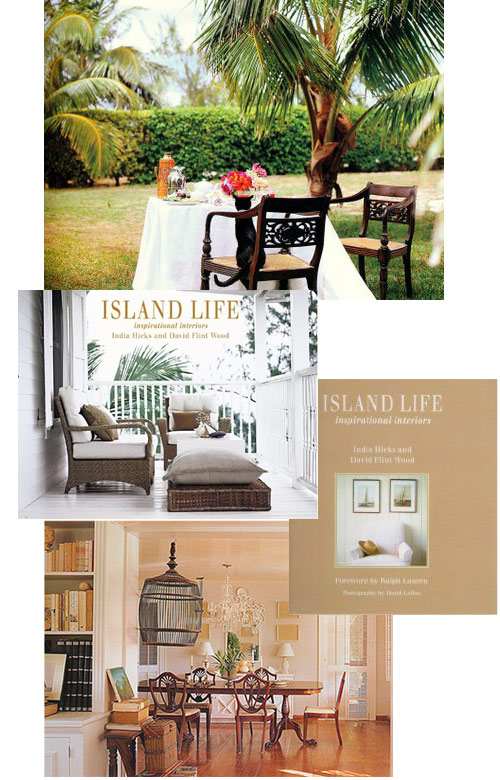 images courtesy of india hicks, island living
Sure it's fantastical, after all it is a book about a home (or rather a series of houses) dotted along the shoreline of a Caribbean island, nestled amongst coconut palms and pineapple trees, with ocean views from every window (dream on!!). BUT India's style is so relaxed and natural that her settings can be translated into the simplest and most ordinary of abodes. So how does she do this? Well, let me tell you! It's because her focus is on the found, collected, and loved (as opposed to new, flashy, and trendy). None of her spaces reflect the ostentatious inclination that you'd expect, and I have no doubt this is why her book has become so popular over the years.
One of my favourite pieces among her incredible collection of homewares is this desk which sits inconspicuously at the top of a staircase between doorways…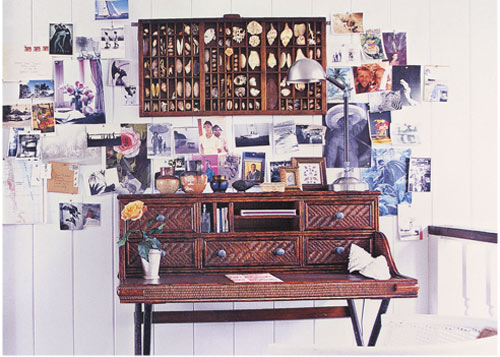 photography by David Loftus
Glorious, non? Writing away the hours at this desk would be rather marvelous. Certainly after having taken a wander along the shoreline, sand between the toes and lungs full of fresh sea air.
I've always been inspired by nature as you know, so it's only natural that my interior impulses lean toward island living. As a result I thought I'd moodboard my interior inspiration, island style, in the next post. But first, here is a song that will surely get you in the mood… mojito, anyone?