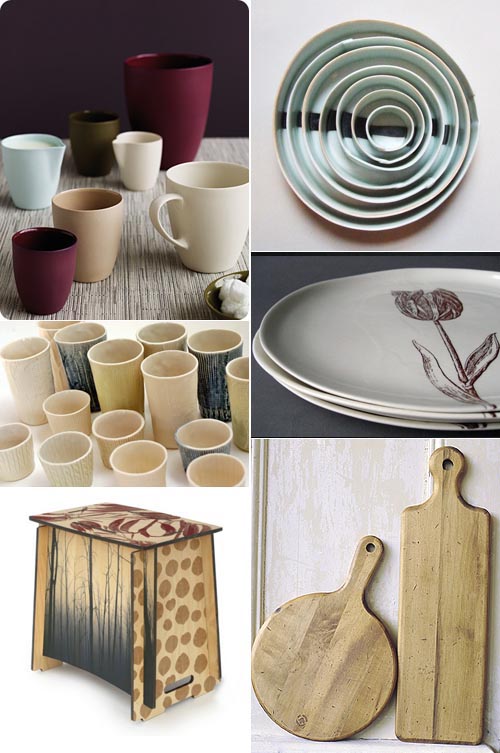 clockwise from top left:
1. mud australia – a MUST collection in anyone's cupboard. I myself have a cupboard full of mud! the mud porcelain range of vessels, vases, plates, platters and bowls are available in all sorts of colours, all over the world, and are oven, dishwasher and microwave safe. Check for your nearest stockist here.
2. I love this black and white porcelain tray set by Stepanka nyc, $140.
3. So Dutch! Tulip plates from Gleena Shop based in Pawtucket, Rhode Island. $55 each.
4. chopping boards from baileys home and garden in the UK, for around £28 each.
5. zaishu. it's a chair, it's a table, it's super stylish. and it's australian! what more can i say? you can read more about these here, and buy them here at le souk. I have particularly fallen in love with this australian bushland design, but all the designs are divine.
6. Brooklyn-based ceramicist alyssa ettinger's knitware porcelain range is too gorgeous. a set of two demitasse cups are $50.
…………………………………………………………..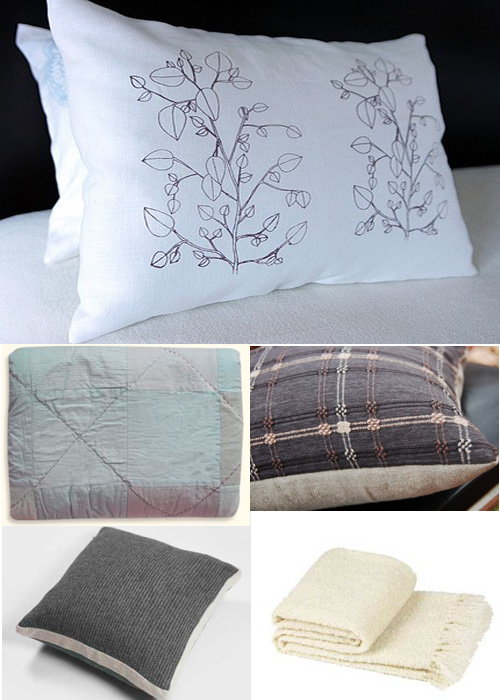 clockwise from top image:
1. I love maramiki linen and I think this pillowcase would make the perfect gift. Chicago, Illinois. $34.
2. Japanese cotton and hemp cushion from enhabiten for just $34. New Hampshire. (don't forget to check out the other items in store -contrary to the item I picked it is bursting with colour!)
3. mohair throw. yes. please. available through eco chic based in the UK. £80.
4. also from eco chic are these style conscious recycled wool cushions for just £14.95 each.
5. the miller quilt by lee matthews, made in australia by women in the local community (i.e. probably some of my fabo neighbours on the Northern Beaches!) a chunky 220cm x 220cm, AUS$880. There are stockists in Australia as well as New York, London, and New Zealand, click here to check your nearest stockist.
…………………………………………………………..
Phew! That's alot of work. But alot of fun! Don't forget to check out each of the stores because although I have only picked one item per boutique, I adore their ENTIRE collections and encourage you to go wander through them all. Imagine I have just created a virtual street for you and with shopping basket in hand, you can peruse each shop at your leisure! But I wouldn't be too leisurely about it as I've noticed items are selling out fast so if you see something you like, hop to it.
I have more tabletop and homeware items on the ready for next week as well.
Tomorrow: Holiday gift ideas 'for her'….