Remember a couple of weeks ago I was telling you about the book I had just started reading?
Well, sadly, I have finished it. And I reiterate, The Guernsey Literary and Potato Peel Pie Society is the most inspiring book I have read this year. Every single page is a literary piece of perfection in it's own right.
I am so intrigued to visit Guernsey now – I want to walk along the clifftops like Juliet Ashton, I want to stand in a place where I can imagine her and Dawsey Adams having their moment. I want to see stone cottages dotted around the island, and wander along the shoreline skipping stones like Kit and breathing in the sea air. I want to find myself a little cottage by the seaside to write my own literary masterpiece.
The author Mary Shaffer, had a life-long dream to "write a book that someone would like enough to publish." She did not live to see her dream come true as she passed away earlier this year. But if she were alive, I would write her a personal letter to tell her how much I enjoyed it.
Fabulous read, go get yourself a copy pronto if you haven't already.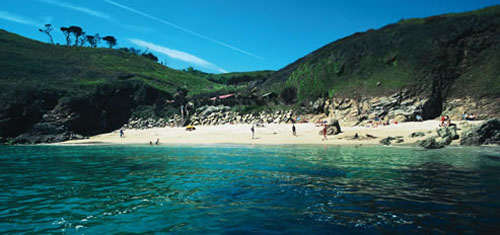 ………………………..
The above images are courtesy of two fabulous sites called Visit Guernsey and Floral Guernsey.
………………………..
PS I have just started reading the so far hilarious My 'Dam Life by fellow Australian + once upon a time Amsterdammer, Sean Condon. I'm up to page 37 and I have laughed out loud at least once per page thus far. I'm not sure it's safe to admit that I actually relate to this guy and his crazy antics, but it's the truth. And I'm all over that.
PPS I am about to add new books to the library in a few moments, so don't forget to check'em out!
xx