Are you prepared to be dazzled, frazzled and knocked right off your office chair? And are you prepared to have an unyielding urge to purchase a one-way ticket to Africa pronto? You think I kid and exaggerate BUT I MOCK YOU NOT! We are about to hit interior inspiration overload mes cher amis, and here is a little peak…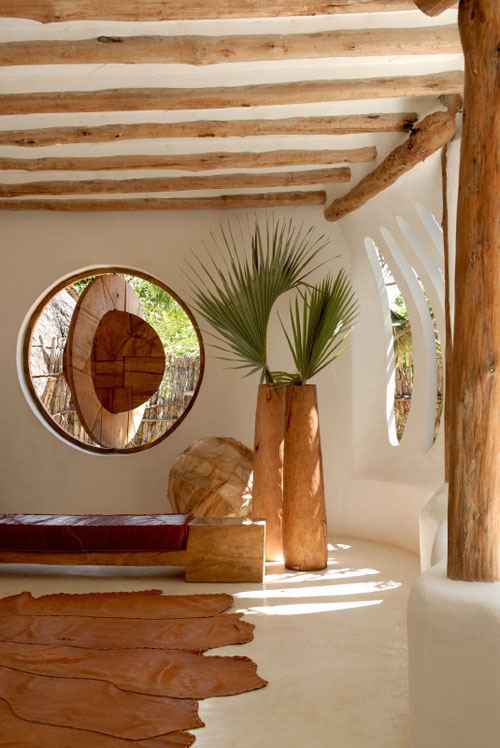 There are two words that I like to use when describing my chosen style and decor: raw + sophisticated. And rarely do I get to use these two words together. But this is one of those rare occasions. So pack your suitcases, slap on some sunscreen and come with me while I take you on an epic visual journey through this African retreat. This is one place you will never forget…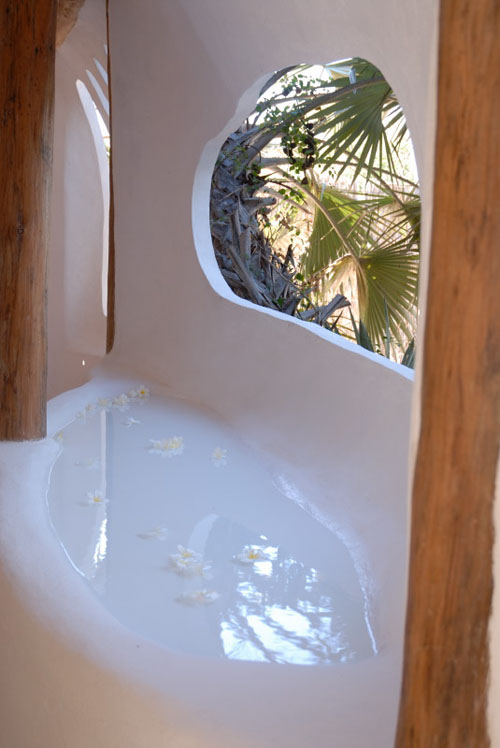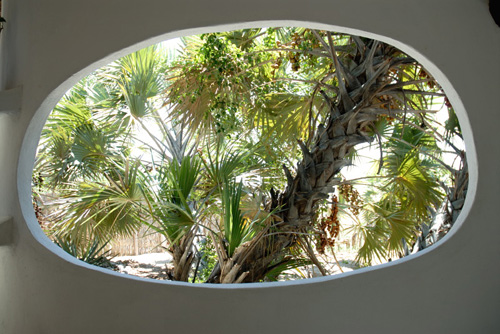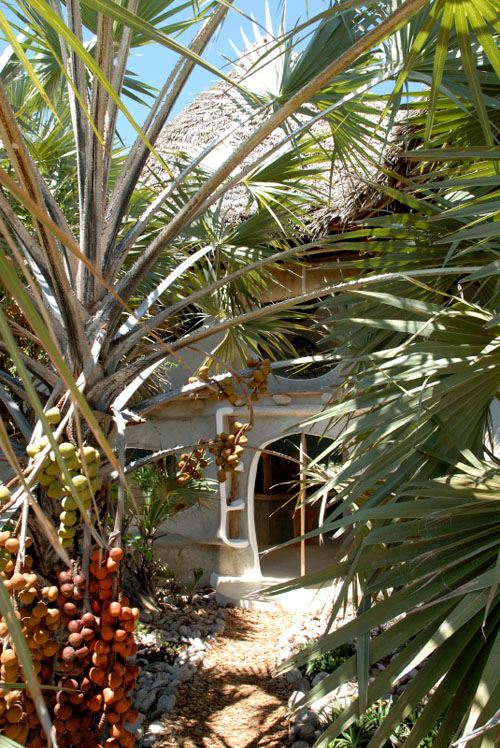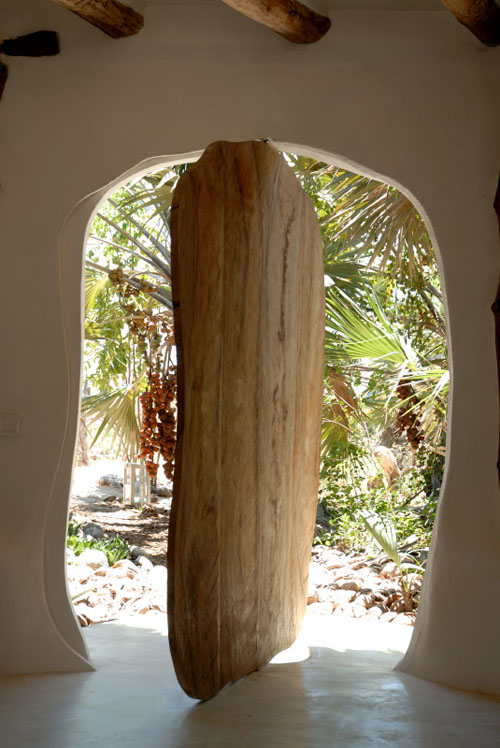 Tucked away amongst sand-dunes and coconut palms on a vast beach of Kenya, this down-to-earth dwelling is pure imagination. It is beautifully described as a house of light, flowing lines and quiet spaces that is open to the elements and fresh air…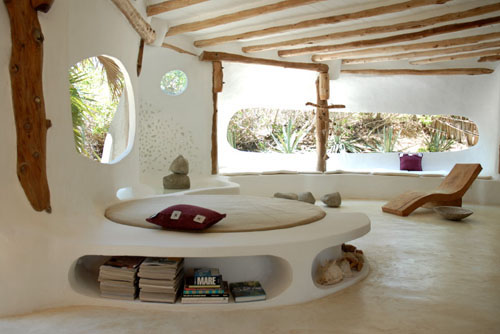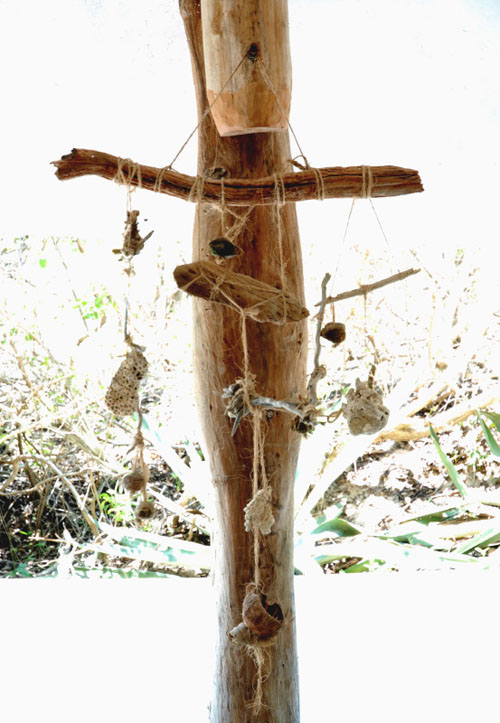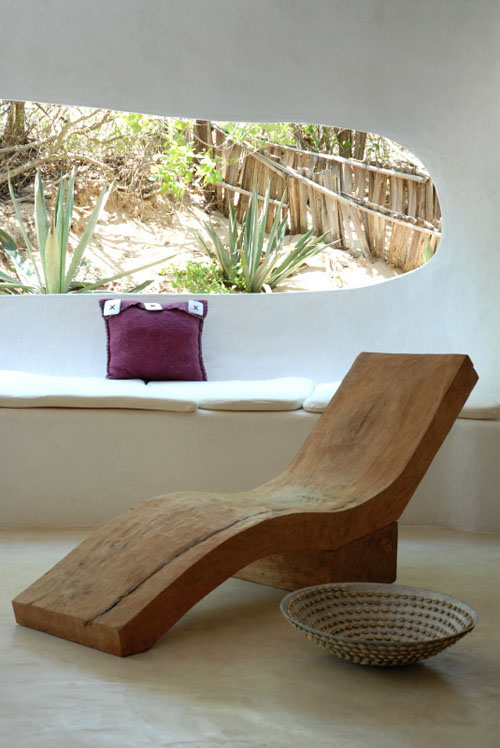 It is owned by famed designer Marzia Chierichetti who, using her background in Art and Interior Design and working as a stylist for the likes of BOFFI and CAPPELLINI INT, has created this rustic retreat drawing direct inspiration from the natural and wild surroundings. This magical dwelling is complete with all the essentials for a modern life of indulgence and relaxation, and is furnished by Marzia's own creations…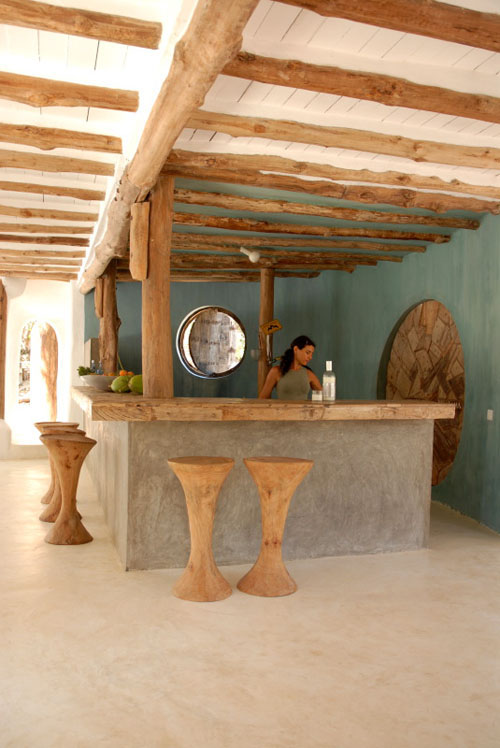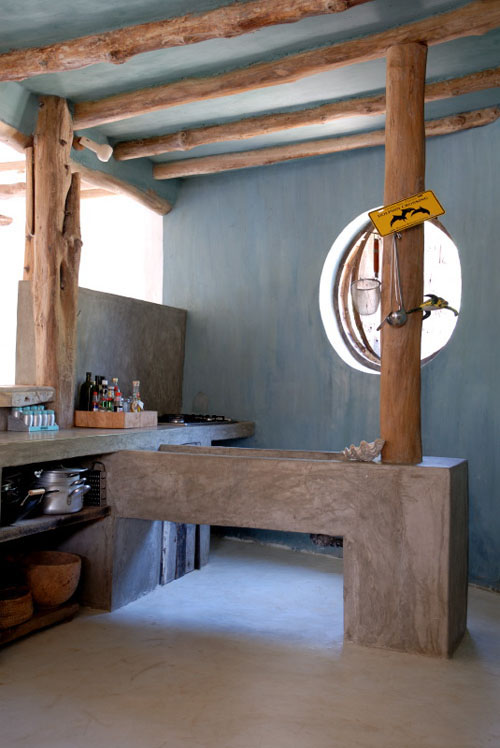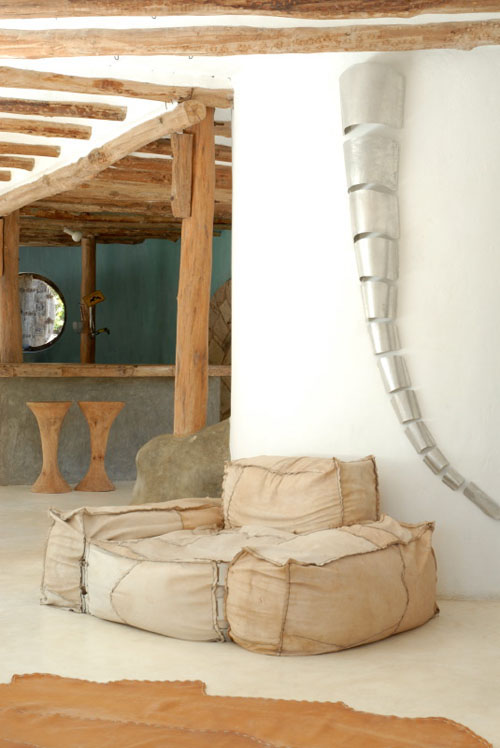 Marzia owns a fabulous design studio in the heart of Kenya where she designs her own jewelry, soft furnishings, furniture and fabrics. She uses recycled materials like plastic water bottles and rubber hose pipes which are miraculously transformed into stunning lamps, as well as old car tyres that turn into shoes, and ancient metal furniture into bowls, frames and jewelry. The mango wood she uses is grown in the local coastal belt and for every mango tree harvested, 10 are re-planted in the local villages. Marzia is very passionate about conservation, she has big plans for the future including the set up of more re-forestation projects, a school to encourage local artists to explore their creativity and more projects to utilise natural materials in the improvement of living standards for the local communities.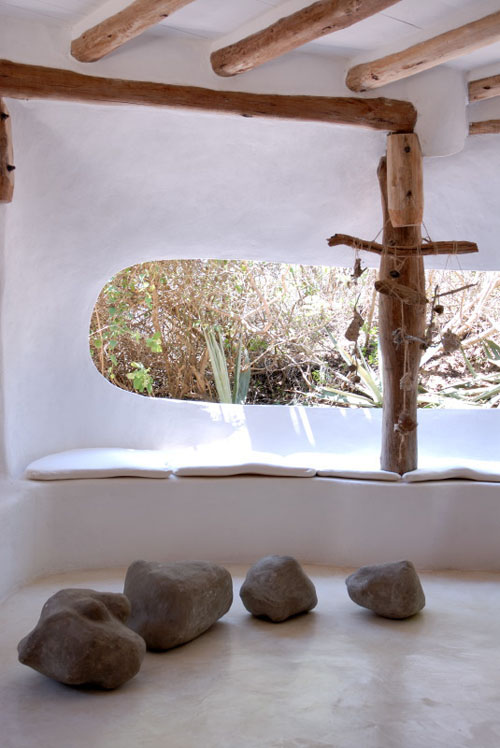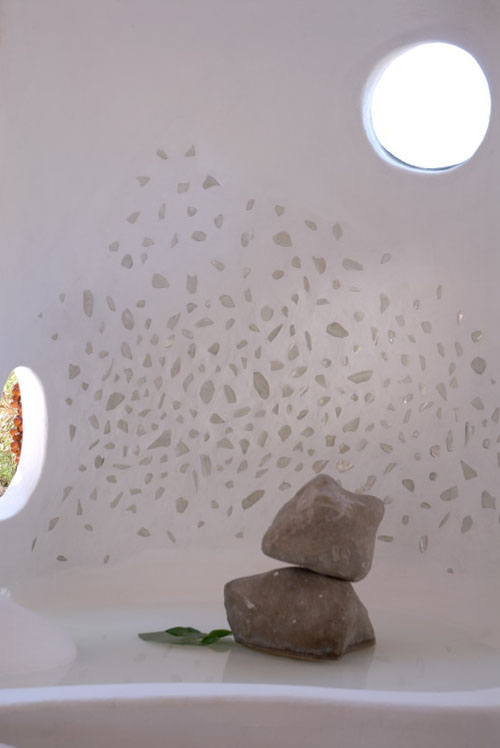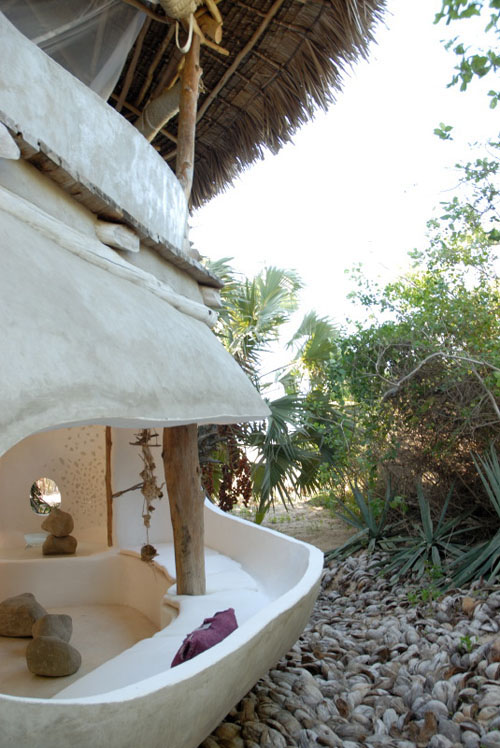 Creating 'something from nothing' is how Marzia likes to describe her work, but for me this is the understatement of the century as her 'something' is breathtaking…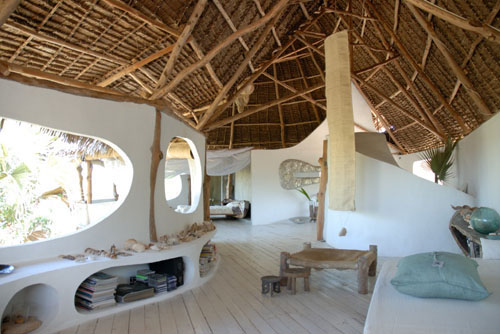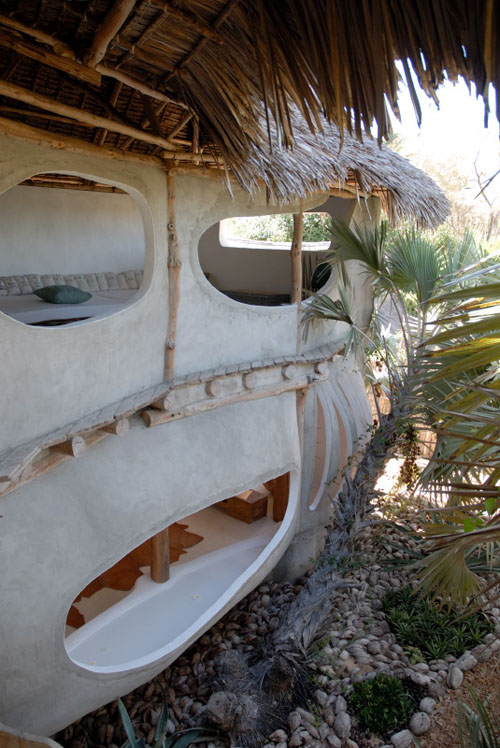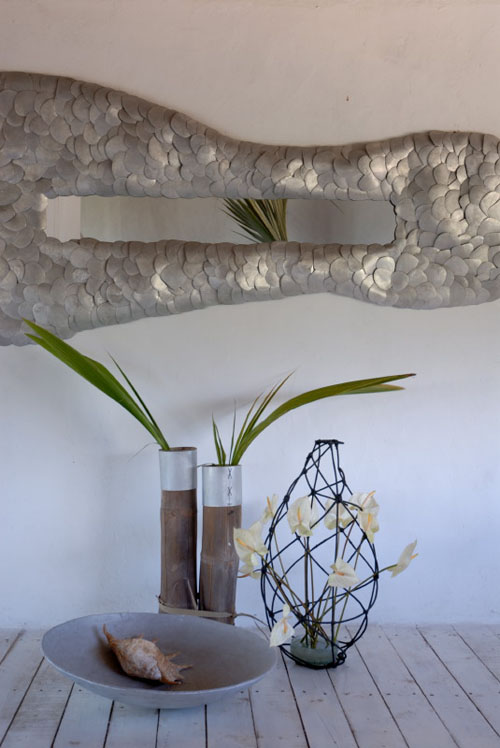 While we catch our breath, let me tell you a bit more about Marzia's design studio. Each artisan (all local) has been trained by Marzia, producing work of the highest quality using raw materials gathered from the local area. Her workshop has not only provided this group of artists with training, but has also given them an opportunity to earn a living with which to support their families and improve their standard of living. Who would have ever imagined that such a place existed hidden amongst the whispering palm trees of Kenya. Now, where were we in Marzia's home, oh yes, let's stroll on through the bar to take a closer look at this rather unique window…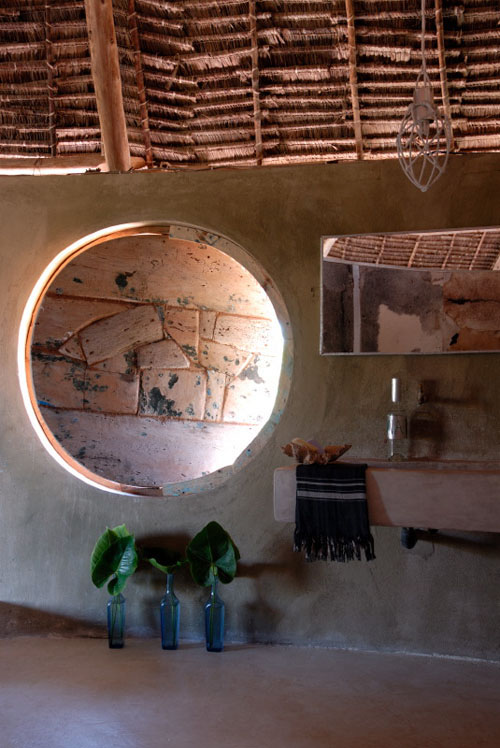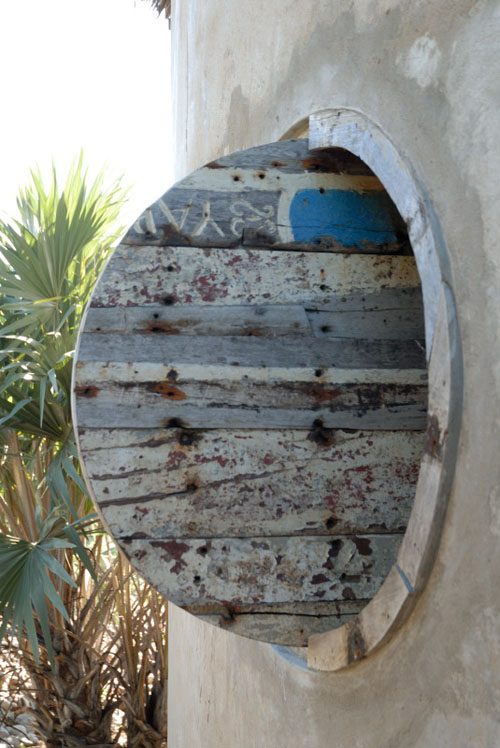 and a quick peak into the bathroom…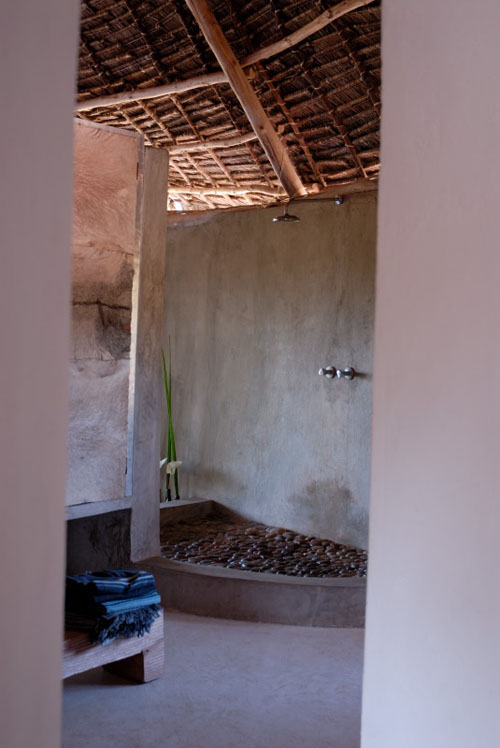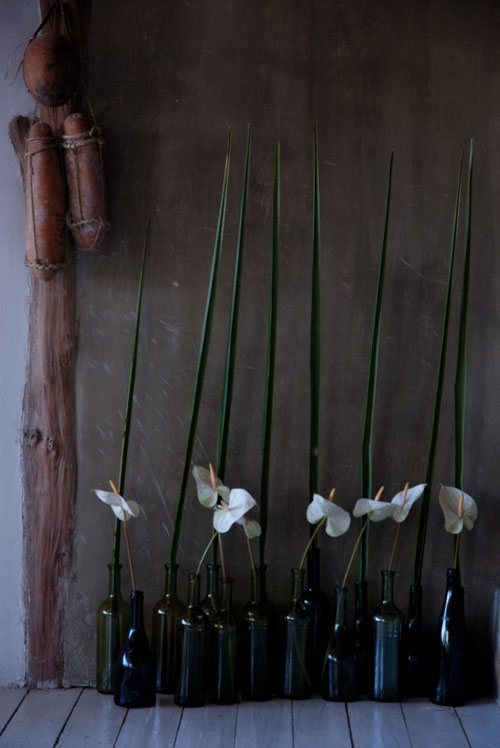 And before we bid our very gracious thank you's to Marzia for giving us this exclusive peak into her special home, there is one more room to visit. Personally, I can see myself in this heavenly sanctuary with a cool glass of iced tea while I finish reading Defoe's Robinson tale…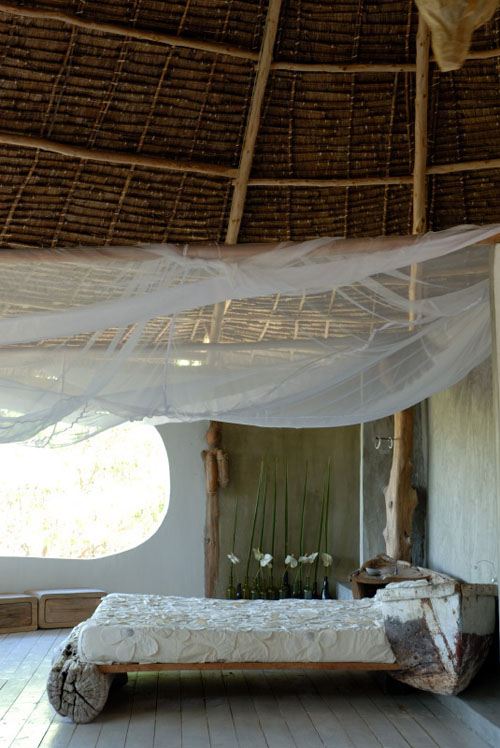 As I always like to save the best to last, I have one more surprise for you. What could it be? The link. This will take you straight to Marzia's studio where you can examine and purchase every incredible piece she creates. I have my eye on the in-out bed, the in-out chair, and the in-out bedside table. Oh, I'm also packing in my suitcase the chaise lounge, the kiko stool, and the mini cube bench. And Fred Flintstone style, I'm taking the very fun bone shaped mafupa bench on my roof racks! And my wrists, neck, angles, waist and pockets are stuffed with every piece of jewelry Marzia has ever made. And THEN I'm outta here!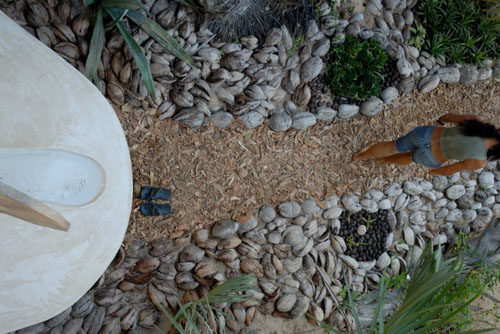 Credits:
All images are courtesy of Debi Treloar and Marzia Chierichetti.
Marzia's home has been featured in Elle Decor Italia and Elle Decoration Germany.
My sincere thanks to Debi for giving me her time with collecting these images. I hope to meet both you and Marzia one day in the near future.
Marzia's furniture company details are: BE CLEVER™, P.O. Box 424, Malindi, Kenya (254)722 931157 www.becleverltd.com
Afterword:
Now perhaps this week you thought that my mind had drifted away from the Kenyan crisis. But alas no. The update is that things are looking better – the opposing leaders shook hands and although this is only a little step, it is no less than a breakthrough. The violence and mayhem has certainly abated which is the best news and it means Kenya is on its way to healing. I caught an interview last night on BBC World Hard Talk with John Githongo (former Kenyan Corruption Investigator), and he said the international community has been of great help by supporting the African Union. I am so pleased to hear this, perhaps our little efforts of signing the petition, talking about Kenya, and bringing awareness has helped. I'd like to think so anyway. I do believe that no matter how small our voices are, that someone, somewhere is listening.
In light of the beginnings of peace being restored in Kenya now, this will be my final post for the time being, in showcasing African, and specifically Kenyan, design. I hope you have enjoyed the journey through this unbelievably beautiful continent, and I hope I have inspired you to keep a look out for African homewares, designers and creatives, as well as helped raise awareness within you to cast your care abroad. But don't fret that you will not be seeing more of Africa on this blog! On the contrary! Of course I will post about it again, but I also have a fantastic project lined up there for this year and I must keep some secrets, otherwise I am out of a job! In the meantime, keep up to date with everything African by visiting Miss Beverly Lwenya (notice that rhymes with Kenya?!)'s Afropolitan blog – it is a great resource and I will be posting about her posts no doubt in the future, she always comes up with fabulous finds. You can also click on africa to the right under 'categories' here on my blog and you will find all the African related posts in a neat bundle.
I will be showcasing another country very soon, in the lead up to a rather significant world event. And this country is very dear to my heart. In fact, I'm sure a piece of my heart wandered off there and has never returned. I may have to go looking for it.
Remember, IMISO: work today, change tomorrow.