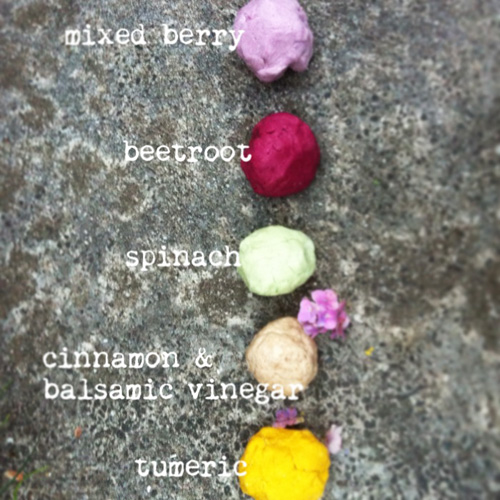 So I've been having a bit of fun making all natural play dough lately. This batch of coloured fun is my third or so experiment and I'm rather happy with it. Though I've got some ideas for the next batch which I'll share with you in case you'd like to try.
Since I want to use only natural colour, I've adapted this recipe from best recipes, minimizing quantities and introducing soaking selected ingredients to create coloured water. Here is my adapted recipe:
…………………………………………….
1 cup plain flour
1/2 cup salt
1/2 tablespoon (or so) of cooking oil (i've been using sunflower)
1/4-1/2 cup of cold, coloured water
To make the coloured water, soak a handful of your chosen ingredient (spinach for green, beetroot for deep purple, mixed frozen berries for rose/light purple) in a ramekin or glass container of 1/2cup water, preferably overnight. Strain the liquid and pop it in the fridge for a little while to make it cold, or add an ice cube.
In a large bowl, mix the flour and salt together well. At this stage if you are making yellow, add a good sprinkling of tumeric powder. Then add the cooking oil and 1/4cup of coloured water. Mix then knead until well combined. Add more water if needed to get the right consistency.
…………………………………………….
I then put each ball of play dough into clear, recycled plastic containers and leave them in the back of the fridge. To allow them to soften slightly, I take them out about 1/2 hour before we are ready to play with them (yes, WE – Laly and I both love playing with play dough – yesterday I made a fantastic collection of funny looking dinosaurs which Laly promptly invited all to a tiny tea party). This batch was a little crumbly when I took them out, so I just added splashes of water and kneaded them a bit more and they were perfect. Adding flour and water makes playing with it all the more fun for Laly, so I don't mind if I don't get the consistency spot on when I make them. And yes, the colours do come off ever so slightly when you play with them, but barely – and honestly, who cares? It washes off with a dab of a cloth.
The other thing I'd like to say is that I soaked beetroot skins in some water overnight, hence the gorgeous intense colour. However I didn't soak the spinach or the mixed berries but next time I will to get more intense colour, though if you like it subtle, soak for less.
My last batch of yellow and rose lasted many months – basically until the colours get all smooshed together and the ball diminishes to a tiny size, as happens when little hands get hold of it.
I hope you'll give this a try. I can't wait to try out more ingredients for more colours! Any suggestions?
xx